UFC 252: Main Card Preview and Predictions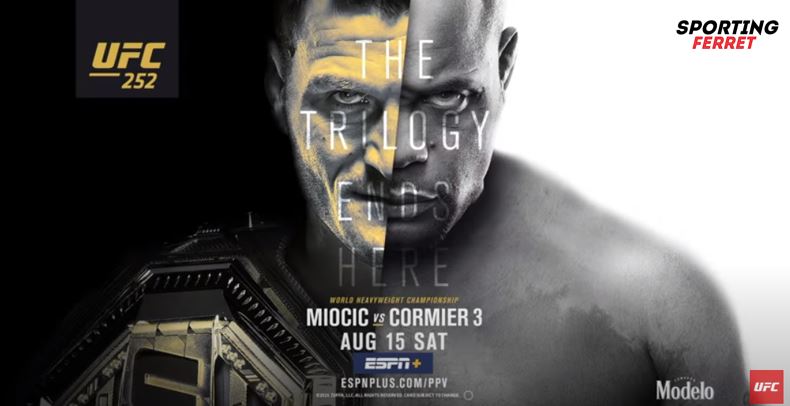 The UFC returns to the Apex arena in Las Vegas with the highly anticipated end to a classic heavyweight trilogy at UFC 252. Current Champion, Stipe Miocic, faces off against former Heavyweight and Light Heavyweight Champion Daniel Cormier.
Also on this card, two elite Bantamweights both attempt to force their way up the rankings, in O'Malley vs Vera. Whilst at LHW Ion Cuteleba and Magomed Ankalaev rematch, after a controversial referees stoppage ended their first fight prematurely.

Stipe Miocic vs Daniel "DC" Cormier
Stipe Miocic is considered by many to be the Heavyweight GOAT, with wins over all of the current heavyweight elite. This is why it was such a shock to the world when, in 2018, Daniel Cormier finished him in 1 round. Miocic has since come back with his own finish over 'DC', which sets up one of the greatest rubber matches in UFC history.
Preview
Despite being former NCAA Division 1 wrestler, Stipe Miocic has never limited himself to one martial arts style. Alongside his wrestling credentials, he trained in boxing, with the accolade of Cleveland Golden Gloves boxing champion also on his resume. Miocic's history in boxing is clear to see when he competes. He employs one of the most effective jabs in the heavyweight division, which allows him to force a pace on his opponents that is rarely seen in the heavyweight division. Miocic combines this high pressure style of fighting, with one of the best gas tanks since Cain Velasquez. This allows him to wear down his opposition and expose their vulnerabilities. With victories over Francis Ngannou, Junior Dos Santos and Alistair Overeem, Miocic has showed that he is well deserving of being in GOAT contention.
Daniel Cormier has some of the most impressive credentials in the world of combat sports, let alone the UFC. In high school alone, DC held a 101-9 record in wrestling. After leaving education, DC picked up the accolades of All American Wrestler, 5 time senior US National Champion and Team USA Olympic Captain. This wrestling base in naturally often the focus of DC's game plan. However, he has also had success in the striking department, holding his own against the likes of Jon Jones and Alexander Gustafsson. DC was able to nullify Miocic's jab in the first two fights by utilising the Muay-Thai technique of hand-fighting. He also used uppercuts from the clinch to great success in both fights.
Prediction
Miocic vs Cormier is as hard to predict as they come. In their first fight, Cormier put Miocic out cold with a right hand from the clinch, leaving there no doubt as to who the victor was. In the rematch, Cormier was getting the better of the fight for the first 3 rounds. However, once Miocic altered his game-plan and started throwing hooks to the body, Cormier quickly crumpled and Miocic picked up the TKO victory.
The result of the rubber match could well depend on how DC counters or defends shots to the body. He also relied on his boxing much more than usual, meaning that he could turn to his wrestling in order to grind out any rounds where Miocic is being more successful.
Based off the first two fights i'm going to have to choose Cormier to pick up the win. However, I fully expect Miocic to force DC to fight to his limit in every round.
Daniel Cormier to win via Unanimous Decision
"Suga" Sean O'Malley vs Marlon "Chito" Vera
The Co-Main event of UFC 252 see's one of the UFC's hottest current prospects, Sean O'Malley, facing his highest level opposition yet, in Marlon "Chito" Vera.
Preview
"Suga" Sean is an electrifying figure in the Octagon, from the one shot knockout power to the rainbow braids he stands out in an already talent stacked Bantamweight division. However, Edmen Shabazyan's recent loss to Derek Brunson is a timely reminder not to get to caught up in an undefeated prospects hype train.
Despite this, O'Malley is undeniably an exciting fighter to watch. Most recently he dispatched UFC veteran Eddie Wineland with a beautiful walk away KO, reminiscent of the Super Samoan, Mark Hunt. Suga Sean has slick pin-point striking, fully utilising the extra range he has over much of 135 division. However, an aspect of his game that he has little time to show as of yet is his Jiu-Jitsu mastery. He recently competed for team UFC at Quintet Ultra, submitting Takanori Gomi and picking up a draw against Gilbert Melendez.
Marlon Vera has faced some of the toughest opposition the Bantamweight division has to offer over his 6 year UFC career. He holds wins over the likes of Andre Ewell, Brian Kelleher and Frankie Saenz, which has given him much more experience than his undefeated opponent.
"Chito" is an excellent submission artist, specifically focusing on RNC's and Guillotines. However he is also merciless in the clinch, as seen in his second round stoppage of Guido Cannetti. Against Cannetti, Vera employed the muay thai clinch to land knees and hammer fists, sapping at Cannetti's gas tank. This allowed for a smooth outside trip takedown, before finishing the fight with his signature RNC. Vera also has great stand-up, with a viscous low kick that could be effective in limiting O'Malley's movement.
Prediction
Once again this is an incredibly hard fight to call, between two  extremely high level Bantamweights. However, I am going to give this one to Suga Sean. This is primarily based off the ruthless showing he gave against Eddie Wineland, with the kind of knockout you just don't see at 135 lbs. I do think Vera could have success by limiting O'Malley's movement with low kicks and then tying him up in the clinch. However, O'Malley has to much in his locker for the Ecuadorian, and I see him finishing the fight.
O'Malley to win via KO in Round 2.
Junior "Cigano" Dos Santos vs Jairzinho "Bigi Boy" Rozenstruik
Two of the Heavyweight elite meet in this clash of titans. Both coming off loses, "Cigano" and "Bigi Boy" are looking to reassert themselves into the heavyweight title running.
Preview
Former Heavyweight Champion, Junior Dos Santos has been a staple of the division for the past 10 years. During this time he has racked up wins against current Champion Stipe Miocic, as well as Cain Velasquez, Derrick Lewis and Frank Mir. However, his last two fights ended in defeat, as Curtis Blaydes and Francis Ngannou both KO'd Cigano before the third round.
Cigano has a background in Capoeira, Jiu-Jitsu and Boxing. and his fighting style is reflective of this. Dos Santos hits very hard as is typical of the Heavyweight division. However, he utilises much more movement than the average heavyweight. He also employs a wide arsenal of kicks, best exemplified by his wheel kick KO of Mark Hunt.
Jairzinho Rozenstruik leapt into the Heavyweight division in 2019, with a brutal KO of Juniof Albini on his UFC debut. Since then Bigi Boy has KO'd Allen Crowder, Andrei Arlovski and Alistair Overeem, all in brutal fashion. However he bit off more than he could chew in his last fight against the Heavyweight boogeyman, Francis Ngannou.
A former Kickboxer, Rozenstruik amassed 76 wins in 85 fights before making the transition to MMA. His Kickboxing pedigree is clear to see, not only in the strikes he throws but also the volume and combination work. Bigi Boy also has tremendous KO power, making him capable of finishing the fight in the blink of an eye.
Prediction
Junior Dos Santos in undeniably a legend of the sport, however I believe his age is beginning to creep up on him. Alternatively Rozenstruik is still relatively young, but has just as much experience in the striking department. To add to this, he hits harder and faster than Cigano.
Rozenstruik to win via KO in the 1st Round
John "The Magician" Dodson vs Merab "The Machine" Dvalishvili
UFC veteran John Dodson takes on Merab Dvalishvili, a hot prospect in the Bantamweight division on a 4 fight win streak.
Preview
Coming off a third round KO of English prospect Nathaniel Wood, Dodson is looking to make a late push towards title contention. With a background in wrestling, Dodson is an excellent scrambler, rarely being held on the ground for long. However, he more often relies on his fast hands to catch opponents rushing in. Dodson holds wins over some of the greatest the UFC has had to offer, including TJ Dillashaw, Jussier Formiga and Pedro Munhoz.
A training partner of current number 1 Bantamweight contender, Aljamain Sterling, Dvalishvili is looking to cement his place on the 135 lbs division. The Machine employs brutal wrestling to dominate his opponents in the Octagon. His elite wrestling paired with an impressive gas tank often results in Dvalishvili's opposition crumbling the longer the fight goes on. Recently Dvalishvili has picked up wins against Brad Katona, Casey Kenny and Gustavo Lopes.
Prediction
I believe that Dvalishvili's smothering wrestling will be too much for Dodson to handle over the full three rounds. Whilst Dodson may use his wrestling experience to scramble out from Dvalishvili in the first round, he will soon gas out.
Dvalishvili to win via Unanimous Decision
Magomed Ankalaev vs Ion "The Hulk" Cutelaba
The rematch of a fight that was originally unjustly stopped by the referee, Akalaev vs Cutelaba promises violence anyway you look at it.
Prediction
I see Ankalaev keeping the fight at range, using his reach advantage to keep the fight standing. Cutelaba will get frustrated at being unable to close the distance, and will eventually make a mistake, leading to an Ankalaev win by KO.
Ankalaev to win via KO in the 2nd Round.
Prelims:
Jim "A-10" Miller vs Vinc "From Hell" Pichel
Miller to win via Sub in Round 1
Livinha "The Brazilian Gangster" Souza vs Ashley "Spider Monkey" Yoder
Souza to win via Decision
Herbert "The Blaze" Burns vs Daniel "The Pit" Pineda
Burns to win via KO in Round 2
Felice "Lil Bulldog" Herrig vs Virna "Carcara" Jandiroba
Jandiroba to win via Sub in Round 2
T.J. "Downtown" Brown vs Danny "The Colombian Warrior" Chavez
Chavez to win via KO in Round 2
Chris Daukaus vs Parker Porter
Porter to win Via KO in Round 1
We hope you enjoyed the article 'UFC 252 Main Card Preview.'  What are your predictions for the Main Card? Let us know!
If you liked this article why not check out: