Duke's Legendary 'Coach K' To Retire At The End Of Next Season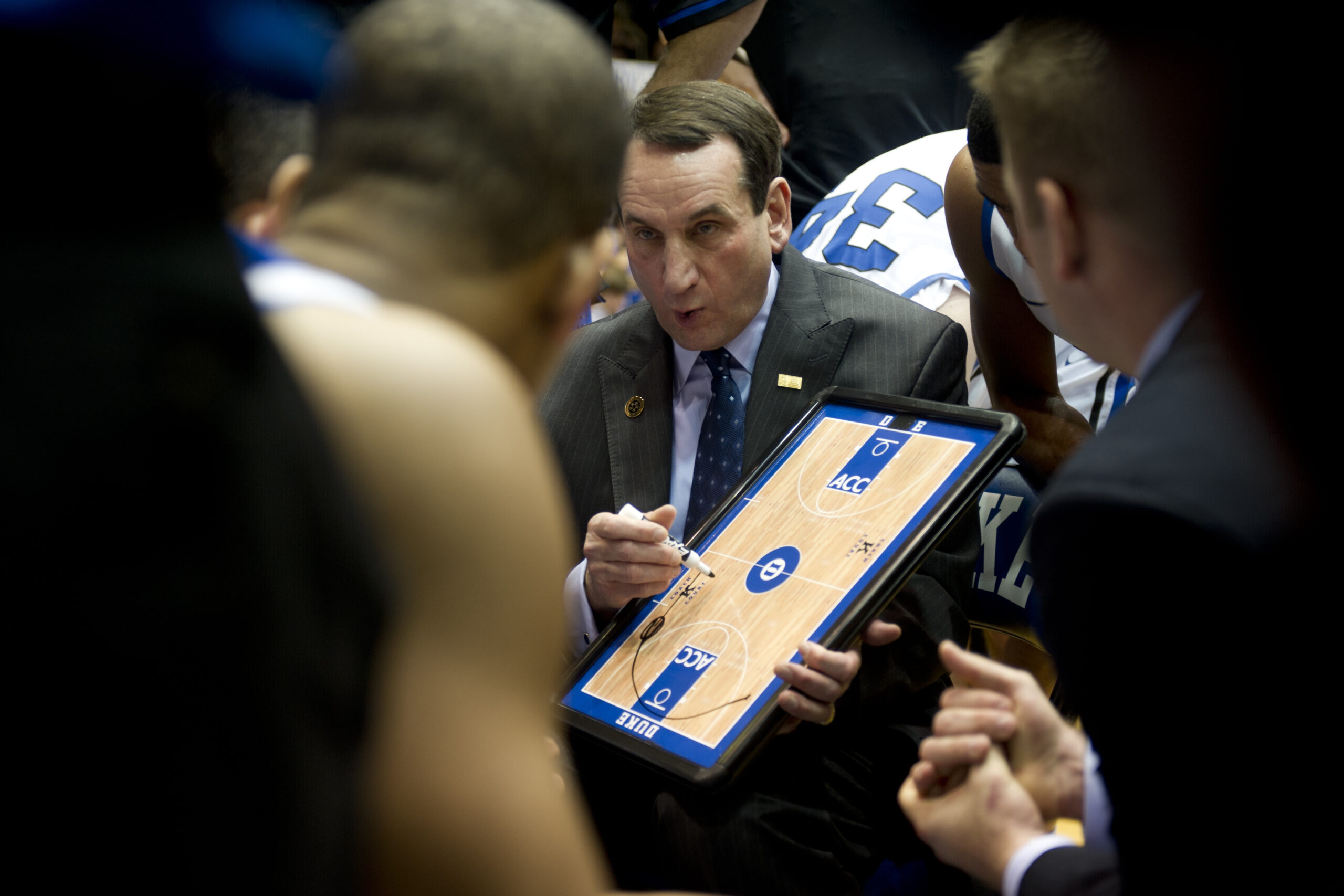 Duke's Legendary 'Coach K' To Retire At The End Of Next Season
Duke men's basketball coach, Mike Krzyzewski, announced on Wednesday that he will retire at the conclusion of the 2021/22 season. His replacement was announced as Jon Scheyer, the current Associate Head Coach of Duke, and former assistant and player under Coach K.
Hall of Famer , 'Coach K', is the winningest basketball coach in Division 1 mens college basketball amassing a staggering NCAA-record 1,170 wins. In his 41 year tenure with the Duke, Krzyzewski has led the Blue Devils to 5 National Championships- 1991, 1992, 2001, 2010, 2015 – 12 Final Four's and 15 ACC Tournament wins.
In addition to his illustrious college career, Krzyzewski is a 5 time Olympic Gold Medalist with Team USA. The Chicago native was the head coach for each of USA's three consecutive Gold medals in 2008, 2012 and 2016 – and two more as an assistant in 1984, and as part of the 'Dream Team' in 1992.
Duke's Legendary 'Coach K' To Retire
Coach Krzyzewski statement released by Duke Athletics official website goduke.com:
"My family and I view today as a celebration," said Krzyzewski. "Our time at both West Point and Duke has been beyond amazing and we are thankful and honored to have led two college programs at world-class institutions for more than four decades. That, coupled with 11 unforgettable years as the United States National Team coach, has resulted in a remarkable journey. Certainly, I have been blessed to coach some of the finest young men and greatest players in basketball history as a direct result of these unique opportunities. For us, there is no greater joy than being part of our players' respective endeavors through basketball, and more importantly, their lives off the court. Our family is eternally grateful to everyone who contributed to our career for the past 46 years. So, to the countless members of our extended family, thank you very much."
The winningest coach in Division I men's basketball history will retire after the 2021-22 season

Thank you, Coach K 💙 pic.twitter.com/JpT8qmLkOA

— Duke University (@DukeU) June 2, 2021
Tributes rushed in for the Legendary Coach
"I can say without hesitation that Mike Krzyzewski is the greatest coach in the history of men's college basketball," said Duke President Vincent E. Price to Duke Athletic website 'goduke.com'. "This is clearly demonstrated by his tremendous success at Duke — 1,170 career wins, five national championships, 15 ACC tournament and 12 ACC regular season titles — and his service to our country as the head coach of USA Basketball. But the true measure of his excellence is more personal. It is in his resolute commitment to integrity, fairness, and inclusion; in his transformational impact on collegiate athletics and the Durham community; in the joy, generosity, and inspiration he has brought to countless fans; and in his role as guide and teacher of thousands of players, coaches, and staff at Duke and beyond. Mike, Mickie and the entire Krzyzewski family have been devoted to Duke for more than 40 years, and we are so grateful that relationship will continue for a long time to come."
"Simply put, Mike Krzyzewski's legacy – never to be repeated again – is truly mind boggling," said Duke Vice President and Director of Athletics Kevin White. "To suggest that Mike has more than earned the 'GOAT' mantle within the coaching community, both domestically and globally, is perhaps the greatest understatement of all time. Well beyond all the banners, hardware, titles, awards, honors, etc., Mike will long be best remembered, if not deeply respected and admired, for his unabashed love and utter devotion to his players. Again, the consummate teacher, coach, and mentor, coupled with his highly unique curriculum around life lessons and service will surely live at the pinnacle level of his chosen profession in perpetuity."
Former Duke Player and assistant turned ESPN and CBS College Basketball analyst, Jay Bilas, payed tribute to his former coach "To all of us, [Coach K] is Duke… I can't imagine my life without him."
Dream Big
Former Blue Devil National Championship winning guard, Jon Scheyer was announced as Krzyzewski's successor. Scheyer who played professionally in Israel and Spain as well as in the NBA D league has been part of 'Coach K's' coaching staff since 2014 and has been his Associate Head Coach since 2018.
Scheyer said of his appointment "Duke University has been a central part of my life for more than a decade, and I could not ask for a better place to continue my career,"
He also payed tribute to his predecessor "This is absolutely humbling. … Coach K has built the premier program in our sport thanks to his unwavering competitive edge, a tireless attention to detail, a family-first approach and a remarkable compassion and care of his players, coaches and staff. He has set a standard that every coach at every level should strive to achieve."
There is no doubt that Krzyzewski had a big say in Scheyer's appointment as he spoke of his support for his former student. "The continuation of our culture at Duke is paramount to future success," said Krzyzewski. "That is why I am so grateful that [Duke president] Vincent Price, [athletic director] Kevin White and [incoming athletic director] Nina King determined that Jon Scheyer represents our best path forward. He is clearly ready for this opportunity and has shown it repeatedly throughout his playing career and as a coach on our staff the past eight seasons. Jon is a rising star in our profession and Duke Basketball could not be in better hands in the future."
The passing of the torch from teacher to student was embodied best by an old photograph of 'Coach K' and a teenage Scheyer doing the rounds on social media. The photograph was autographed by Krzyzewski "To Jonathon, Work Hard And Always Try Your Best!"
Dream big! 💙 pic.twitter.com/jeJkNhi8f4

— Duke Men's Basketball (@DukeMBB) June 2, 2021
We hope you enjoyed the article 'Duke's Legendary 'Coach K' To Retire At The End Of Next Season.' Is Mike Krzyzewski the greatest coach in basketball? Let us know!
Read more on basketball here: