Robert Lewandowski: FIFA Best Men's Player of the Year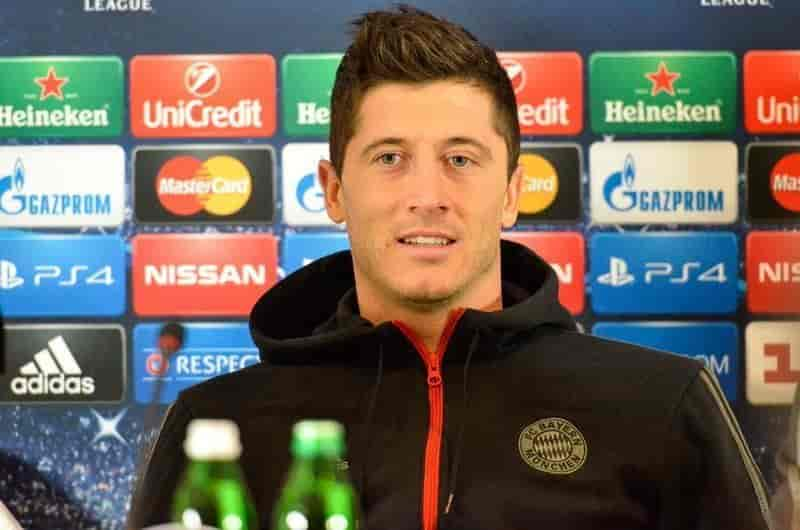 Robert Lewandowski beat Messi and Ronaldo to win the best men's player of the year award on Thursday night
Robert Lewandowski, who plays for Bayern Munich, finished first in the voting, beating last year's winner Lionel Messi and Cristiano Ronaldo to the prestigious award in Zurich. The 32-year-old became only the second player in the last 13 years to beat either of these two to the top prize, and the first ever Polish player to win it.
Last season alone, Lewandowski scored an enormous 55 goals in 47 games. He helped his club Bayern win the treble, finishing top scorer in each of the competitions. They won their 8th league title in a row, as Robert finished top scorer for the third consecutive season, and beat PSG 1-0 in the Champions League final in August.
Qualification as a top seed team for the European Championships next summer with his national side, topped off an extremely decorated year for the Polish international. Lewandowski now has 63 goals and 23 assists in 116 matches for his country, cementing his status as one of, if not, the best Polish footballer of all time.
He has also established himself as one of the finest marksmen and best strikers in the world this year, becoming the first forward since Ronaldinho in 2005 to win the award instead of Messi or Ronaldo.
Lewandowski has also continued his run of form into the new season, scoring 18 goals and producing five assists in all competitions in 17 matches. This included his 250th Bundesliga goal, which he scored in their 2-1 win over Wolfsburg on Sunday.
I will repeat what I said a while ago. Never stop dreaming🙏 Thank you so much for this award, it's an incredible honour to receive this tonight🏆 Dziękuję! #TheBest @FIFAcom

— Robert Lewandowski (@lewy_official) December 17, 2020
How the award is won
The award is decided via nominations from the captains and head coaches of all the national teams, an online ballot by fans, and submissions from 200 media representatives. Thursday evening in Zurich, Switzerland, saw English defender Lucy Bronze win Best Women's Player of the Year. Jurgen Klopp also took home the Best Men's Coach of the Year, for a second consecutive time.
"If you win such an award and share that title with Messi and Ronaldo, that is unbelievable and it means so much to me," Lewandowski said.
"A long time ago, I remember I was longing for something like this and now I can win such and award. This really means, regardless of where you come from, all that matters is what you put into it."
🏆 He's done it! @lewy_official overcomes two of the greatest players in history to become #TheBest FIFA Men's Player for the first time!

🔴 @FCBayern | @LaczyNasPilka 🇵🇱 pic.twitter.com/TK34hTXcsS

— FIFA.com (@FIFAcom) December 17, 2020
Rise to the top
Ever since he was a young boy, Robert Lewandowski was poised to be a great football player. But it wasn't until he finally got his chance at some first-team football, that he began to develop into Poland's next generational talent. Growing up in Leszno, he signed for one of the best clubs in the country Legia Warsaw when he was only 17.
But Lewandowski had quickly found himself in the reserves and was later released by the club, with his hopes of becoming a big star in tatters. Luckily Znicz Pruszków, from the third division, were on the other line. It was here where he began to get more chances and prove what he was capable of.
After helping them to promotion in his first year, he then scored 21 goals in 32 appearances the following season to be their top scorer. He earned a £300,000 move to Legia rivals Lech Poznan, where he became a star. Unfortunately for Legia, they had missed out on the chance to sign the future FIFA Men's Player of the Year.
After fighting his way into the first-team, he scored 41 goals and produced 20 assists in 82 games, winning the 2009/10 league title along the way. It was at Lech Poznan he was rewarded with his first international call-up, and later a £4m move to German side Borussia Dortmund.
Borussia Dortmund
At first it was rumoured that Robert was meant to sign for English side Blackburn Rovers. They were managed by Sam Allardyce at the time. Unfortunately for them, an Icelandic volcano had erupted at the same time – causing the flights to be cancelled. What could have been for the Northern side…
Since signing from Dortmund however, Lewandowski has never looked back. 103 goals and 42 assists in 187 games helped win them and manager Jurgen Klopp two league titles and the DFB-Pokal. After transferring to German rivals Bayern Munich in 2014, the rest was history as his scoring form never seemed to slow down.
He has now established himself as one of the best strikers in the world. 264 goals and 62 assists in six years, has seen Lewandowski and Bayern compete in Europe at the elite level. Four golden boots in the Bundesliga, six league titles, three more cups and one Champions League later and he now sits with the likes Lionel Messi and Cristiano Ronaldo, alongside the game's greatest players.
On top of the world. @lewy_official 👏👏👏#UCL pic.twitter.com/AqaqBvhS9x

— UEFA Champions League (@ChampionsLeague) December 18, 2020
End of an era?
It is fair to say that arguably the two greatest players of all time, Messi and Ronaldo, have dominated for the past decade. For 10 years in a row, this award was won by one of the two. Before Luka Modric picked up the award in 2018. Messi won it again last year, but in the last three years there has been two different winners.
At their ages, the level that they are still performing at is incredible. Messi, 33, finished as La Liga's top scorer with 25 goals last season, and the top assist provider with 21. Although Barcelona finished runners up in the league, Messi is still dominating in Spain.
35-year-old Ronaldo on the other hand, is continuing to defy the odds and break scoring records. He scored 37 goals in all competitions to become Juventus' highest scorer in a single season and help them win their 9th consecutive league title. On top of that he has now scored over 100 goals for Portugal, his national team.
While their ability to get on the scoresheet and impact the game is still evident, you can't help but think that their age is catching up with them. They are both still the best players in the world right now, along with Lewandowski, but it is only a matter of time before we begin to see the world's new talent shine through.
As much as the end of an era dawns upon the footballing world, we can only appreciate their talents and encourage new players to follow in their footsteps.
17 December 2007: Messi, Ronaldo and Kaka are the top three for FIFA's annual award.

17 December 2020: Messi, Ronaldo and Lewandowski are the top three for FIFA's #TheBest men's player. pic.twitter.com/hgNzHZeXm6

— B/R Football (@brfootball) December 17, 2020
Other notable awards:
Best Women's Player of the Year:
Lucy Bronze (Manchester City)
Best Men's Coach of the Year:
Jurgen Klopp (Liverpool FC)
Best Women's Coach of the Year:
Sarina Wiegman (Netherlands Women)
Best Men's Goalkeeper of the Year:
Manuel Neuer (Bayern Munich)
Best Women's Goalkeeper of the Year:
Sarah Bouhaddi (Lyon)
FIFA Puskas Award:
Son Heung-Min (Tottenham Hotspur)
We hope you enjoyed the article 'Robert Lewandowski: FIFA's Best Men's Player of the Year.' Do you think Robert Lewandowski should have won the award? Let us know!
Read more on football here: