Pierre Gasly Wins Italian Grand Prix in Remarkable Fashion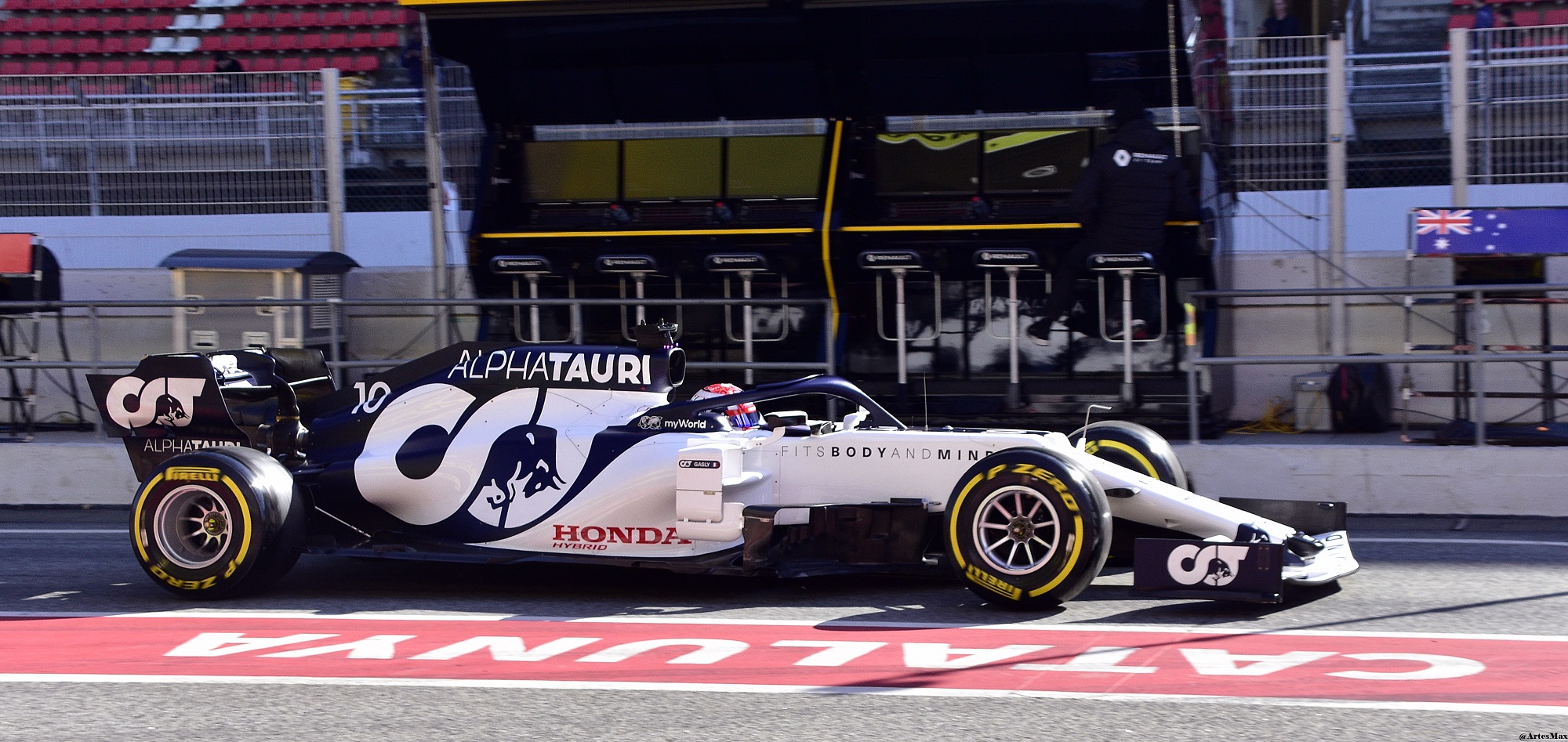 Pierre Gasly wins Italian Grand Prix in remarkable fashion, Lewis Hamilton in 7th
Pierre Gasly Wins Italian Grand Prix
The Monza circuit is known as the 'temple of speed' however this weekend will be regarded as the 'temple of drama' in the action-packed Italian Grand Prix.
In unthinkable and unimaginable fashion, Pierre Gasly won their first-ever Grand Prix at Monza in one of the most fascinating races in recent years.
Write him off at your peril… @PierreGASLY WINS THE ITALIAN GP! 🏆 #AlphaTauri #F1 #ItalianGP 🇮🇹 pic.twitter.com/aW4S4zlDhQ

— Scuderia AlphaTauri (@AlphaTauriF1) September 6, 2020
This is the Frenchman's only ever second podium finish, with the last one coming in Brazil last year, and the first Frenchmen in F1 to win Grand Prix since Oliver Pannis in 1966. 
It was AlphaTauri's second Grand Prix victory – first one at Monza – with Sebastian Vettel in 2008.
Carlos Sainz was second to Hamilton in the opening stages of the race, but the two safety cars hampered his opportunity of any victory, finishing only a second behind Gasly. 
🔈 Here's how the first win for a French driver in 24 years sounded – in French! #ItalianGP 🇮🇹 #F1 @PierreGASLY pic.twitter.com/cGVFboomCZ

— Formula 1 (@F1) September 6, 2020
It was one of the youngest Grand Prix podiums in recent history, as Lance Stroll finished 3rd – the first time since 2013 that no Ferrari, Red Bull or Mercedes were on the podium.
The world champion fought his way from the back to seventh, only two places behind Bottas, after demoting Esteban Ocon on the final lap. Renault's Daniel Riccardo managed to separate the two Mercedes in 6th, with Lando Norris completing a fantastic weekend for McLaren in 4th. 
AlphaTauri's Danil Kyvatt and Racing Point's Sergio Perez rounded off the top 10 in Monza but disappointed after their teammates finished in the podium places. 
How our drivers crossed the line in an unforgettable race at Monza!#ItalianGP 🇮🇹 #F1 pic.twitter.com/NX8Vu3hImu

— Formula 1 (@F1) September 6, 2020
How did it happen?
The opening stages of Italian Grand Prix seemed the usual routine as Lewis Hamilton stormed out in front, but a mechanical fault of Kevin Magnussen's Haas and crash by Ferrari of Charles Leclerc saw an unexpected twist. 
At lap 22, Kevin Magnussen pulled off at the side of the road, forcing the safety car to come out. Lewis Hamilton and Antonio Giovinazzi pitted after the pit lane was closed and were quickly under-investigated by FIA.
Everyone else dived into the pits once it was open, seeing Gasly, Raikkonen and Giovinazzi up into 3rd, 4th and 5th respectively and were given a huge boost a few laps later. 
Then on lap 25, Charles Leclerc's Ferrari went off at Parabolica and crashed into the wall, forcing the race to be red-flagged. A perfect scenario for Lance Stroll, who had yet to pit, and Pierre Gasly, who changed to hard tyres, minutes before Magnussen's incident. 
A huge impact for last year's Monza winner on Sunday

Though his race was over, Charles Leclerc was okay after this crash coming out of Parabolica#ItalianGP 🇮🇹 #F1 pic.twitter.com/gwZbEQfVdT

— Formula 1 (@F1) September 6, 2020
And then we had another twist in the tale of Italian Grand Prix, like Lewis Hamilton, along with Giovinazzi, were awarded a 10 sec stop/go penalty for when the race resumed. 
Around 25 minutes later, a standing start was used once again to resume the race, as Pierre Gasly and Kimi Raikkonen rose ahead of Lance Stroll, whose slow start cost him his first F1 win.
Hamilton served his time penalty on the first lap, giving Gasly the lead and only faced the pressure of McLaren's Sainz, who rose three places into 2nd on stand start.
⚠️ PENALTIES ⚠️

Lewis Hamilton and Antonio Giovinazzi both receive a 10-second stop-go penalty for entering the pit lane when closed

They will both serve this when racing resumes#ItalianGP 🇮🇹 #F1 pic.twitter.com/BYFxWAi22D

— Formula 1 (@F1) September 6, 2020
The Spaniard was running second to Hamilton in the opening stint, but lost ground under the safety car with pit lane closed, McLaren had to keep Sainz and Norris out.
In the second race start, he quickly overtook the slow-starting Stroll, until he was stuck behind Alfa Romeo's Raikkonen. He didn't pass the veteran until lap 34, nearly seven seconds behind Gasly and ultimately cost him his maiden win.
Hamilton fought back from last place, 18 seconds behind the rest of the pack, to 7th and two places behind Bottas.
The world champion is still 47 points ahead – almost two clear wins – with the season close to its half-way point.
👀 on the prize…#ItalianGP 🇮🇹 #F1 pic.twitter.com/dndmtIlElL

— Formula 1 (@F1) September 6, 2020
Slow start for title contenders
Lewis Hamilton's closest contenders, Max Verstappen and Valtteri Bottas dropped down the field into the first corner. The Finn found himself in 6th, after touching with Lando Norris for 3rd and kept falling down into 6th. Verstappen had a slow getaway and was in 8th by the end of the first lap. 
Mercedes are unreal when leading the traffic, but we have yet to see how their deal in traffic and Bottas struggles clearly portrayed their difficulties. The German car was severely overheating and couldn't catch the Renault of Daniel Ricciardo, who was fastest in straight-line speed. 
This was made worse for Red Bull's Verstappen who was stuck behind Bottas but couldn't catch the Finn, and his Italian Grand Prix finished frustratingly, as he was forced to retire not soon after the race resumed due to damage to his car.
Not everyone enjoyed race day at Monza…#ItalianGP 🇮🇹 #F1 https://t.co/DLf5PIp8Xp

— Formula 1 (@F1) September 7, 2020
Bottas was in 6th after the race resumed, and could only overtake Lando Norris to finish 5th as overheating continued to be a problem for Mercedes.
Similar to most races in 2020, Ferrari will quickly want to forget their home Grand Prix, as for the second consecutive weekend they failed to score any points. Sebastian Vettel retired early on, as a brake failure seemed to burst and went through polynsterne on pitlane chicane.
His teammate, Charles Leclerc, was running in 5th after the first safety car but had a big crash to cause a red-flag, which provided Gasly with his first-ever victory.

On top of the world! 🌍🔝@AlphaTauriF1 @PierreGASLY #ItalianGP 🇮🇹 pic.twitter.com/6l6vX9gmyH

— Formula 1 (@F1) September 7, 2020
We hope you enjoyed this article 'Pierre Gasly Wins Italian Grand Prix in Remarkable Fashion'. What did  you make of Gasly's remarkable win in Monza? Let us know!
Read more on Formula 1 here: