Max Verstappen Takes Title Fight to Lewis Hamilton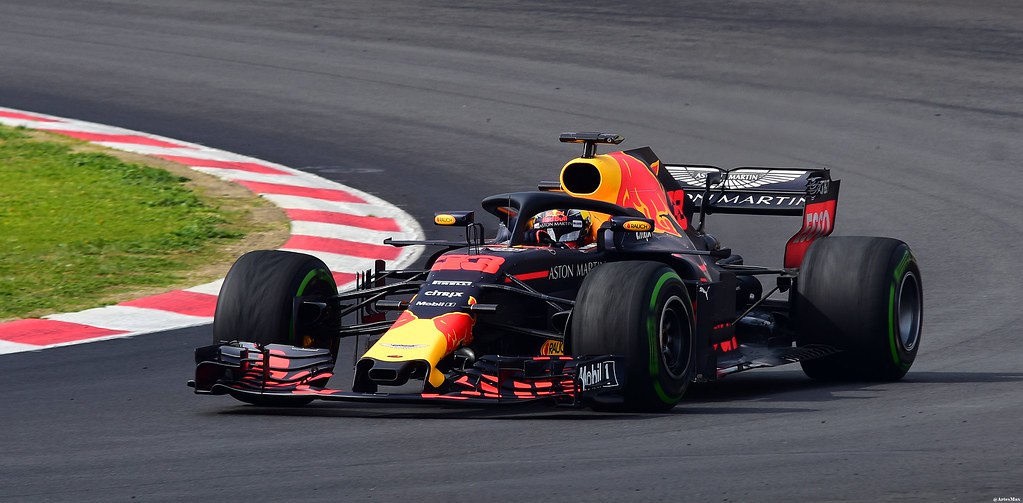 The circus continues as the fiery young Dutchman gets in on the action
Max Verstappen has officially made the 2020 World Drivers Champion title fight interesting by placing himself in the mix ahead of third-place Valtteri Bottas and trailing by seven points to the current Formula One world champion Lewis Hamilton.
Hamilton in a radio message during the Spanish Grand Prix admitted that he'd entered another state of mind as he cruised to victory in the 66-lap race. Later he told Sky Sports that he lamented the lack of a fight as he edges closer to the gold standard of equaling Michael Schumacher's record of seven world championship titles.
"This is not how I imagined the fight for the championship to go. This is not how I want to win the title; I would much rather have a very good fight with Max and Charles, that is what makes me happy. I'm a racer through and through, that's what I get out of my bed for every morning." the 35-year-old told Sky Sports after the 70th anniversary Grand Prix at Silverstone. "I think it would be great if everything would be closer together in the future."
A race later that is exactly what he can expect. The challenge coming from Aston Martin Red Bull Racing and Verstappen after an unlikely win at Silverstone where Mercedes struggled to manage the British summer heat.
Mercedes #F1 boss Toto Wolff believes his drivers Lewis Hamilton and Valtteri Bottas are now in a title fight against Red Bull and Max Verstappen:https://t.co/LuiXBPN3Xt

— Autosport (@autosport) August 11, 2020
Who is Max Verstappen Exactly?
Max Verstappen, a Dutch national and son of former Grand Prix winner Jos Verstappen, is acclaimed for his surgical consistency, strategic race-craft and raw speed on the track. However, it has been clear that the young talent was destined for greatness for some time now.
At the age of 18, Verstappen proved to be an exceptional driver when he was promoted to the principal Red Bull outfit form its sister-team Toro Rosso in 2016. He wasted little time and got straight down to business. In the same year on his debut performance for the team, he emerged victorious at the Spanish Grand Prix.
Many were certain that Dr Helmut Marko, senior advisor to the team, had done it again in spotting the young Dane's talent. Marko, who is the head of Red Bull's young driver development program is hailed for nurturing talents such as four-time world champion Sebastian Vettel and Grand Prix winner Daniel Ricciardo. Verstappen too was recruited by Marko in 2014 and it now seemed to be paying its dividend.
However, 2018 would prove to be a difficult year for the lad. He was consistent and kept reeling in the front runners but his fiery temper and hot-headedness resulted in several collisions which disabled him to mount a title fight. At the Monaco Grand Prix, he crashed out during free practice through his own doing. An accident which left the young Verstappen on the back foot to a race that his team later went on to win.
However, as time progressed Max matured, and now guided by Red Bull team principal Christain Horner, he has blossomed to be the teams lead driver. His fearless and all-on-the-lie attitude is exactly what is required to challenge Lewis for the title.
Aggressive yet Fair, but Absolutely Insane
The young cohort of drivers including meme-lord Lando Norris, ambitious Monégasque Charles Leclerc, British sweetheart George Russell and Thai prodigy Alexander Albon are incredible to watch on a Sunday and they do not hold back.
However, Max Verstappen's on-track wheel-to-wheel drama exhibited on a race weekend is ethereally unbeatable. Many neutral fans will find themselves rooting for Verstappen on a race weekend. Be it due to his daring overtakes, sheer speed or just his snarky team radio messages. He is a driver who will not accept second best.
Former racer and now Formula One guru, Jolyon Palmer has been quoted as saying that "Verstappen is the underdog the neutrals like to see win, to spice up the action. F1 needs him right now."
Winner of 2009 World Drivers Championship, Jenson Button too believes that of the 2020 grid, Max Verstappen is possibly the one who will bring the challenge to Mercedes, "He is still a young driver, but he already has a lot of experience. He is enormously talented. I think he has the most natural talent in Formula One."
And we can expect nothing less from the title contender in the upcoming Grand Prix's. New circuits are constantly being added to the 2020 Formula One calendar therefore, there is still plenty more racing to be done.
Red Bull are edging closer in terms of car spec and set up to the Mercedes. That just leaves the battles between the seasoned veteran and the young stallion to get sorted out on the track.
The title fight undoubtedly will be interesting between Max Verstappen and Lewis Hamilton. There has never been a better time to get into the adrenaline-fuelled, high energy circus that is Formula One.
Podium for @RacingPointF1❓@PierreGASLY's form to continue❓
Rain in the air❓

Here's what history tells us about the #BelgianGP 🇧🇪#F1 https://t.co/DRDoHV0YhS

— Formula 1 (@F1) August 26, 2020
We hope you enjoyed this article 'Max Verstappen Takes Title Fight to Lewis Hamilton'. Do you think Verstappen has a chance at winning the championship? Let us know!
Read more on Formula 1 here: