Chelsea Offered Thiago Silva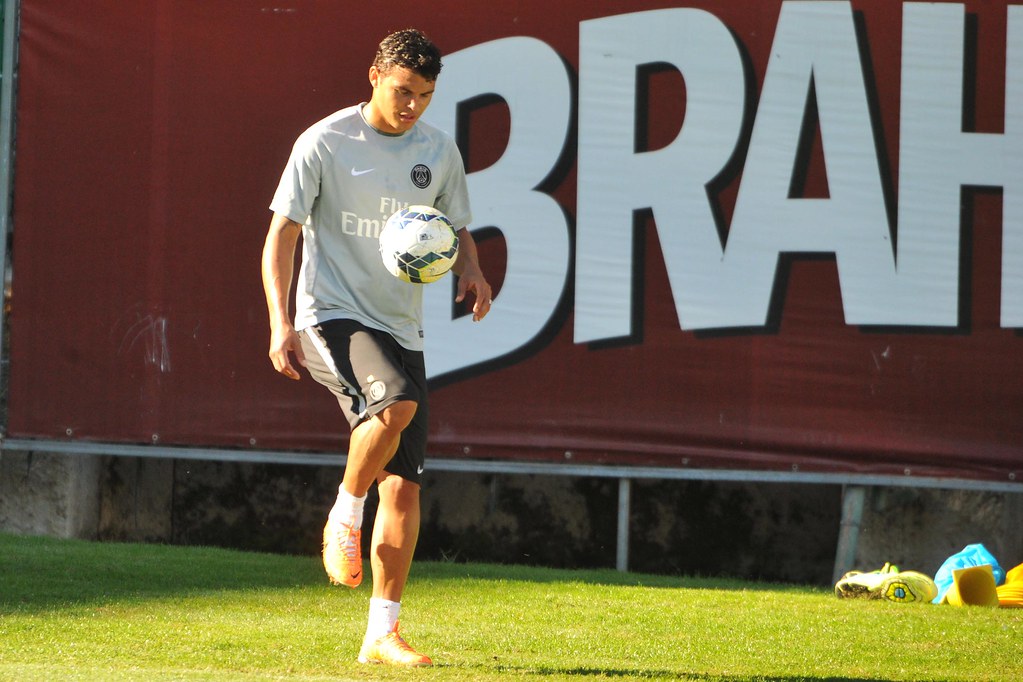 What Next for Thiago Silva?
Chelsea Offered Thiago Silva
Multiple sources are reporting that Chelsea have been offered the chance to sign Thiago Silva on a two-year deal.
The former Brazilian international will be available on a free transfer after Paris Saint-Germain's Champions League campaign comes to an end at the final on Sunday. The only reason the club's longest serving captain is not already a free agent is because he decided to stick with the club for this European run, and he is now one game away from the ultimate reward for that decision.
The 36-year-old has been named in the Ligue 1 Team of the Season in every full season he has spent at the club since his €42 million move from AC Milan in 2012, and was widely considered the one of the best centre backs in the world throughout his 8 years at the club. While PSG seem to think that he is past his best, the Brazilian reportedly feels he has 2 years of European football left in him and would relish the chance to play in England. Significantly, he was in the Copa America Team of the Tournament just last summer as he led Brazil to glory, suggesting that he is not done yet.
The Telegraph were the first to drop the story yesterday, and reliable journalist Sky Sports journalist Angelo Mangiante confirmed it this morning.
First choice for #ThiagoSilva as free agent was #ACMilan but the only exception player's salary cost/age (36) will be #Ibrahimovic (39) for ACMilan.
In Italy, #Fiorentina is still a choice to play in Serie A. The brazilian centre-back has been also offered to #Chelsea. @SkySport pic.twitter.com/JsRlRWxIyj

— Angelo Mangiante (@angelomangiante) August 20, 2020
Chelsea Offered Thiago Silva
As the above tweet confirms, a return to AC Milan was thought to be Silva's preference but this has been made to look unlikely by their decision to extend Ibrahimovic's contract. While he will still have the option of a Serie A return through Fiorentina, a move to England might well be more attractive to him.
Chelsea are considering Thiago Silva on a free transfer.

They have been offered Thiago and will hold talks over a 2-year deal.

His wages of £1.3m a month will drop significantly but his determination is to play in England. He is looking for a 2-year deal.

– @TeleFootball pic.twitter.com/nPWuUJn5ce

— Simon Phillips (@SiPhillipsSport) August 19, 2020
Everton and Arsenal are among the other linked English clubs, but a West London move is the only one which would offer him Champions League football. The Blues have a history of deals with PSG, notably for his former defensive partner David Luiz. However, Luiz is now at Arsenal with another former Brazilian international Willian, and their presence at Arsenal now could potentially swing him there.
On  the other hand, Arsenal already have an aging squad. While the Willian deal proves that they aren't afraid to give big deals to stars who are probably past their best, Arteta is ultimately looking to rebuild his squad. You would therefore think that just the one aging Brazilian centre back is enough for a club that might struggle to pay Silva's wages anyway. His current deal is worth a mouth watering €325,000 a week, but it is reported that he will be happy to accept a sizeable pay cut, as no one will be offering a 36-year-old that kind of money.
An Everton move would see him reunited with Carlo Ancelotti, the man who signed him for PSG in 2012. However, now we are seeing Chelsea offered Thiago Silva they would surely be considered favourites over the Liverpool blues, as they would offer him the chance to play European football and find it easier to match his wages.
Why might he be ideal for Chelsea?
While it is true that Lampard is in the process of a rebuild not dissimilar to that of Arteta, Thiago Silva might actually an ideal coup for the Blues.
The main missing characteristics of the Chelsea back line this season were leadership and aerial ability, these being the two exact qualities that this player prizes himself on. He does not have the pace that he used to have anymore, but his leadership qualities have only been honed through his long career, while aerial ability is not something that he has lost with age.
The lack of pace could be an issue but that would depend on who he was partnered with. You only need to look as far as his rival centre backs in the Champions League final to see that he could be successful if paired with the right man. Jerome Boateng is a slow footballer these days, and Bayern Munich play the highest defensive line in Europe at the moment, but with the pacey Alaba next to him this does not cause the German champions issues. Similarly, Silva's partnership with Kimpembe this season hasn't been victimised by pace regularly enough for it to be a talking point for the French kings.
How would he fit in?
THIS @FikayoTomori_ last-ditch tackle! 💪 pic.twitter.com/rU8u9lBRcc

— Chelsea FC (@ChelseaFC) April 21, 2020
If Silva were to be partnered with the rapid Fikayo Tomori, for example, they could potentially strike that perfect balance. The Cobham graduate is immensely popular among fans, and was a regular starter at the start of this season before injuries. The experience that Silva would be able to pass on to the youngster, as well as the rest of the young squad, could prove so valuable to a team that already lacked leaders BEFORE Willian and Pedro left this month.
In the latter stages of the season, it was Kurt Zouma who fans considered to be the strongest of the 3 available centre backs (over Christensen and Rüdiger). He is certainly the most aerial dominant, and perhaps a combination of him and Silva would finally solve Chelsea's woeful defensive set-piece record. The Frenchman proved he can make a recovering challenge with the last minute tackle below, and perhaps would finally return to the promise he showed alongside Cahill and Terry under Jose Mourinho if he had a proper leader next to him again.
Immense. 💪 @KurtZouma#CRYCHE pic.twitter.com/1L4nVPc67A

— Chelsea FC (@ChelseaFC) July 7, 2020
Chelsea have just seen their offer of a 2 year contract to Willian rejected, and the money involved would have been around a similar level to the demands that Thiago Silva will now be making. Therefore it is very feasible that they could simply change the Brazilian name on the form and offer a deal to the centre back, as 2 years is the duration that he (unlike Willian) is hoping for.
The lack of a transfer fee adds to the attraction, and they could even offer one year with the option of a second year, allowing both the player and the club flexibility if he can't cope with the Premier League any more. There is of course the risk of this, or that his playing level falls away at his age, but he would still play an invaluable role as a mentor and leader for the defenders around him, and as long as his wages are reasonably lowered then Chelsea should be interested.
Can't they do better (or younger)?
Silva is definitely not the absolute dream signing for Chelsea, that would be Koulibaly or Jose Gimenez. However, the former is being priced at €70 million and is more likely to choose Manchester City, while the Gimenez dream is as unrealistic as the Jan Oblak one – both players have release clauses of over €100 million. Chelsea fans are taking hope from the fact that Oblak said he would consider his future, and Gimenez was allegedly quoted to have shown an interest in Lampard's side only yesterday, but there is nothing concrete to say that either player wants to make the switch.
Atletico's Jose Gimenez has love for Chelsea and Lampard 👀 pic.twitter.com/PAjbhsuDtD

— B/R Football (@brfootball) August 19, 2020
Even if the players were keen, Atletico Madrid have no reason to lower their asking price below the high release clauses. The Blues are set to take their total spending so far this summer up to £150 million if they complete the signing of Kai Havertz from Bayer Leverkusen, and they also need a left back. With Ben Chilwell remaining the first choice in that position, which would be another £50 million at least, it is unrealistic to imagine that they could spend £100 million on one player for either of the other two positions (goalkeeper and centre back).
While we're talking left backs
With regard to this position, I would suggest that Nicolás Tagliafico would actually be the best option. He would be half the price of Chilwell, and is more defensively solid that the other alternative targets, Sergio Reguilón or Alex Telles (who would both be in a similar price range to the Ajax man). Chelsea need to ensure that they aren't doubling up on Marcos Alonso in terms of having a left back who is very good going forward but not solid enough in defending, especially as they may have striker and new signing Timo Werner playing off the left at times next season.
Tagliafico is more than capable of coming forward and crossing, but he is also able to sit back more, allowing Reece James to bomb forward on the other wing. A combination of James and other new signing Hakim Ziyech offering different crossing angles for players such as Werner, Tammy Abraham, Olivier Giroud and Christian Pulisic in the middle, with midfielders like Mason Mount, Ruben Loftus-Cheek (and Kai Havertz?) arriving from deeper, is a very dangerous one.
EXCLUSIVE: #LCFC in negotiations over Nicolas Taglifanco. A £38m fee seems likely. Great Chilwell replacement, ironically the geezer many #CFC fans want!

— Sean from Enderby (@seanfromenderby) August 18, 2020
With the Ajax man in the back 4, they can afford to use the system of a lone defensive midfielder and two '8s' without getting caught at the back. This is the shape Frank Lampard preferred upon the restart before injuries forced a change. Tagliafico also has knockout Champions League experience with Ajax so he can be a leader, as well as having chemistry with Ziyech.
On the same point, Andre Onana is the main goalkeeping target behind the high-priced Oblak. He is another Ajax player who is close with Ziyech, with top European experience and a lower price-tag (reportedly around £30 million), and should therefore be the one to sign.
We Want Rice
Declan Rice is easily the fans' most popular choice out of the realistic options linked with a move to Stamford Bridge. The West Ham man is a former Chelsea academy boy, and has a very close friendship with Mason Mount. While West Ham were quick to deny any truth to the report below, the links to his former club persist and he is widely rumoured to be Frank Lampard's first choice. Rice is renowned for his leadership qualities, and has already captained the Hammers at the young age of 21. These qualities are something that Chelsea have missed at the back, and are one of the advantages that Thiago Silva offers as well.
Declan #Rice is the priority as new centre back for #Chelsea.
Frank #Lampard wants bring him to Stamford Bridge.
Chelsea first official bid is £ 50 million to #WestHam.
The #CFC board wants Declan Rice. @SkySport #Transfers pic.twitter.com/ShoQljtowQ

— Angelo Mangiante (@angelomangiante) August 11, 2020
However, Declan Rice has spent most of his senior career playing as a defensive midfielder. He has filled in for West Ham at the back before, and spent his youth days at Chelsea as a centre back, but it is at the midfield base that he has made a name for himself. Nowadays, holding midfielders playing as centre backs isn't unheard of (thank you Pep Guardiola), and Lampard certainly wants defenders who can play with the ball, but this positional change remains a risk. Rice may be a good leader, but it is specifically a leader of the defence that Lampard is looking for – a commanding, confident centre half who will organise the back line and dominate the box.
While Rice can be described as a dominant defensive midfielder, it would be very demanding to expect him to change position and immediately maintain all of that confidence, commanding and organising defenders who have played in a senior back line for much longer than he has.
Furthermore, there is the issue that West Ham United have no intention of selling their number 41. Early in the window there was hope that David Moyes might be interested in being reunited with Ross Barkley as part of a player-plus-cash deal, but reports are that this is not the case. Rice's fee would reportedly be around £50 million, although West Ham might start negotiations higher, and Chelsea will need to make sales if they are to complete this deal. One thing is for sure though: the excitement of Chelsea fans will only continue to grow if they keep seeing photos like this one:
Former Chelsea captain, leader and legend John Terry posted this photo of the two meeting up on holiday, a trip that Mason Mount shared with Rice and on which they also had dinner with Didier Drogba. You can't blame Blues fans for getting hopeful…
Solution: Get Rice if you can
Despite the uncertainty around the prospect of his switch to centre back, Declan Rice is a signing that Chelsea should try to complete. The worst case scenario would be that he doesn't look comfortable and you move him back to defensive midfield.
This is a role that he would actually fit perfectly in Lampard's side, as the lone defensive midfielder behind two '8s'. He would therefore be competing with N'Golo Kanté and Jorginho (among others), but both of these have been on the end of speculation about moves and are also both over 28 years old. By the time it has been decided that Rice doesn't fit at the back and needs to play as the '6', chances are that one of them might have left the club, and there is enough of an age gap that Rice could play off the bench for a while and then be primed to make the role his own for the rest of the decade.
But Also Sign Silva
This is where Thiago Silva comes in: signing him AS WELL AS Declan Rice would be the perfect business for the Blues. It goes without saying that to sign any centre back Chelsea will first need to sell one of their current ones. The fan base is generally split between whether this should be Andreas Christensen, who has still not hit the potential he was touted with as he came through at Cobham, or Antonio Rüdiger, whose level this season was not as consistent as in his first couple of years at the club.
Kurt Zouma is actually the one who has seen the most links to a move, with Mourinho reportedly keen, while the returning Ethan Ampadu should be sent on another loan to gain more top flight experience after injury ruined his chances at RB Leipzig. My choice of sale would be Christensen.Whoever leaves, Chelsea will then only have 3 centre backs. With Rice and Silva, they would have 5, which some would argue is one too many.
However, Silva is only there on a one or two year deal, whereas Rice (21) and Tomori (22) are still young and not proven as top level centre backs. The dynamic between the aging centre back – who brings experience and nurturing to his partners – and the 2 youngsters – who are working their way into a top level side – would be perfect. The extra man also covers for the issue of whether Rice can truly play as a Chelsea-standard defender, and takes into account the fact that the condensed season due to the COVID-19 pandemic means fitness levels will be pushed, with injuries and rotation more likely.
It is of course ambitious to hope that Chelsea can make both these signings in these unprecedented times, and any deals they make moving forward will be dependent on the success of the numerous sales they hope to make (a centre back, Kepa, Emerson, Batshuayi, Bakayoko, potentially Barkley and Jorginho as well). However, if they can confirm a deal for these two, a left back and a goalkeeper, with the Havertz deal being done with the remainder of the money made from Hazard and Morata sales, then their competitors all around Europe should be taking note.
We hope you enjoyed the article 'Chelsea Offered Thiago Silva: The Ideal Piece in Lampard's Transfer Puzzle?' Are you surprised to see Chelsea offered Thiago Silva this summer? Who do you think they should sign? Let us know!
Read more on football here: