Stuart Broad shines as England claim series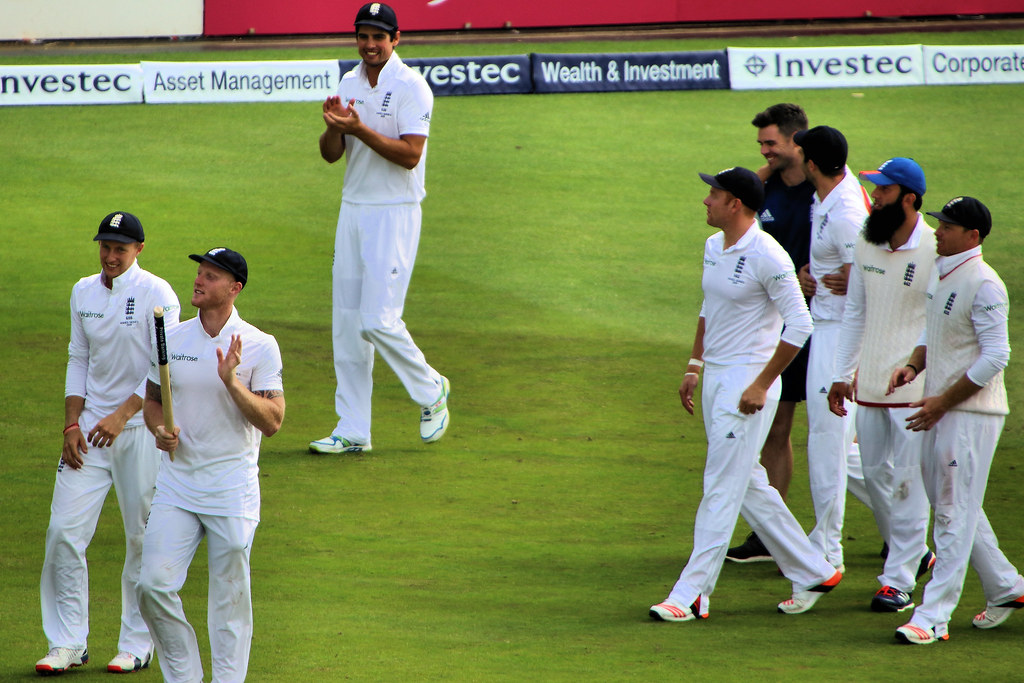 Stuart Broad shines as England claim series
Stuart Broad became only the 7th bowler in the history of Test cricket to claim 500 wickets. He is also only the 2nd Englishman – after his teammate and best friend Jimmy Anderson – to reach the milestone. Broad's 10 wickets in the game not only put him in the history books, but it also helped England claim an impressive victory in the 3rd and final game of the #raisethebat Test series. By doing so, England have also claimed the Wisden Trophy in perpetuity, as the trophy is being retired and a new trophy – the Botham Richards Trophy – has been commissioned to take its place.
After Ben Stokes helped England level the series in the 2nd test at Old Trafford, the teams stayed back at Manchester for the 3rd and final game of the series. Jason Holder seemed to be sticking to his game-plan as he justified his decision to bowl first in the previous game and chose to do so again in this game after winning the toss.  The West Indies would have been relatively happy with their captain's decision this time around as they claimed timely wickets to reduce England to a 122-4. This would have put England in a spot of bother, as they were playing a batsman short after dropping Zak Crawley to make way for an extra seam bowler, a decision prompted by an injury to Ben Stokes which meant that he was playing this game as a genuine batsman.
The two men at the crease then – Ollie Pope and Jos Buttler – had a big task ahead of them, for them it was also a big opportunity as they hadn't been among the runs in this series. As it turned out, both batsmen made good use of the opportunity that had presented itself as they shared a 140 run stand to stabilize England's innings. While both batsmen were unbeaten at the close of play on Day-1, both fell pretty quickly on Day-2.
Ollie Pope was unable to add to his overnight score of 91 and Jos Buttler too fell a couple of overs later for 67. A score north of 300 looked unlikely for England when Stuart Broad had just joined Dom Bess at the crease with the score at 280-8. But that's when Stuart Broad decided to become the new Ben Stokes. Bess and Broad shared a 76-run stand for the 9th wicket off which 62 came from Stuart Broad's bat alone. Broad belted the Windies bowlers until he was eventually dismissed for 62 from just 45 deliveries. Broad's innings helped England cross even the 350 mark as England were bowled out for 369.
While it was some impressive batting that had won the Windies the first test, it was that same batting order that let them down in this one. They did not show any substantial resistance whatsoever and kept losing timely wickets. While a few batsmen like John Campbell and Jason Holder got starts, no one managed to cross 50 and it reflected on their final score as they were bowled out cheaply for a 197 early on in Day-3. Stuart Broad was yet again the standout performer with 6 wickets to his name in the innings.
As it has been on a number of occasions in this series, time was of the essence here. The weather forecasts for Day-3, 4 and 5 were not promising, but what worked in England's favour was that they had a huge lead of  172. The English openers added a 114 before Dom Sibley was dismissed for 56. The England captain Joe Root joined Rory Burns at the crease and he made his intentions very clear very quickly. The duo accelerated the rate of scoring and added another 112 runs before Rory Burns was dismissed for a well made 90.
England declared at the fall of Burns' wicket at 226-2 and skipper Root remained 68 not-out from just 56 balls. The Windies had a herculean task if they were to retain the Wisden Trophy, either bat for over 2 days or score 399 to win the game. Before all of that, the Windies openers had 6 overs to survive on Day-3. Unfortunately for them though, they lost opener Campbell for a duck and nightwatchman Roach for 4 which left them reeling at 10-2 at the end of day's play.
England would have been a bit apprehensive as the entirety of Day-4 was lost to rain.  Proceedings resumed on Day-5 and much to the dismay of the West Indies they weren't able to hold on. England managed to take the remaining 8 wickets in just 31.1 more overs as the Windies folded for just a 129 to hand England a comfortable 269 run victory. Chris Woakes claimed a 5-fer and Stuart Broad added 4 more to his tally not only claim 10 in the match but to also reach the 500 wickets milestone.
England will be pleased to win the first series after a long break due to the pandemic. A tired West Indies side will fly home as they showed gratitude to the ECB for organizing the series and captain Jason Holder emphasized the importance of a reciprocal tour in the near future. Cricket is slowly but surely returning to normal. A friendly 2-Day game between Surrey and Middlesex saw the return of spectators (although it was just a 1000 of them) to cricket in the post-pandemic era. While this might be the new normal for a period of time, it certainly is a step in the right direction. England's cricketing summer continues as they face Ireland in a 3-match ODI series starting on the 30th of July.
We hope you enjoyed this article "Stuart Broad shines as England claim series." Do you think Broad will finish his career with more wickets than Jimmy Anderson? Let us know!
Read more on cricket here: