Phil Foden: Patience is Key to Development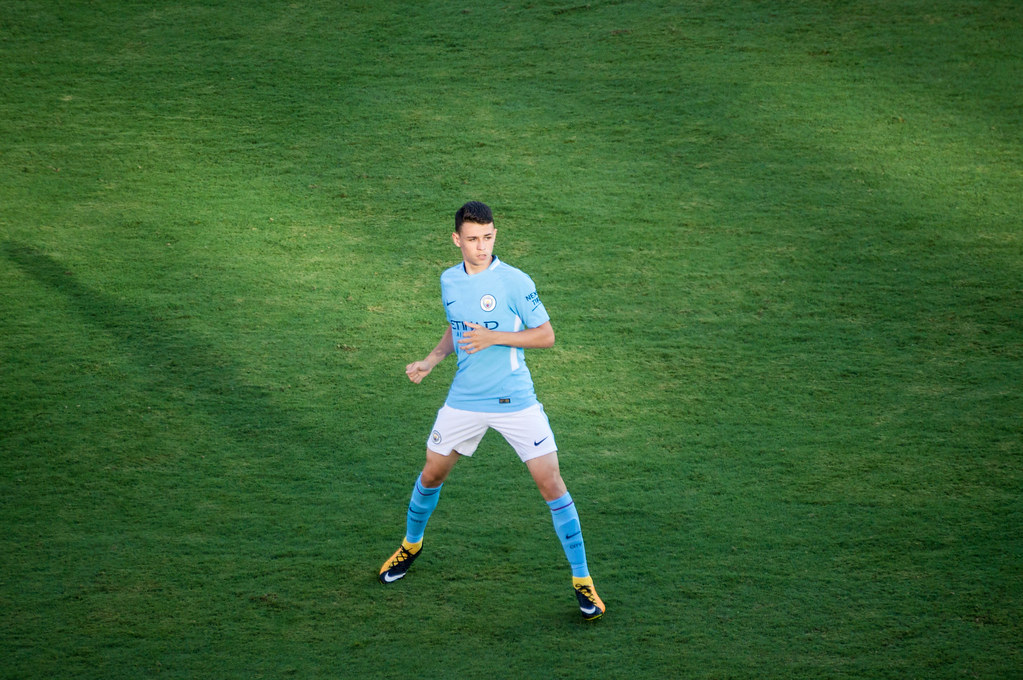 Foden is an outstanding young talent, but he can't be rushed: patience is the key to his development.
Phil Foden: Patience is Key to Development
"In the next decade, or fifteen years, he will be an outstanding player for us. I don't have doubts." City know how to nurture talent through their academy, and for Foden, patience, is the key to his development.
That was the verdict from Pep Guardiola on Phil Foden after the youngster put in a man-of-the-match display against Burnley in a 5-0 win on Monday evening. Foden scored twice and was involved in two other goals, arguably producing his best performance in a City shirt to date.
Guardiola's statement is a familiar one. The Spanish coach has never been interested in allowing Foden to leave the club, either on loan or permanently. Instead, he has ear-marked the Stockport-born midfielder as one for the future.
Guardiola is always looking ahead, seeing how his team will look months and even years down the line. However, people are starting to ask the question: is Phil Foden ready to make an impact now?
Foden has had to remain patient, waiting for his opportunities to shine in a star-studded line-up. At times it must have been frustrating for him, and some supporters have wondered whether he should have looked for a move away over the past couple of years.
Foden has not done that though, and with each passing week it is looking like he was right to bide his time.
🥇Man of the Match, @ManCity's Phil Foden
2 goals
3 shots, 2 on target
Completed 29/36 passes
45 touches
Scored in both PL games since restart (3 goals) pic.twitter.com/iWw4PMYXYz

— Sky Sports Statto (@SkySportsStatto) June 22, 2020
Avoiding Becoming the Next Wilshere
Foden first started getting game time for City in the 2017/18 season at the age of 17. His talent was undeniable from an early stage, but his first season also showed that he should be treated with caution.
In January 2018, the then-teenager took a nasty blow to the ankle and was ruled out for a month. It could have been far worse, with Foden a little fortunate to avoid a more serious injury. It brought back memories of other young English talents who had suffered painful injury setbacks early on in their careers.
Ross Barkley broke his leg back in 2010. The midfielder has since recovered, but has perhaps not progressed as many expected him to. However, a better comparison with Foden is the case of Jack Wilshere.
The former Arsenal man burst onto the scene, making his debut for the Gunners as a 16-year-old. By 18, he was a regular in the team, and we all remember his outstanding performance against Barcelona in the Champions League in 2011.
Unfortunately, we also remember what happened next. Wilshere missed the entire 2011/12 season, and has had persistent ankle problems ever since. At the time, everyone had been so excited by Wilshere's potential, and rightly so. Yet in retrospect, he was overplayed given his tender age, and has never fully recovered for much of the past decade.
There are similarities between Foden and Wilshere. Both elegant left-footed players, happy to dribble through the midfield, looking for quick passes in tight areas and inviting tackles along the way. That got Wilshere into trouble over the years. Every time he was kicked the crowd would wince. Would he be able to get back up?
Just watching Foden on Monday night, he also took a few kicks, barely managing to stay on his feet on a couple of occasions. Of course, he did come through unscathed in the end, but it did offer a reason as to why Guardiola has been so careful with him over the past two seasons.
Foden is still developing, both physically and technically, and taking knocks every week would only hamper his progress. It may be frustrating that he has perhaps not played as some fans would like, but in the long-term it should benefit him.
The Class of 2000
Much has been made of Foden's lack of minutes compared to his peers. Foden won the Golden Ball at the Under-17 World Cup in 2017 when England were crowned champions, but he has since seen the likes of Jadon Sancho and Callum Hudson-Odoi enjoy more chances to play at their respective clubs than he has. Why is that?
Well, the main reason appears to be his position. Foden's preferred role is in central midfield, whilst Sancho and Hudson-Odoi are both wingers. Wide players often get more opportunities at a younger age. They are a little more inconsistent than players in the middle of the park. Having the odd shaky performance is accepted as part of the role, whereas central midfielders are trusted with running the game.
If you think about some of the best central midfielders of recent times, many have struggled to make their mark until they reached their 20s. Andres Iniesta and Xavi did not establish themselves at Barcelona until their teenage years were behind them, and Foden only has to look at City's own Kevin De Bruyne to see how it can take time to flourish at the top level. The Belgian was rejected by Chelsea in his formative years, but is now widely regarded as the best midfielder in the Premier League.
Another factor is that City's squad has ridiculous strength in depth. Foden has had to battle with the likes of De Bruyne, Ilkay Gundogan, plus David and Bernardo Silva for a spot in the team. It has meant that he has had to play out wide to get into the side at times, but he has been happy to do so, and shown that he is able to adapt to different positions with ease.
It cannot be denied that Sancho's move to Borussia Dortmund has worked wonders for him, whilst Hudson-Odoi continues to improve at Chelsea, but Foden should not be disheartened. His time will come.
Just a lad from Stockport playing for the club I love 🤷🏻‍♂️💙 pic.twitter.com/qvMU7Y3zvC

— Phil Foden (@PhilFoden) June 22, 2020
Foden Ready to Step Up
City are set to lose two key players this summer, with David Silva ending his ten-year association with the club, and Leroy Sane looking likely to join Bayern Munich. Some may expect City to be seeking replacements, but Guardiola has other ideas.
"When David said it was his last year I told the board we have Phil, so we don't have to invest," said Guardiola.
Foden appears to be the player to fill the boots of Silva. It may seem an unenviable task given that Silva has become one of City's greatest ever players over the last decade, winning four league titles, but it is a challenge that Foden will surely relish.
Having only turned 20 last month, Foden has been allowed to develop at his own pace. He has been used sparingly, but also gained enough experience in recent months, showing against Arsenal in December and then Aston Villa in the Carabao Cup final two months later that he belongs in the City side.
We have a habit of wanting to see young English talents play all the time. It is understandable, but it must also be recognised that Guardiola knows what he is doing. His calculated approach has protected Foden, whilst also not stunting his growth as a player. The moment is coming where Foden can be let off the leash. Patience is a virtue, and luckily Foden possesses it. He is now ready to reap the rewards.
We hope you enjoyed the article 'Phil Foden: Patience is Key to Development.' How far can Phil Foden go in his footballing career? Let us know!
For other news on Premier League players, check out the articles below: