The Most Underrated XI Since the Turn of The Century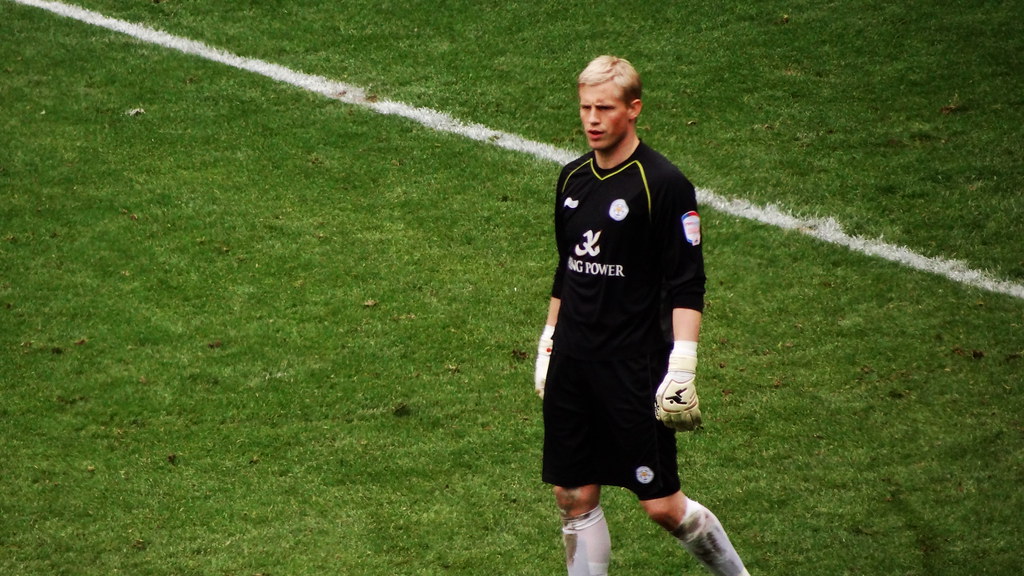 The most underrated XI since the turn of the century
There are many players that are, or have been, considered 'underrated'. Some get this status as they are not appreciated by their clubs, some by their fans and some by the footballing world. In the list below, the most underrated XI since the turn of the century line-up in a 4-3-3.
Goalkeeper
The son of a Manchester United great was signed for a bargain of £1 million by the Foxes back in 2011.
He has played 358 games for the Foxes and was one of the pivotal players of Leicester's 15/16 title-winning team.
Jamie Vardy and Riyad Mahrez relished all the headlines and found themselves in that season's top 10 of the Ballon D'Or – but the keeper did not get a look in.
Schmeichel is one of the top, and consistent, goalkeepers in the league.
He has attracted interests from some of the world's biggest clubs, including Real Madrid, Liverpool, and both Manchester clubs.
The Dane possesses a huge presence on the pitch, commanding his backline with ease, and dons the captain's armband.
And after all this, some do not believe that he is one of the league's best.
Right-Back
Arbeloa struggled to break into the Madrid team, only because Sergio Ramos beat him to replace Michel Salgado.
The Spaniard was brought to Liverpool by countryman, Rafael Benitez, after spells with Real Madrid B, and Deportivo La Coruna.
Arbeloa was a versatile fullback, and was as reliable on the left, as he was on the right. It took him a season to become a first time regular, but his solid defensive abilities were never questioned.
He played a significant role in conceding 55 goals in two seasons – and that is his legacy in Merseyside.
But as he was just shy of a century of appearances for the Reds, he became a Galactico once again, for a modest £5 million.
Arbeloa played 153 times, which is a feat itself, in a team with Sergio Ramos, and later, Dani Carvajal.
The Spaniard won everything possible for his boyhood club, including two Champions Leagues, one La Liga, two Spanish Cups, one Spanish Super Cup, one Club World Cup, and one Super Cup.
He appeared 56 times for his country and picked up a World Cup and two European Championship medals.
Arbeloa finished his career with a disappointing spell at West Ham United, but a defensively sound career, of which most people forget about, adds him to this team.
Centre Backs
The Northern Irishman came through the Manchester United academy and featured only 131 times in 8 years. But Evans is like a fine wine – he has improved with age.
He was often deployed as first-reserve for the Red Devils but performed when he was needed.
It was not until 2011, three years after his United debut, that he started to become a regular due to injuries to Rio Ferdinand and Nemanja Vidic.
Evans was signed by relegation candidates, West Bromwich Albion, to boost their survival chances, and became the club's captain.
The defender put in some key performances, despite failing to escape the drop. Evans attracted the likes of Man City, Arsenal, and Leicester, proving the quality he possesses.
The latter triggered a £3.5 million relegation cause to bring Evans to the East Midlands in 2018.
And since then, Evans has been one of the first names on the team sheet, creating strong partnerships with Harry Maguire and now, Caglar Soyuncu. Evans was, and is, often overlooked when credit is given to strong Leicester defensive displays.
He is a very solid defender, not to the standard of the likes of John Terry and Virgil Van Dijk, but he is not far off. He is also a true professional and as reliable as they come.
Evans has 273 career appearances and has featured 84 times for Northern Ireland and is the second most decorated Northern Irishman in history.
The Northern Irishman is now 32, but it would not be a shock if he is still competing at the highest level in seasons to come.
Kolo Is the older brother of Yaya Toure, the former Barcelona, and Man City superstar.
The Ivorian first burst onto the scene in 2002 when Arsene Wenger brought him to North London for only £150,000 – an incredible amount for a player that made 225 appearances as a Gunner.
Toure was an ever-present rock at the back in the 03/04 invincible side, something that most fans forget about. He was one of the best centre-backs in the country when he played under Wenger.
After 7 successful seasons in London, Toure made the trip to Manchester City in a £14 million deal and was one of many high-profile signings in 2009. He was appointed captain by Mark Hughes.
The Ivorian slowly became a squad player at City, Liverpool, and Celtic, and with his off-field exploits, it is easy to forget the ability he once possessed.
He played in the Premier League for 14 seasons, and even though his better years came in an Arsenal shirt, he was never truly appreciated as the leader at the back that he once was.
Left-Back
The left-back is the second former-gunner to make this list.
He was not only underrated by Arsenal fans, but by football fans too.
He often went under the radar, with Mesut Ozil and Alexis Sanchez grabbing the headlines.
Monreal has the perfect balance of offensive and defensive skill sets, always remaining reliable for the red and white.
He does not particularly have flair or ground-breaking pace, but he does his job very well. And he loves a cross-field through ball and a last-ditch slide tackle.
Monreal was an extremely versatile asset for Wenger, and even won player of the month as a centre-back.
He made 187 appearances for Arsenal in a 6-year stint.
The left-back even played for Spain as a 32-year-old, proving that he never his quality never deteriorated with age.
The 34-year-old now plies his trade in his homeland for Real Sociedad and has appeared 20 times this season in one of the best leagues in the world – and isn't recognised for it.
Midfielders
Claude Makelele takes the 'number 6' role in this side – he was so crucial to Claudio Ranieri's Chelsea side, that the role is named after him.
He is regarded as one of the best defensive midfielders of all time.
The defensive midfielder played for some of Europe's heavyweights, including Real Madrid, Chelsea, Marseille, and PSG.
The Frenchman won league titles in England, France, and Spain – the only thing he did not win was on the international stage.
But what makes him underrated was that he always featured with some of the world's greatest players – and he was always in the background.
At Chelsea, he played alongside Didier Drogba and Frank Lampard, and in Madrid, he was overshadowed by Zinedine Zidane, Luis Figo and Ronaldo.
He was also heavily under-appreciated at Real Madrid. The Frenchman's salary was just a percentage of the club's other names, and with the arrival of David Beckham, Makelele demanded an improved contract. This was turned down, leading to Makelele's move to Chelsea.
Many appreciated Makelele's quality, but this only came towards the end of his career.
Gini Wijnaldum is, debatably, one of the best midfielders in the game right now – yet he does not get the credit he deserves.
This is as stats do not give him justice.
He rarely scores goals, makes assists, or even produces many tackles and interceptions – but the Liverpool side would not flow as well without his presence in the middle of the park.
He is one of the first names on the team sheet, and when he does not play, Liverpool's midfield look lost.
Wijnaldum is also a big game player – a key asset for any team that wants to challenge for silverware.
The Dutchman makes his box-to-box role look easy. He pulls the strings and never stops working for his side.
He is heavily appreciated in Merseyside but looked over outside of the North East.
Wijnaldum was named the 26th best player in the world in Ballon D'Or polls – an extremely low rating for a player of his quality, aland presence.
Andrea Pirlo's name in this list may come as a shock to some – but it makes sense.
He was one of many great central midfielders of his generation, and yet, did not win a Ballon D'Or. In fact, he did not even appear in the top three.
The Italian was, throughout his career, overlooked by two midfield maestros: Xavi and Andres Iniesta.
Pirlo was one of the most technically gifted midfielders of recent times and was one of the best set-piece takers.
Many say he is the best passer of the ball there has ever been.
It was at AC Milan, and under Carlo Ancelotti, where Pirlo became renowned around the world and made just under 300 appearances for Rossoneri.
Pirlo went from black and red, to black and white, when he made the switch to Juventus on a free transfer. Many believe that he is the best free transfer of all time.
He was a serial winner. He picked up the Italian footballer of the year for 3 consecutive years.
The Italian won a total of 12 domestic titles, as well as 2 champions leagues and a world cup. Throughout his career, he won 31 titles.
The only thing he is missing in his trophy cabinet is the Ballon d'Or.
Attackers
The striker is regarded as one of the best Bulgarians of all time and scored an unbelievable 48 goals in 78 games.
Berbatov's name started to become known when he made the move to Tottenham Hotspur.
He scored 46 goals in a two-year stint in North London.
The Bulgarian often scored exquisite goals and made it look easy. He was calm in front of goal and had an incredible level of footballing intelligence.
'Berba' then became the most expensive Bulgarian of all time, when Manchester United forked out £30.75 million for his services.
He broke many records; he was the first United player to score a hat-trick against Liverpool in 64 years and he tied a Premier League record by scoring 5 goals in one game, the first non-Englishman to do so.
In the 10/11 season, he was the league's top goalscorer and won the golden boot.
In England, he won a total of 9 domestic titles and a club world cup at the latter.
He was named Bulgarian footballer of the year a record 7 times.
But what made him underrated is that when people talk about the league's best strikers, Didier Drogba, Sergio Aguero and Luis Suárez are mentioned. Berbatov's name is nowhere to be seen.
The German striker's mention is another name that may come as a surprise.
How can a striker that was playing for Lazio at the age of 37 be underrated?
Klose has scored more world cup goals than anyone else in history, beating Ronaldo, Gerd Muller, and Pele to the honour.
He is also Germany's record goalscorer with 71 goals.
But with his international career being in the forefront of people's minds, his domestic career was not too shabby either.
He bagged 213 goals in 529 games in a career that lasted 18 years, most notably for Werder Bremen, Bayern Munich, and Lazio.
Klose was the complete centre forward. He was dominant in the air, possessed good pace and clinical finishing, always finding himself in the right place at the right time – the end of a cross.
At Bayern Munich, the striker won 8 domestic titles. And at Werder Bremen, he was the Bundesliga's top goalscorer with 25 goals.
But he most notably picked up a World Cup winners medal in 2014.
Klose is the World Cup's best striker and his highest ever ranking in the Ballon d'Or was 7th – that is what makes him underrated.
Alike Klose, Dzeko is the complete striker – he is powerful, an aerial threat, and is the type of striker that is slowly going out of fashion.
And alike Berbatov, Dzeko was treated poorly in Manchester.
The striker scored an incredible 66 goals in 111 at Wolfsburg before Man City came calling.
But Dzeko was often a reliable back-up to Sergio Aguero, and questionably, Alvaro Negredo. He scored some crucial goals during his time as a 'super-sub', including a 92-minute goal in the final game of the season, to help the Citizens lift their first premier league title.
The Bosnian scored 50 goals in 130 appearances for City, with 56 of these coming from the bench.
And when he made his move to the Italian capital, it was a match made in heaven.
Roma were desperate for a true number 9, and that is what they got.
After a disappointing first season in Italy, he then found his feet. He became the first Roma player to score 33 goals in all competitions and finished the season with 39.
He was also the league's top goalscorer, outscoring the likes of Mohamed Salah, Gonzalo Higuain, and Dries Mertens.
He has, since then, not stopped scoring.
But once again, he is not considered as one of the best strikers in the world by some, and in the top 10 by others.
We hope you enjoyed the article 'The Most Underrated XI Since the Turn of The Century.' Do you agree with your picks? Let us know!
Fancy writing for us: Apply to become a Sports Writer at the Sporting Ferret
If you liked this article why not check out: