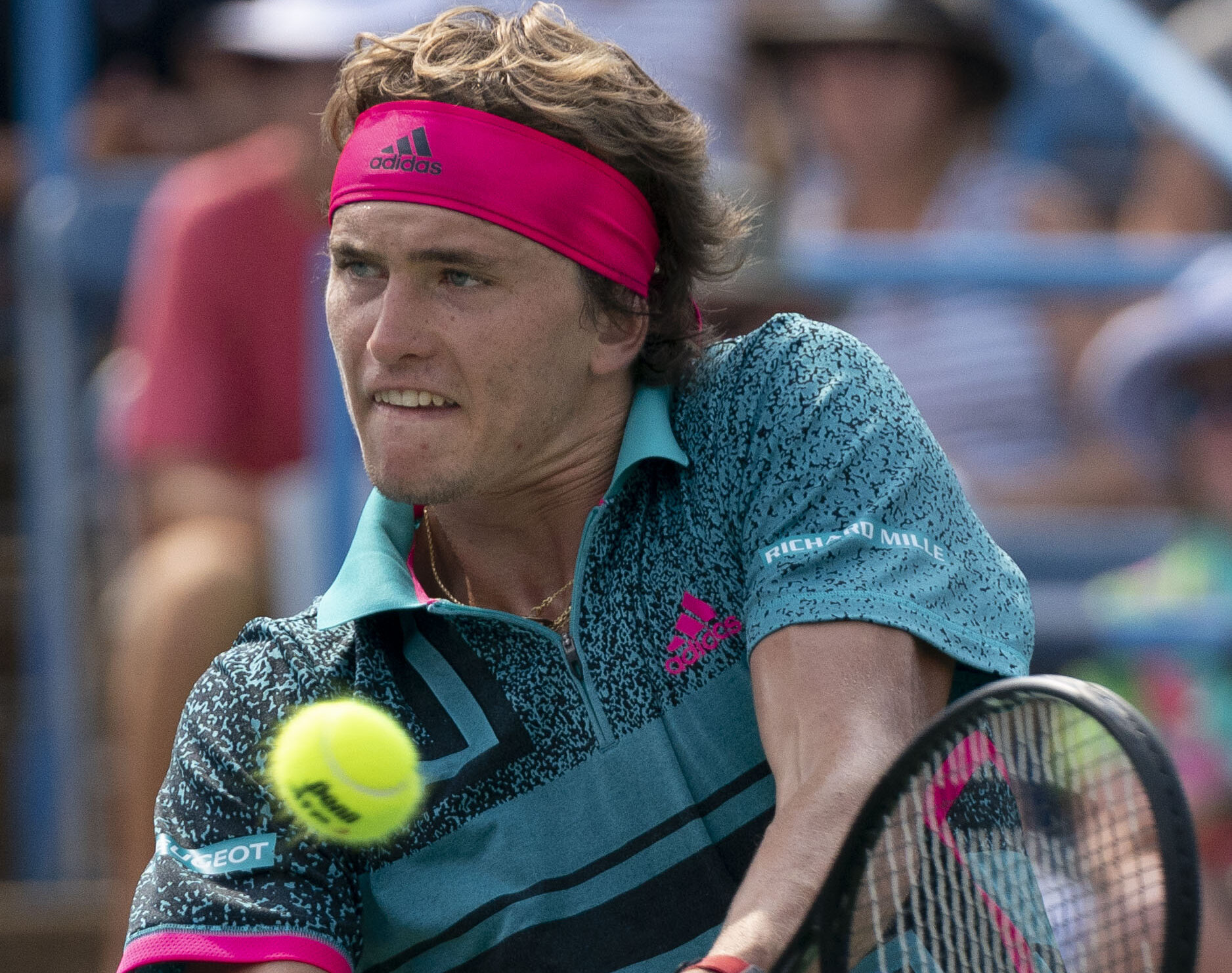 Zverev is Back
Alexander Zverev was, in the end, the one to lift the largest trophy at the ATP Finals in Turin, Italy, the round-up of a very entertaining and exciting year of tennis. At the ceremony after the game, Zverev told the runner-up, Daniil Medvedev, that this latter is the leader of their generation of tennis players. That is true and it was a surprise to many that it wasn't Medvedev that came away with the most prestigious trophy but left that part for his German opponent.
The semis proved the toughest test
To win the title, Zverev really had to prove his worth. While he won the final in two sets, the real test, and the most entertaining match, was the semifinal against Djokovic. A real battle of almost three hours that Zverev won after winning the first set in a tiebreak, losing the second but breaking Djokovic early in the third to secure a late night win. After the game, Zverev said that the predominant feeling after the important victory against the world no. 1, was physical tiredness. All the more impressive, therefore, that less than 24 hours after, he went on to win against the world no. 2 in straight sets.
In addition to his tennis skills, in Turin, Zverev also that proved his athleticism is top notch.
Zverev being human
It felt good to see Zverev win against Medvedev, who has beaten him five times in a row. Medvedev has a certain aura of invincibility about him, a consequence of a couple of seasons in which he really has risen, as Zverev said, to be the leader of their generation of players, and also the one posing the greatest danger to Novak Djokovic.
Zverev, more than an aura of invincibility, has had an aura of vulnerable humanness which is rare in professional tennis. After his first exordium a few years back, when he won the same title in London in 2018, Zverev has demonstrated how difficult it can be to get that second serve in the box when your mind pulls your arm in a different direction. All of us that play recreational tennis know this, and seeing the same synergies playing out in a top five player, who also has one of the greatest serves of the game, made Zverev look a lot less supernatural and a lot more loveable. Winning the title in Turin was also, perhaps, evidence that he's gotten over his troubles, let's hope for his sake that it is so.
? Tenistas con + VICTORIAS #ATP

1- Zverev ?? 59
2- Medvedev ?? 57
3- Ruud ?? 55
4- Tsitsipas ?? 54
5- Djokovic ?? 51
6- Norrie ?? 50
7- Rublev ?? 48
8- Sinner ?? 46
9- Berrettini ?? 40
10- Schwartzman ?? 38
10- Aliassime ?? 38 pic.twitter.com/dnkg1Yxljm

— CanalTenis.com ? (@canal_tenis) November 23, 2021
Italian hopes come and go
It was also Zverev that jumped the net to embrace Matteo Berrettini when the Italian player realised that in his first match in the first ATP Masters at home in Italy, with a city and a country chanting for him and him only, had to withdraw because of a reoccurring injury to the abdominals. Zverev who had only barely managed to win the first set, refused to talk about the game afterwards, underlining that while they're rivals on the court, these players are all friends and nobody wants for a friend what happened to Berrettini. The hard hitting Roman has established himself fairly safely among the top eight players in the world so let's hope for his sake that he gets to play at this event in Turin next year as well.
Fortunately for the Italian audience, the first reserve and the man to take Berrettinis place was another Italian, Jannik Sinner. Sinner, who was very disappointed not to have made it into the first eight, must have been eager to show his worth. In his first game, he basically massacred his friend and the man who took the eighth place from him on the ranking, Polish Hubert Hurkacz. The stunning performance certainly made the Italian audience hope for an azzurro (what Italians call their athletes) in the semifinals, but alas for Sinner, in spite of his win, he had no chance of qualifying because of Zverev's former win over Berrettini. The 20 year old nevertheless went on to play an amazing game against Medvedev, who spent almost three hours on the court battling both Sinner and the Italian audience. The most impressive part of Sinner's performance that evening was also his weakest. Playing basically without a first serve, which he kept missing, he still fought on equal footing with the number two on the ranking. Imagine therefore, what he can do when he eventually improves his serving. Perhaps Sinner will be what Medvedev suggested, one of the absolutely strongest players in 2022.
For the first time since the ATP ranking was created in 1973, two Italian men will finish in the top 10 of the year-end rankings: Matteo Berrettini & Jannik Sinner

Via @ESPNtenis pic.twitter.com/sWIlA4EZo5

— Christopher Clarey ?? ?? ?? (@christophclarey) November 16, 2021
Casper Ruud: What hard work can do
Among the four players that eventually made it into the semifinals, the biggest surprise was undoubtedly the relentless Norwegian Casper Ruud. The first Norwegian ever to make it into the ATP Finals, it must have been a special feeling to enter the court last Saturday as one of the four strongest players in the world. He made it there after an impressive win over Andrey Rublev, one of the must see matches of the tournament, and although Medvedev proved too strong for Ruud on this occasion, the Norwegian demonstrated to the world what you can achieve through hard work. The superfast surface in Turin is hardly Ruud's favourite, he was born as a clay-only type of player, but he has managed to improve those aspects of his tennis that are needed to play well also on hard court and guess what, he ended the season as the world's number eight, a incredibly impressive feat.
Now, after the ATP Finals are over and only the Davis Cup is left of this year's season, it is time to make some predictions for next year.
Casper Ruud in 2021:

5 titles
55 wins
17 losses

28-5 on clay
25-10 on hard (9-4 indoors)
2-2 on grass

Up from #27 to #8 in the world.

Pretty good. pic.twitter.com/DD95Wb73Qo

— José Morgado (@josemorgado) November 20, 2021
The old and the very young: Some cues for 2022
Of the eight players that made it to the final tournament, my guess is that Cameron Norrie and to some extent Hubert Hurkacz will still have to prove their worth. Although he didn't win, Novak Djokovic has proven that to beat him, players still need to pull out the best of the best of their tennis and physical resistance, because he will not go down easily. Alexander Zverev, if he continues in this vein, might take over the "throne" as the leader of their generation from Daniil Medvedev, but they still have to take into account that they most likely, and hopefully, will have to face a Rafael Nadal and perhaps also a Roger Federer, that might have used their experience and unworldly talent to harness an ace or two to be able to compete younger forces.
Amongst those younger forces are also the two finalist at this year's Next Gen ATP Finals, an event organised in Milan just before the tournament in Turin. The American Sebastian Korda and not least the young Spanish wonder, Carlos Alcaraz will be there to compete against the very best for sure.
Fringe players such as Denis Shapovalov and Félix Auger-Aliassime, both of whom are perhaps a bit disappointed that they haven't established themselves in the top 10 yet, will do their best to stake a claim inside the top 10 come next year.
If I need to mention one player whose stellar year might be 2022, however, I think I might agree with Medvedev. Jannik Sinner has so much to improve still: his serve, his netplay, and not least his desire to win – he often seems like he is on the court to grow and develop as a player. If young Sinner manages to unleash a little beast in himself, and improve his obvious weak points, he will no longer just fight on equal footing with the best, he might just beat them all.
We hope you enjoyed the article 'Zverev is Back.' Which tennis player do you think will be crowned as number one next year? Let us know!
Read more on tennis below: