Is Lando Norris the Most Consistent Driver in F1?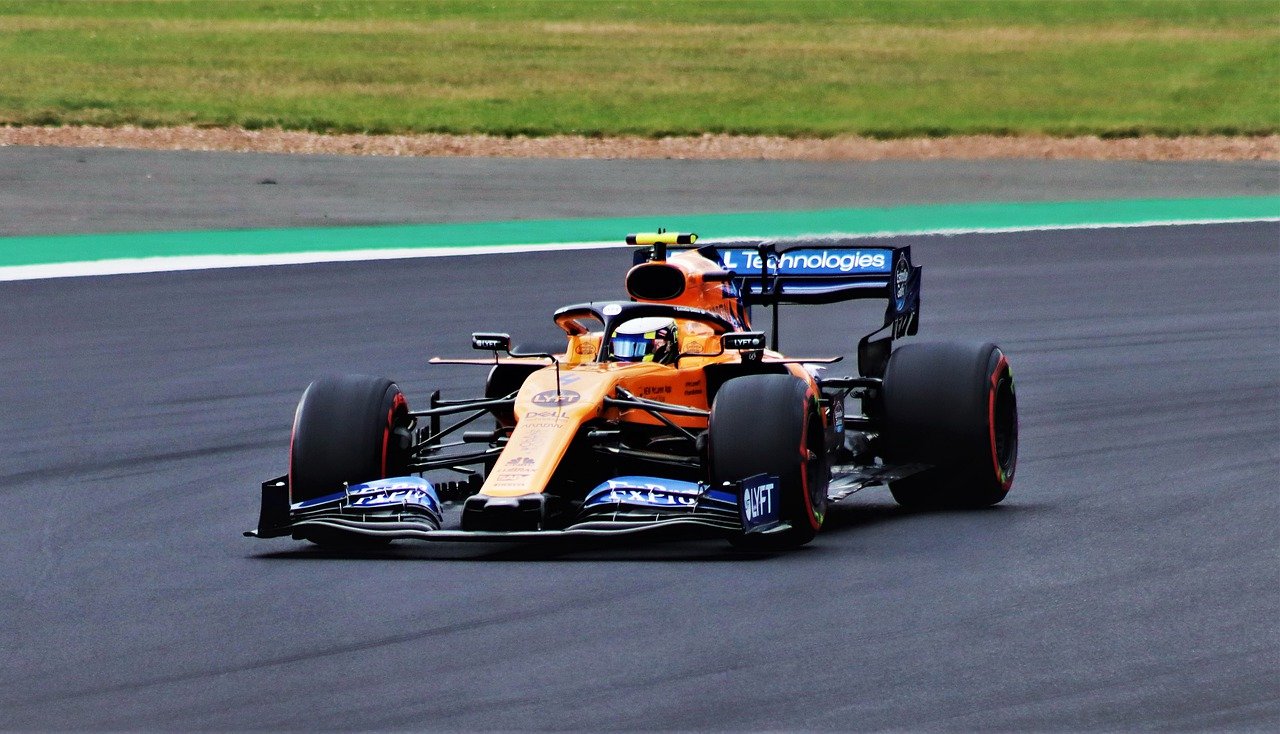 Is Lando Norris 'Mr Consistent'?
Is Lando Norris the Most Consistent Driver in F1?
Lando Norris is having a standout season for McLaren, having scored points in every race. The 21-year-old now holds the record for the most consecutive points finishes for a McLaren driver. After an impressive performance at Silverstone, Lando made it 15 races in a row in the points. The streak stretches back to the Emilia Romagna Grand Prix in 2020.
1️⃣5️⃣ consecutive @F1 points finishes for @LandoNorris, more than any McLaren driver in history! 🙌📈 pic.twitter.com/VcBk2tfWhE

— McLaren (@McLarenF1) July 23, 2021
Currently sitting third in the Drivers' championship, boasting 113 points after only 10 races, Lando has had his best start to a Formula 1 season, smashing his previous best points tally after 10 races after achieving 65 points in the same number of races in 2020.
McLaren have developed a fierce car for 2021; adopting a Mercedes engine has helped Norris to step up and fight for podiums week in, week out. In contrast, teammate Daniel Ricciardo has endured a tough start to his McLaren career.
The 30-year old Aussie has only triumphed once over Lando in 2021, this was the result of a gutsy drive by Daniel, who managed to finish P6 after a tough weekend in Spain for McLaren. P8 was all that Norris could manage in Barcelona, but he did gain a position after starting P9 on the grid after a poor qualifying performance. However, this was the only occasion that the talented British driver has failed to out-perform his teammate on a Sunday in 2021.
Many assumed that Daniel would arrive at McLaren as the lead driver. This is far from the case, with Lando's form impossible to ignore.
Ricciardo has succumbed to a lack of consistency which has been pivotal in the battle between the two McLaren compatriots. Daniel has failed to reach Q3 on 5 occasions in 2021, with a miserable display in Portugal to rub salt into the wounds after failing to make Q2.
Q1 comes to an end. Lando goes through safely in P2, unfortunately Daniel is knocked out in P16. #PortugueseGP 🇵🇹 pic.twitter.com/PBL9TXbMfc

— McLaren (@McLarenF1) May 1, 2021
In comparison, Lando has achieved Q3 in all 10 attempts in 2021. This consistency has given the 21-year-old regular opportunities to score high points for his team. Although harsher critics may say that Ricciardo should be out-performing Norris on a regular basis, the Aussie is in his first year with McLaren. He also struggled in his first year with Renault, but it was his second season that he shone. Ricciardo managed to finish P5 in the 2020 Drivers Championship for Renault.
This should in no way distract you from the confidence and maturity that Norris has shown in 2021. It is this confidence and maturity that allow the 'Mr Consistent' label to be attached to his name. Lando Norris has earnt the right to be regarded as the most consistent driver in F1 2021.
He may not achieve the pole positions and race wins of Max and Lewis. However, Norris performs at such a consistent level. When you combine that with the extreme reliability of the McLaren MCL35, his points scoring is off the charts. He has also been much more consistent than his teammate, out-performing him in every aspect.
See you soon Hungary ✊ pic.twitter.com/4UwqV0OPho

— Lando Norris (@LandoNorris) July 27, 2021
The Standout Statistics That Illustrate Lando's Consistency
2014 saw Jenson Button achieve 126 points for McLaren. This points tally has not been bettered since then, but a certain young Brit will aim to surpass Jenson's 2014 season. After scoring 113 points in 10 races Lando Norris looks set to shatter the 126 points of Jenson Button. Lando would then be able to add 'best season by a McLaren driver since 2014' to his already impressive resume.
McLaren have taken huge strides in fixing their longstanding reliability issues over the last couple of seasons. This is largely down to a team restructure in 2019. This has been a major factor in allowing the British McLaren driver to score points so regularly. McLaren have no DNF's in 2021, with their last DNF occurring 17 races ago at the Eiffel Grand Prix back in October 2020. Norris was forced to retire the car after a long battle with mechanical issues, after being on track for a potential podium.
Lando's record breaking consecutive points finishes as a McLaren driver (15), was achieved at Silverstone. Two-time world champion Fernando Alonso previously held this record. Alonso achieved 14 consecutive points finishes in 2007, between the Australian and Belgian Grands Prix. Fernando's feat may be considered as more impressive though. In 2007 points scoring was even more challenging, with only the top 8 drivers scoring points. The 39-year old Spaniard narrowly missed out on claiming his third world championship that year. Fernando fell short of Kimi Räikkönen by only a point and level with teammate, and rookie, Lewis Hamilton.
Lando Norris has outshone his Aussie teammate throughout this season, on both Saturday and Sunday. Norris has an average grid position of 6.2 across the 10 races we have witnessed so far. This is much higher than Ricciardo, who has an average grid position of 10.2. It is the same story on a Sunday as Lando averages a finish position of 4.5, whilst Daniel can only manage an average finish position of 8.
Norris treated us to an outstanding qualifying performance on 3rdJuly 2021 around the Red Bull Ring. He qualified on the front row, an accolade that no McLaren driver could achieve since 2012. The last McLaren driver to achieve this feat was 7-time world champion Lewis Hamilton in his last race for McLaren before a spectacular race over in Brazil. Hamilton lined up in P1 at Interlagos at Brazil in 2012 and despite Lando Norris failing to clinch that elusive pole position, he went mightily close. The British driver was only 0.048s behind Max Verstappen who secured his 4th pole of the season around the Red Bull Ring.
YESSSSSS! P2! That was totally epic. pic.twitter.com/f8xT8Ltbcp

— Lando Norris (@LandoNorris) July 3, 2021
Will Lando Still be P3 in the Drivers' Championship Come the End of the Season?
Norris has displayed a mindset way beyond his years this season.
After the Euro 2020 Final at Wembley Lando Norris was involved in a mugging which saw his watch stolen, leaving him feeling "understandably shaken".
The 21-year-old had his home Grand Prix at Silverstone just days later, but he managed to focus and channel his emotion, after a traumatic experience, to finish P4. He even wanted a "little bit more" after a slow pit stop cost him a potential podium.
This illustrates his hunger for success as even when faced with adversity he was able to achieve his best result at Silverstone in his Formula 1 career.
This warrior mentality is what may carry him to P3 in the Drivers' Championship, he never settles for what he accomplishes and is always looking to better himself and his performances. He grinds out results when those around him make errors. This has occurred with both Bottas and Perez this season. Even after a very difficult week Lando managed to stay focused and maintain consistency. This is a trait that all great drivers need as there are so many external factors that may affect a drivers performance.
If he keeps putting in these performances with this level of consistency then there is no reason why Lando Norris will not be P3 in the Drivers' Championship after Abu Dhabi.
Silverstone, you were amazing. Thank you ❤️ pic.twitter.com/E3NytqEzpb

— Lando Norris (@LandoNorris) July 18, 2021
Will Lando Norris Stay Consistent in Hungary?
The 21-year-old will travel to Hungary this weekend (30th July – 1st August). He will attempt to score more points for McLaren before the summer break. This would mark his 16th consecutive points finish.
The British driver faces 70 laps round the Hungaroring. Lando will hope that he starts near the front of the grid to provide him with a greater chance at another podium.
Who's ready for some more high-speed drama? 🙌

The Hungaroring awaits! 👌#HungarianGP 🇭🇺 #F1

— Formula 1 (@F1) July 26, 2021
We hope you enjoyed this article 'Is Lando Norris the Most Consistent Driver in F1?'. Do you think Lando Norris is the most consistent driver in F1 right now? Let us know!
Read more on Formula 1 here: