Russian Grand Prix – Talking Points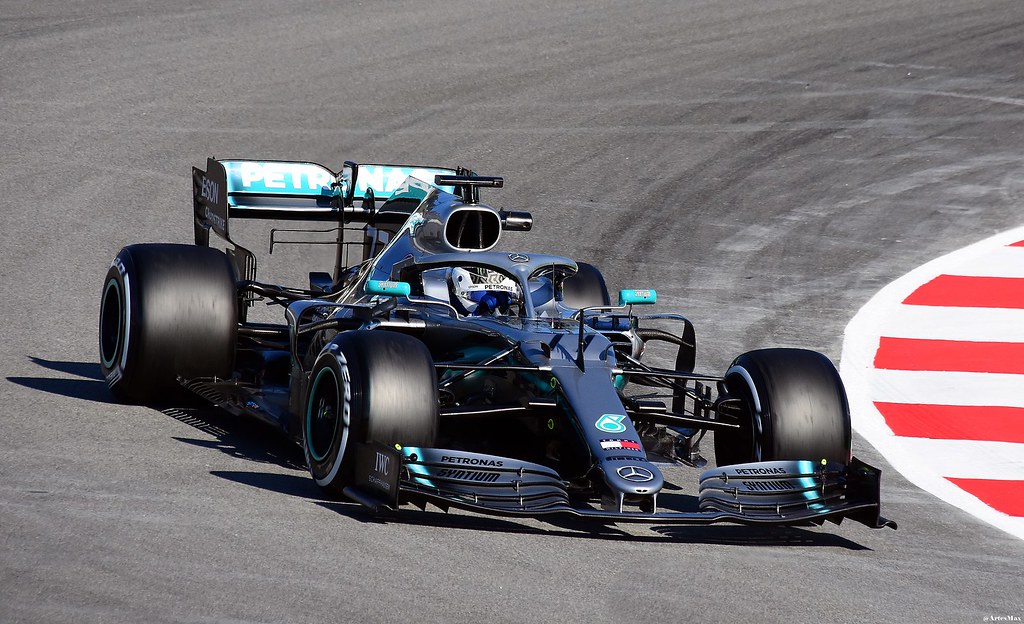 Valtteri Bottas Wins the Russian Grand Prix
Russian Grand Prix – Talking Points
Valtteri Bottas wins his second race of 2020 at the Russian Grand Prix. The Finn capitalised after Lewis Hamilton was awarded a +10 sec penalty, finishing 3rd. Whereas Red Bull's Max Verstappen earn his first podium finish since the Belgian Grand Prix after two DNF's.
With Bottas winning his first race since the season opener in Austria, I decided to look at the talking points from the weekend.
Valtteri Bottas proving his critics wrong
The Finn has come under a bit of criticism throughout the 2020 F1 season, with only one previous win before yesterday's race.
Bottas' last victory came at Austria in the season opener. Nine races later, he picked up his second win, sitting only 44 points behind Hamilton in the driver standings.
You can't really say it was a magnificent drive by Bottas in the Russian Grand Prix, as Hamilton having to serve a +10sec penalty. The Finn was perfectly placed to capitalize on this error by the Brit.
Being in one of the fastest cars on the grid, if Hamilton made an error, you would imagine Bottas is there to take advantage. However, that hasn't been the case for the majority of this season. Although he picked up a victory in Sochi, it doesn't make his critics disappear for good.
If Bottas wants to really prove his critics wrong, then entertain and challenge in the final seven races. Create a Championship fight that we all expected. Just don't let Hamilton have an easy ride similar to the opening nine races of the season.
To whom it may concern…#RussianGP 🇷🇺 #F1 @ValtteriBottas pic.twitter.com/Z7B3dlADSS

— Formula 1 (@F1) September 28, 2020
Lewis Hamilton will have to wait
All eyes were on Hamilton ahead of the Russian Grand Prix. With the British driver expected to equal Michael Schumacher's record of the most career wins at 91.
Unfortunately (or fortunately if you prefer an entertaining championship) Hamilton's race was over before even Sunday arrived.
The Mercedes driver nearly failed to get out of Q2 in qualifying after having his first-lap time deleted for exceeding track limits. And with two minutes left on the clock, Hamilton went out again. But the session was red flag after Sebastian Vettel crashed into the barriers. Once the session resumed, Hamilton got ahead of the pack and managed to cross the line with one second left on the clock, pushing himself into Q3 then pole-position. Despite getting pole, Hamilton was on a worst-strategy compared to his rivals. He had to use softer-set of tyres to progress into Q3, forcing him to use these set of tyres for the race.
He thought his drama was over. Then Hamilton was under-investigation on Sunday for doing a practice start outside the designated areas on the practice laps to the starting grid. The FIA awarded the British driver a +10sec penalty – for breaking two violations.
It just felt a bombardment of obstacles thrown in Hamilton's way throughout this weekend, while he didn't equal Schumacher's record in Sochi, you will expect the World Champion to beat it by Abu Dhabi in December.
"We are there as a sporting regulator to administer the regulations"#RussianGP 🇷🇺 #F1https://t.co/D1PDEsU7nr

— Formula 1 (@F1) September 28, 2020
Checo putting himself on the market
While the Russian Grand Prix was not as exciting as the latest triple-header we saw in Belgium and Italy, we continued to see a dominant performance by Racing Point's Sergio Perez.
The Mexican received the news in Mugello, that Aston Martin – currently known as Racing Point – decided to part-ways with Perez at the end of the season. The former World Champion Sebastian Vettel set to replace him.
Many supporters were perplexed by the decision. Especially after Perez has been a consistent performer in the Racing Point over the past two years.
And the past two showings in Mugello and Sochi have shown his quality in an F1 car, with consecutive top-five finishes. The Mexican also managed to outdo a Red Bull and the two Renaults in qualifying to start in 4th in the Russian Grand Prix.
Will Perez take a year away from F1 and wait for 2022 regulations? Possibly. But if Haas or even Red Bull are looking to replace their current drivers, then Perez should be high on the wish-list.
Sergio Perez confirmed our story that he knew in advance Racing point were going to drop him because he accidentally overheard team owner Lawrence Stroll discussing Sebastian Vettel's contract terms:https://t.co/5Ip9iLD8uC #F1 #RussianGP

— RaceFans (@racefansdotnet) September 27, 2020
Daniel Ricciardo needs a top car
Similar to Perez, Daniel Ricciardo impressed at the Russian Grand Prix, finishing in the top six in four consecutive races.
The Australian will be disappointing not to catch the Racing Point ahead of him, but he did receive a +5sec penalty for not following bollards. The Renault tried to the old switcheroo to give Riccardo a shot at Sebastian Vettel. Whilst Esteban Ocon did his job, the Aussie locked-up and went over the kerbs, failing to enter the track safely on turn 2.
Instead of whining like some other drivers on the grid, Riccardo took full responsibility and used this as motivation to continue his fine run of form, saying: "it lit a fire under my bum."
If McLaren can develop their current even further with a Mercedes-engine, then Riccardo will be one to watch.
Never change, @danielricciardo 🎧 😍#RussianGP 🇷🇺 #F1 pic.twitter.com/CVHZ50I2NC

— Formula 1 (@F1) September 27, 2020
We hope you enjoyed this article 'Russian Grand Prix – Talking Points'. What was your favourite moment from this weekend's GP? Let us know!
Read more on Formula 1 here: