The Derby County fan travelling 10,000 miles to see them play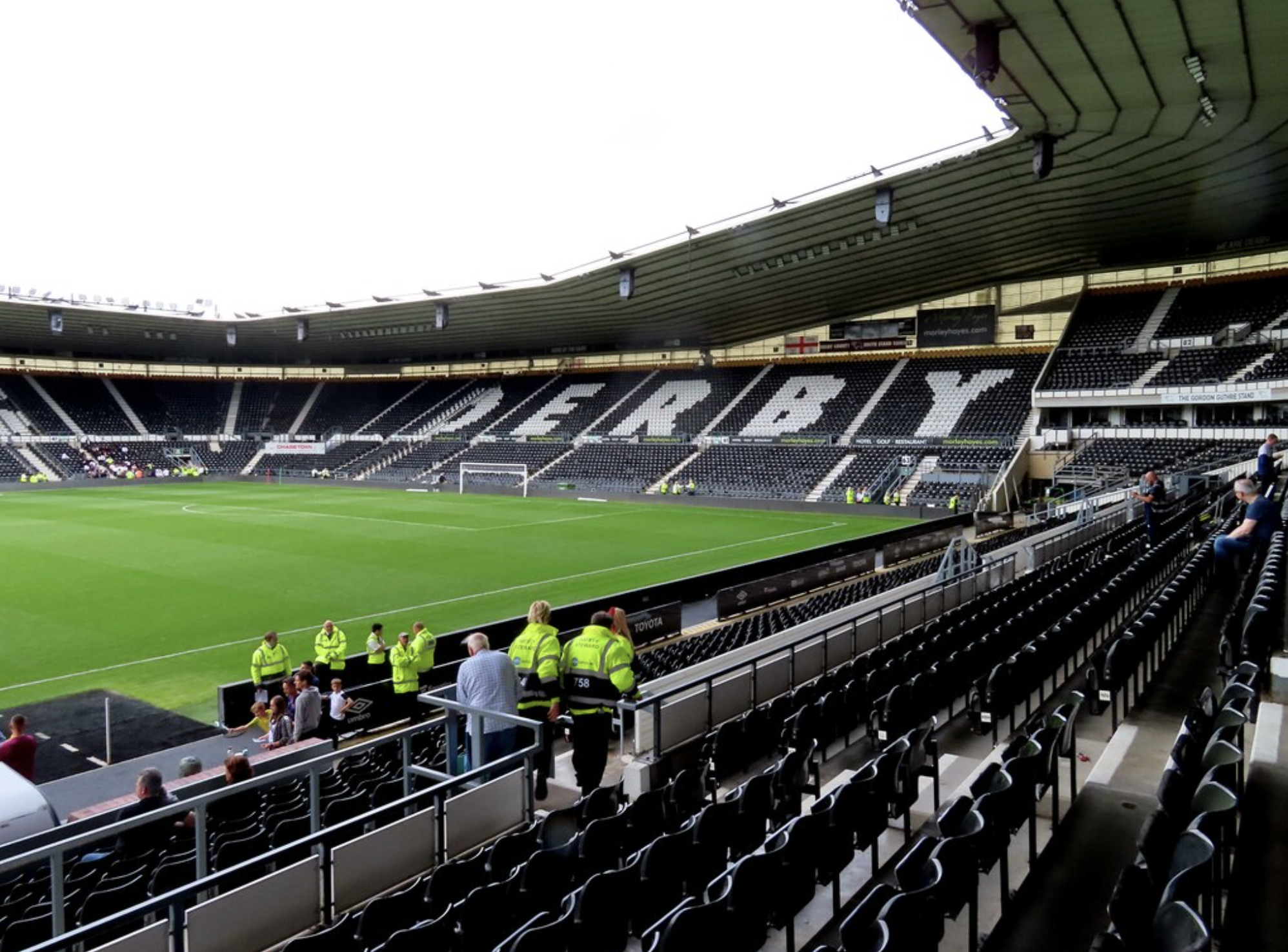 The Derby County fan travelling around the globe to see them play
We all love a good away day. From non-league all the way to the Premier League, they offer great atmospheres and an incredible day out. Sometimes the journey can prove tiring and expensive though, especially for longer trips.
Derby County's first away day this season is a local derby against Burton Albion, with just 12.7 miles (a 20-minute drive) separating the 2 clubs' stadiums. But, for Chanyoung-Lee, this game will be anything but local.
He is making the 5,400-mile journey, thanks to a 14-and-a-half-hour flight, from Seoul to watch his beloved Derby County in their opening 2 League One games. 
Chanyoung's Story
I was fortunate enough to speak to Chanyoung about all of this, from his first encounter with English football to facing unacceptable racism from fellow 'fans'.
So here is the story of the Derby County fan travelling 10,000 miles across the globe to see his team play.
Falling in love with the beautiful game
In 2010, when Chanyoung was 7 years old, he went on a trip to Gyeongju-si (formerly the capital of the Silla Kingdom). At the time his mum was a teacher, but also a travel writer, meaning that it was not just a family holiday, but also a work trip. During this time, the 2010 World Cup was going on, and the hotel where Chanyoung and his mother were staying, the Hyundai Hotel, was having a viewing party for South Korea's match against Greece. When South Korea took the lead in the 7th minute, Lee recounted the sheer joy in the hotel: "I can vividly remember people went absolute [sic] mental". He said that, to his surprise, even the hotel staff were celebrating.
When thinking back to the experience as a whole, he said: "It was (a) very positive and amazing experience for me. I realised the fun of football (at) that time". Clearly, this tournament had a significant impact on his love for football, which we see is quite often the case for younger people during major tournaments.
South Korean stars
It wasn't just his love of football that was largely down to the South Korean national team, but also his first introduction to English football. Chanyoung spoke about how stars like Park Ji-Sung and Park Chu-Young gave him an interest in the Premier League, especially given South Korean players were not as commonly seen in the English leagues at that time.
N-Power Championship
But South Korean stars in the top flight don't explain how he found a love for Derby who, at the time, were in the second tier. In the 2012/13, South Korean broadcaster MBC announced a new deal which meant that they would show the N-Power Championship. While it seemed a somewhat random deal, Chanyoung says it was "probably because Kim Bokyung plays for Cardiff, Lee Chung-Yong played for Bolton [sic]" – which just further shows how big an impact players can have on the globalisation of football. He told me that this gave him an interest in the Championship, but that his priority remained the K-League and the Premier League. It wouldn't be until a couple of years later that he would first properly set his sights on Derby County.
Finding Derby through heartbreak
The 2013/14 Championship playoff final was contested between Derby County and Queens Park Rangers (QPR). Chanyoung said that he "watched that game probably (because) I thought Park Ji-Sung was still (a) QPR player". He recounted the funny moment when he realised his mistake: "so I thought 'where's Park? I cannot find his name on the sheet. It was so funny". Despite this, Chanyoung watched the playoff final and, although they lost the game, he was really impressed by how Derby played and was drawn to them. He didn't yet consider himself a Derby County fan as such, but certainly began to follow them more so than before.
Finally becoming a Derby County supporter
"2015-16 season, the Paul Clement era, I finally became a Derby fan". Having watched and learned more about the English leagues, Chanyoung now felt it was the right time for him to support a team. He said that the players were a big factor behind his decision, listing Chris Martin, Will Hughes, Richard Keogh and Craig Bryson as some of his favourites at the time. He still enjoyed watching other teams though, and it wasn't until he was 15 or so that he adopted the idea of only following one team – as well as his local team (Suwon Samsung Bluewings).
Being a fan from the other side of the world
I asked Chanyoung about some of the difficulties with supporting a club in the English leagues while living on the other side of the world. In regards to kickoff times, he said: "I think the time is sometimes hard but sometimes decent" and told me that most games kickoff at 23:00 and 03:45 during summer time, and at 00:00 and 04:45 during winter. This was less of a problem while he was in high school but, now that he goes to University, it is much more difficult to get up in time for games: "imagine you're doing [sic] hangover and getting up by 03:45″. He wasn't complaining though. In fact he said that it was more than worth doing for Derby, the team he loves: "it's my choose [sic] to support the club so I think it's not that hard".
Personally I struggle to wake/stay up for pre-season games in America for a few weeks per year, so doing it for an entire season, every season, is incredible dedication and has my utmost respect.
The decision to visit Derby
Driving a few hours to see your favourite team is one thing, but flying halfway around the globe, at a great financial cost, is a huge decision – but for Chanyoung it was easy: "going (to) Derby when I can make my own money, it was no-brainer [sic]. This is my club". He did, however, tell me how he struggled initially with transportation and the inconsistent timetables. It's hard enough to get a train nowadays while completely understanding the language and system, so for someone whose first language isn't English, visiting for the first time, it must be incredibly difficult.
This was by no means a cheap trip for Chanyoung, which meant he had to save up for a long time beforehand. "For savings, yes it was very hard. My part-time job(s) were all minimum wage jobs. My mom bit helped me for financially, but still it's very hard to live as a university students with saving money for the trip [sic]". He told me how he sacrificed his summer breaks to be able to work, earning him enough money to not only live, but also to save up for this trip. While it was very hard work and took a long time, it was worth it, and he was very happy to have done it: "I did it!".
The club helping to secure tickets for his trip
Tickets for Derby County games usually go on sale a month or 2 before any given game. Because of this, Chanyoung was unable to buy tickets for the games he was hoping to see (Wigan at home and Burton Albion away) prior to booking his flights. Understandably, he didn't want to risk paying close to £1000 for flights only to be unable to actually attend any games, and rightly so.
After reaching out to the club, he told me that they stepped in to help: "I asked the ticket office to how to buy tickets. but surprisingly, SLO and ticket office said they'll offer me a ticket for both games [sic]". Chanyoung really wanted to stress his appreciation for this: "it was so nice gesture from the club. I think some of this gesture can make another fans from overseas. I really appreciate for the clubs, SLO staffs and ticket office staffs [sic]".
Issues from some fans
Unfortunately, not all fans shared Chanyoung's joy at him being offered tickets for these games, with many questioning the club's decision to give him tickets, especially for the derby against Burton Albion.
Some fans cited unfairness in giving him tickets, when they regularly attend away games and pay for a membership just to have a chance of getting the same tickets. At face value, I can somewhat see their point, but if a Derby County fan is travelling as far as Lee for a game or 2, which is a massive rarity, what is the harm in helping them along their way?
If anything, especially from a club point of view, it's something to appeal to new fans as well as generating some free positive PR, all while helping a loyal fan see their team in the flesh for the first time. It really is a win-win.
Amazingly, he feels very understanding to general criticism though: "honestly, I understand some of fans frustrations [sic]". He even compared to how he would feel if the situation were reserved for his local club: "if I can't make away trip to Seoul (I'm Suwon Bluewings fan) my feeling will be bad".
Racism faced
He did make clear, however, that some criticism had gone too far and become abusive in nature – something that nobody should have to deal with, "of course I can't understand someone abused me or do harsh things for me". Speaking more specifically on the things said to him by other fans, he told me that "when it comes racism, it's very hard. I think majority of Derby fans (are) okay, but if you face other fans in Social media, you sometimes face racism. It was very hard when I faced (it) the first time, but now I'm okay because they're (in the) minority".
It's incredibly upsetting, though unfortunately not surprising, that any person should face racial abuse of any kind. It should have been an uplifting story about a Derby County fan travelling the globe to see them play for the first time, but instead, the emergence of racism detracts from it. Chanyoung did reiterate that this was only from a small minority of people though: "many people in UK is tolerant and nice. I haven't been to (the) UK yet but UK people who I meet in South Korea was all nice [sic]".
Overwhelming support
While the negativity that he faced was both unwarranted and abhorrent at times, he wanted to emphasise that the overwhelming majority of people were incredibly supportive of him, and the club's intervention. "50+ fans messaged or replied my tweet they'll make tickets for me if I couldn't get, they just decide to give away their tickets a people who they didn't ever meet [sic]".
I have to say, personally, that it was incredibly refreshing to see so many fans (both Derby and non-Derby fans) rallying behind Lee and congratulating him ahead of his trip. Chanyoung made sure to thank fans, saying: "I was so impressed and felt appreciation for this…" "…I couldn't give my gratitude more. It's unbelievably warm and nice people [sic]".
A long time in the making
This wasn't a spontaneous decision for Chanyoung. He decided almost as soon as he began supporting Derby that he would one day travel to see the team play in-person. He had to wait until he was an adult so that he could work, and then a combination of COVID-19 and starting university delayed his plans until this year.
Originally he had planned only for a short trip, but knew for a journey of this length, it made more sense to stay for a longer time. Now that he is about to embark on his journey to the U.K., and Derby, he reflected on his joy of realising his goal: "I waited since when I was 15~16. it's been more than 4 years. but I finally can go there! [sic]".
Finally, a message to Derby fans
I asked Chanyoung whether he had a message to his fellow Derby fans, and he couldn't help but show his overwhelming excitement and support: "I'm proud of following my promise!! I can't wait to go (to) Derby and meets fellow Derby fans". "Since I was young, I follow the DCFC, the team for me".
End of interview
My closing thoughts
I'd like to start by thanking Chanyoung for agreeing to this interview and being so kind and helpful during the process. It's a story that is worth sharing and one that I hope football and Derby fans alike will be able to rally behind. It goes without saying that fans deserve credit for following their team home and away, but when there is a Derby County fan travelling to literally the other side of the world, at great expense, you simply have to applaud them. I hope fans welcome him with open arms, and am sure that he will be bought no end of pre-match pints.
They will likely be 2 difficult fixtures for Derby so, if they were to win both, this may have to become an expensive weekly commute for him over the course of the season to keep the good times rolling! Finally, it should go without saying that anybody abusing Lee, or anybody for that matter, isn't a true football fan and has no place in the sport.
I hope you enjoyed learning about Chanyoung-Lee's story as much as I did, and thanks again to him for making this happen!
Read more on football below: