Nuno Mendes: Portugal's Next Big Star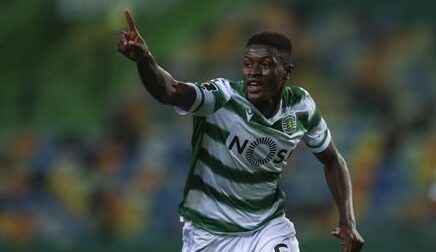 Who is Nuno Mendes and what is the hype about?
Nuno Mendes: Portugal's Next Big Star
Nuno Mendes is a name that has featured prominently this transfer window. He's been linked with a move to Real Madrid, Barcelona and a host of Premier League sides. Pretty impressive considering he only turned 19 a month ago.
Mendes is talked about as one of football's best up and coming defenders. He's caught the attention of the European elite with his performances this season. Already a full-fledged international player and now he has returned from being part of Portugal's Euro 2020 squad, talk about his future has picked up pace. He is certainly a very talented young footballer and we could well be seeing him at one of Europe's top clubs soon.
Due to him playing his football out in Portugal his name might not be familiar with all of the football world. In this article we take a closer look at Nuno Mendes' career so far, see what kind of player he is and speculate how far he can go in the future.
Manchester City are interested in signing Nuno Mendes. He's considered a top left back for the future – but City board have no intention to pay full €50m price tag to Sporting. 🔵🇵🇹 #MCFC

Sporting are not accepting any proposal around €30m, as of today. Race still open.

— Fabrizio Romano (@FabrizioRomano) July 19, 2021
Nuno Mendes – Sporting Lisbon's Star on the Rise
Nuno Alexandre Tavares Mendes is a 19 year old left back that plays for Sporting Lisbon. He became Sporting Lisbon's first choice left back following Macros Acuna's departure to Sevilla at the end of the 2019/20 season. Mendes made his professional debut in June 2020. He has gone on to make 44 senior appearances to date scoring one goal and grabbing two assists. He has played for Portugal at all levels since U16s and has 5 senior caps to his name.
Mendes has become a transfer target for many top European clubs following his impressive performances last year. Sporting Lisbon currently value the player at €50m (£43m). Sporting have signed Wolves fullback Ruben Vinagre this summer which hints at a potential departure for Mendes.
🔝 Top 10 – Most Expensive U19s*:

🇪🇸 Pedri £72M
🏴󠁧󠁢󠁥󠁮󠁧󠁿 Bukayo Saka £58M
🇪🇸 Ansu Fati £54M
🇫🇷 Eduardo Camavinga £49.5M
🏴󠁧󠁢󠁥󠁮󠁧󠁿 Jude Bellingham £49.5M
🏴󠁧󠁢󠁥󠁮󠁧󠁿 Mason Greenwood £45M
🇩🇪 Florian Wirtz £40.5M
🇵🇹 Nuno Mendes £36M
🇩🇪 Jamal Musiala £34.2M
🇺🇸 Gio Reyna £34.2M

*according to @TMuk_news pic.twitter.com/R1RkHpQXeu

— Soccer Manager Games (@SoccerManager) July 16, 2021
Career So Far
Mendes joined the Sporting Lisbon academy aged 10 and has worked his way up into the first team. He signed his first professional contract before the 2019/20 season. He spent most of that season with the U23s where made 17 appearances scoring one goal and grabbing three assists. Mendes broke into the first team later that season following the break due to the COVID-19 pandemic. He went on to make 9 appearances that season and had clearly made a lasting impression on manager Ruben Amorim.
As previously mentioned Marcos Acuna left Sporting the following summer and Amorim promoted Mendes to the starting eleven. It was a risky decision to decide against buying a new left back in favour of trusting an 18 year old but it certainly paid off. Sporting won the Primeira Liga for the first time since 2002. They also won the Taca de Portugal securing the seventh league and cup double in the club's history. Mendes earned a place in Primeira Liga Team of the Year for his performances.
Mendes made his debut for the Portugal national team in March this year. Since then he has competed with Borussia Dortmund star Raphael Guerreiro for the starting spot. He was a part of the Portugal squad for Euro 2020 although he didn't get any minutes. However, the fact he was included in a squad of that many world class players at such a young age shows how talented he is.
Mendes was one of the standout performers in Sporting's successful season earning a 7.25 average rating from whoscored.com. His consistent performances at a top level are the reason he's been targeted by so many of the world's best.
Manchester City are interested in signing Portuguese left-back Nuno Mendes. City have no intention of paying the full €50m price tag and Sporting CP aren't accepting any offer around €30m.

[@FabrizioRomano] pic.twitter.com/DiqCHKVv8W

— Footy Accumulators (@FootyAccums) July 19, 2021
Style Of Play
Nuno Mendes, like most modern fullbacks, likes to provide an extra attacking option whenever possible. He can play as a standard left back but is used more frequently as a left wing-back. He is a player that always looks to move the ball forward where possible. Mendes loves to dribble with the ball and is not afraid to take on players. He is also very quick and skillful on the ball which makes him difficult for opposition defenders to deal with.
Mendes is certainly a dangerous player to have going forward. He makes a lot of overlapping runs which is key to Sporting's style of play. He runs up and down the left flank all game getting himself into crossing positions or opening up space for his teammates when he doesn't receive the ball. Crossing is one of the key strengths in his game. He often fires low crosses into dangerous positions for his teammates to try to get to. He also breaks forward into the penalty area and looks for teammates in and around the six yard box. This would be ideal for any out and out number nine waiting in the box however Sporting often prefer a false nine who sits on the edge of the box.
Mendes is also very strong defensively. He averaged 1.7 tackles and 2.1 interceptions per game in the Primeira Liga last season. His concentration and awareness of his surroundings are second to none making him very good at reading the game. This allows to consistently be in good positions to stop opposition attacks as well as start counter attacks. He is rarely beaten for pace making him very useful at defending balls over the top.
His passing is another good quality in his game. He often plays long balls over the top to set Sporting away on the counter. He is also very capable of passing short. His movement off the ball is key to how he plays. Whenever he passes the ball he is straight back on the move looking to receive it back.
🇵🇹 Nuno Mendes (18) vs. 🇱🇺:

☑️ 90 minutes
❌ 2 interceptions
🔀 7/8 dribbles won
🔑 2 chances created
⚔️ 10 duels won
🦶 100 touches
🙌 3-1 win

Tops on the field in 2 stats – most duels won & completed the most take-ons. 🌟

18 years old. pic.twitter.com/OAA91dkb1y

— Football Wonderkids (@fbwonderkids) March 30, 2021
Where Might He End Up?
Barcelona would make a lot of sense since they have just sold Junior Firpo to Leeds. This leaves just Oscar Mingueza, who is primarily a centre-back, as cover for Jordi Alba. Mendes would also provide Barca with a long-term replacement for the aging Alba. Alba is also the perfect player for Mendes to learn from to develop his game as they are very similar players. However, Barcelona's current financial crisis means they are not in the position to pay the €50m fee required.
Real Madrid are also said to be interested in Mendes. He would likely act as long-term replacement for Marcelo. Marcelo is another player that would be great for Mendes to learn from as they are also similar players. However, Madrid have Ferland Mendy who is playing very well currently so paying €50m for competition wouldn't be a smart move.
Manchester United and Liverpool have also both been heavily linked with a move for Mendes. Mendes would be unlikely to feature prominently for either of them due to the form of Luke Shaw and Andy Robertson. However, both clubs are known for working well with young players and improving their games so could offer a long-term plan for Mendes. The €50m fee for a player that won't be a key feature for the next few seasons might be an issue though.
If Mendes is to move this the summer the most likely destination is Manchester City. The move makes sense as Benjamin Mendy looks like he heading closer to the exit door and Mendes could compete with Oleksandr Zinchenko for the starting spot. Mendes suits City's system perfectly and would play next to national teammate Ruben Dias so would be able to form a close bond. He would get to work with one of the best managers in the world in Pep Guardiola which would benefit his career massively. However, City are also put off by his price tag.
🗣 Pedro Sepúlveda: "The rumours linking Nuno Mendes to Manchester United is probably due to his agent being the same as Bruno Fernandes and because of the good relationship between the agent and United. But Man City are more interested in him." [via Fabrizio Romano Twitch] #mufc pic.twitter.com/PfraRj9XvC

— Man Utd Empire (@Empire_Mu) July 10, 2021
What The Future Holds
Nuno Mendes has a long career ahead of him but he is already a well-rounded player. He has showcased his talent in the Primeira Liga and has broken into the Portugal national team at just 19 years old. He can go very far in his career if he reaches his potential.
The key to any future success could be when he leaves Sporting Lisbon and where he goes. If he signs for Manchester City this summer then that could be the next step up in his career. Working under Pep Guardiola would be huge for his development as there are plenty examples of Pep taking young players to the next level. Playing with the calibre of players at City would be great experience for him at a young age and would further him as a player. This would prepare him well for making more starts for the Portugal national team amongst some of the world's best.
Alternatively, staying longer at Sporting Lisbon could also be beneficial. This would give him time to cement himself as one of the best players in the Primeira Liga and ensure he is ready for the step up to one of Europe's top leagues. Staying another season at Sporting would also give Mendes a chance to test himself in the Champions League which would be a key competition for any future club of his. This extra time for development would also likely confirm him as a starter at a new club instead of a youngster to bring through.
Mendes seems destined for success and could certainly become one of the world's best defenders. His price tag has been debated but in today's market €50m for a player of Mendes' quality and potential seems like a fair deal. One thing is for sure, Nuno Mendes is a name to remember in years to come.
We hope you enjoyed this article "Nuno Mendes: Portugal's Next Big Star." How successful do you think Nuno Mendes will be? Let us know!
Read more on football here: