As the Italian Open reaches the semifinals, Lorenzo Sonego's victory against Rublev stands out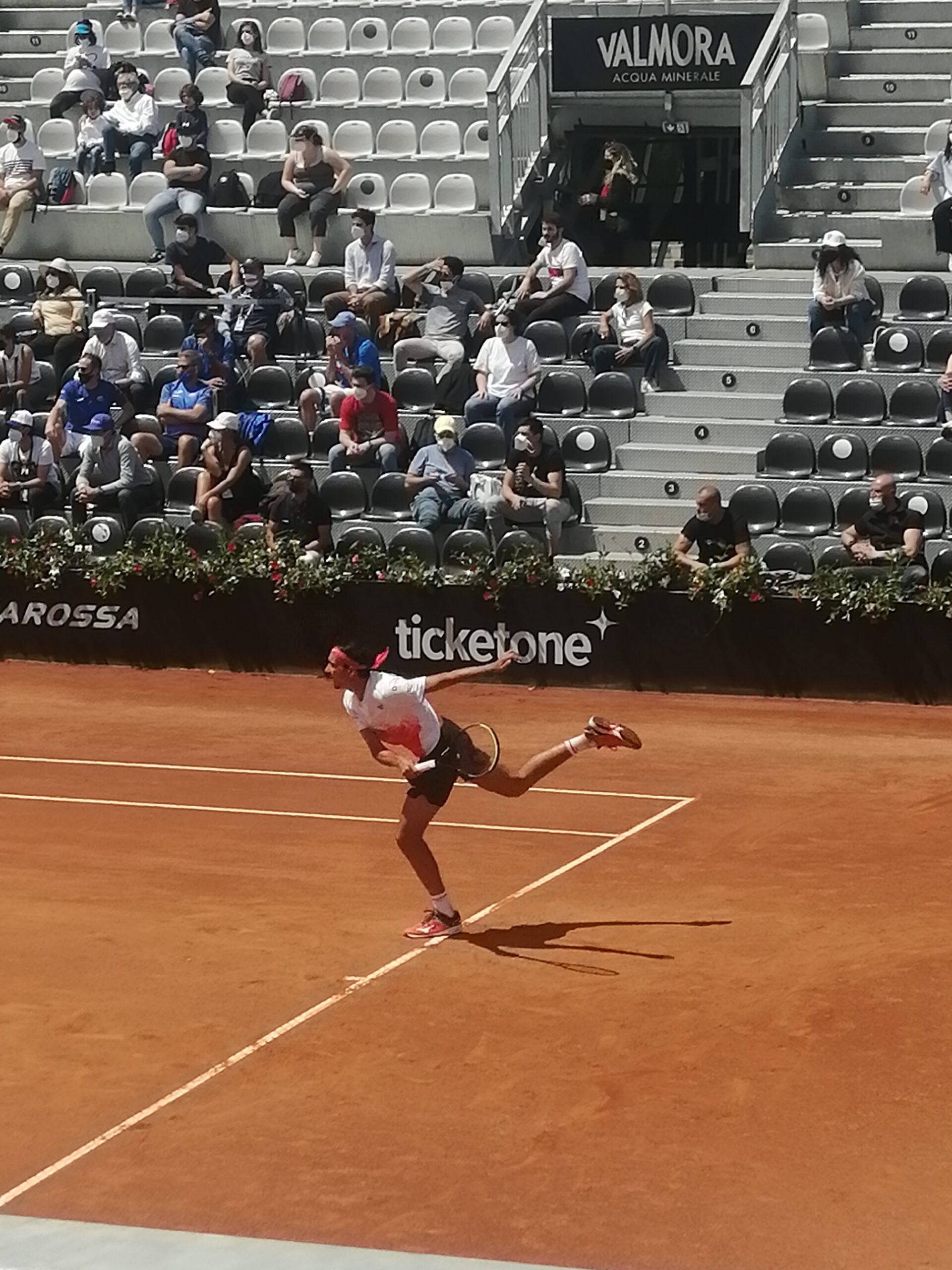 As the Italian Open reaches the semifinals, Lorenzo Sonego's victory against Rublev stands out
Nadal-Zverev, Tsitsipas-Djokovic, the big names were all called out on court in Rome this Saturday, fighting for a place in the semifinals in the prestigious tournament. They produced amazing tennis, really as good as it gets, but one man and one victory stood out as special.
Tennis is a game of penetrating ball striking and silky smooth touches, of relentless athletic movement and unbreakable concentration, of determined focus and the ability to holding panic at arm's length. If you're good at all of these, you're likely to be an amazing player.
Most of all though, tennis is a game of the heart. Sometimes, you face players that are better at all of the above than you, but you still manage to see it through if you have a heart that nourishes the desire to win more than your opponent's.
Lorenzo Sonego must be one of the players in the world with the biggest desire to win and the most absolute refusal to give up, even when faced with the most appalling fire power.
The win against Thiem
Italian fans should perhaps have known that something special was breeding when the player from Turin fought his way to victory in an epic final against Laslo Djere in Sardegna Open, a game he won in three sets after having lost the first 2-6 and endured a tie break to finish off the second.
But as the initial rounds of the Italian Open, or the BNL Internazionali di Roma, as they are know in Italy, Sonego found himself facing Dominic Thiem in the round of 16, still few believed that the 26 year old player, currently number 33 in the ATP rankings, could hold the fort against the firepower of the world number 5.
Yet he did. Striking less hard, with less experience, doing everything a bit less than Thiem, he still did it all better in the end. Even after the audience had to leave the stadium because of the Italian curfew, Sonego managed the unbelievable and broke back Dominic Thiem towards the end of the third set and fought his way to a tie break, which he subsequently won 7-5.
The win against Thiem was in itself incredible and Sonego could have left the tournament feeling happy about his performance. But the day after, the rain started falling on the Italian capital, postponing Sonego's quarter final against Andrey Rublev, number 7 in the world, till the morning after, allowing for sun to heat up the stunningly beautiful Foro Italico and for the Italian audience to get their tickets for the arena and for what was likely to be Russian firepower show-off, but that had the potential to be one of those epic sport events that those who follow are likely to remember for the rest of their lives.
???? ??? ????!

Italy's Lorenzo Sonego defeats Rublev 3-6 6-4 6-3 in Rome to advance to his first Masters 1000 semi-final!#IBI21 pic.twitter.com/xaS7NiRS0D

— Tennis TV (@TennisTV) May 15, 2021
Home court and home audience
Sonego has lost to Rublev before but as Gibo Arbino pointed out before the game, not only has Sonego improved a lot since then, there was another factor to take into account: this match would be played in Rome.
The stadium was filled as much as it could with the current limitations on capacities to support their man with chants and cheers. Nevertheless, the first set gave seemed to go by the book. Sonego tried, but Rublev just hit the ball harder, more precise, not giving the Italian the chance to do much harm. Rublev won 6-3 and Sonego disappeared into the locker room in the break.
But when he came out on court again, something had happened to the Italian. His striking was visibly different, harder, more convinced, it just had a different speed to it. Rublev was taken aback and Sonego broke him on the first occasion, giving the Roman crowd's a little inch of hope, raising the volume of their cheer just a little bit.
Relentless defense
Every single serving game after that was nerve wracking. Several times, Sonego had to fence off numerous break points, sometimes just sticking out his racket hoping that the ball would fall on the rights side of the net. It did, at least most of the time, or enough times for him to win the set by his one break.
It was easy to feel sorry for Rublev, especially in the third set. He was alone facing Sonego and hundred of fans that just wouldn't stop clapping, chanting and cheering on every point for their man, and, sadly, not falling short of insulting the Russian on occasions. They were watching the inch of hope expanding, eyeing and opportunity for their underdog.
When Sonego broke Rublev, it came after a seemingly endless serving game in which Sonego's serve had been in serious peril. Every time he'd fenced it off, however, often ace'ing on breakpoints. When he had maintained his serve, he carried the load with him into the next set and broke Sonego almost easily.
After that, Sonego, exalting the audience and being exalted by them in return, spread his heart out on the red clay, defending for the most part, attacking when he had the chance. When he eventually won the match, with all respect for Rublev, it was a beautiful moment to be a tennis fan – and a Roman, in Rome. The underdog had, against all odds, beaten an otherwise superior player, on his
?? Lorenzo Sonego's stunning route to the Rome semi-finals…

R1: d. Monfils 6-4 5-7 6-4
R2: d. Mager 6-4 6-4
R3: d. Thiem 6-4 6-7(5) 7-6(5)
QF: d. Rublev 3-6 6-4 6-3

Next up: Djokovic ?#IBI21 pic.twitter.com/9qcxyBnnsi

— Tennis TV (@TennisTV) May 15, 2021
When your biggest skill is your desire to win
Sonego is an incredibly skilled player, there's no doubt about that, but his biggest skill is certainly his big heart that just seems to make it impossible for him to give up, to stop fighting and to stop believing. His fellow semifinalists in Rome include the biggest names the sport has produced. Sonego may not strike just has hard as they do, but perhaps he believes more in each hit he makes. For that reason, and for players at all levels, Lorenzo Sonego's place in the semifinals in Rome should be an inspiring lesson of tennis.
We hope you enjoyed the article 'As the Italian Open reaches the semifinals, Lorenzo Sonego's victory against Rublev stands out.' Who do you think will win the Italian Open? Let us know!
Read more on Tennis here: