The Best Signings Under Joan Laporta's Presidency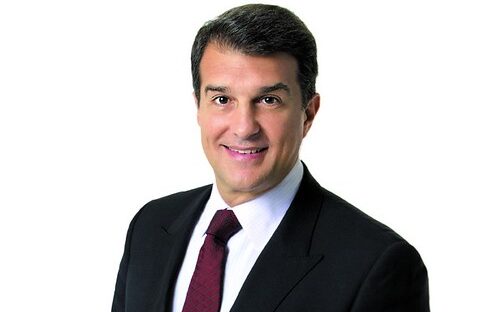 The best signings under Joan Laporta's presidency
Joan Laporta begins his second spell as president of Barcelona after taking over the reins in March. This time, Laporta faces the task of taking a turbulent Barca back to where they were, when he left them back in 2010. During his first spell as president, he oversaw the likes of Messi, Xavi, Iniesta and Busquets bursting onto the scene from La Masia (Barcelona's youth academy).
Barcelona need to press the reset button and start building for a new era. This was something that Joan Laporta did after he was appointed in 2003 and Barca fans will hope that he can do it again. The situation back then was similar to now, as Barcelona hadn't won a trophy since 1999 due to Real Madrid's success in the early 2000's. Straight away, Frank Rijkaard was appointed as manager for the new chapter in the club's illustrious history. The team was completely transformed as they went to win the La Liga in 2005 and 2006, along with a Champions League win by overcoming Arsenal in the final.
Let's take a look at the best players signed under Joan Laporta's presidency.
Ronaldinho (2003 – 2008)
Certainly one the best signings under Joan Laporta's presidency. At the start of Joan Laporta's presidency he stated: "I said we would lead Barça to the forefront of the footballing world, and for that to occur we had to sign one of these three players, David Beckham, Thierry Henry or Ronaldinho".
Ronaldinho's influence on Barcelona changed the club during a dark time and Lionel Messi proved this by saying "Ronaldinho was responsible for the change in Barça. It was a bad time and the change that came about with his arrival was amazing."
The Brazilian joined Barcelona for €30 million and he would go on to spend his peak years at the Spanish club. During Ronaldinho's second season, he won his first trophy with Barcelona and the clubs first trophy in six years as they finally triumphed over Real Madrid for La Liga.
Ronaldinho also laid down the foundations for Lionel Messi to break through, as the Argentinian six-time Ballon d'Or winner regularly states how much of an influence Ronaldinho was on him – the Brazilian also provided the assist for Messi's first Barcelona goal.
During the 2004-05 season, Ronaldinho was named as the Ballon d'Or winner for that year, which proves how good he was during his Barca spell. His departure allowed Lionel Messi to take over as Barcelona's most influential player, as he also wore the iconic number ten shirt after Ronaldinho's departure.
"I don't consider myself as the best player in Barcelona history. I know it's Ronaldinho, I still remember his goal-leading pass for my first goal in Barcelona. He didn't just pass the ball, he passed me the torch."

Lionel Messi has so much respect for Ronaldinho 🙏🏼❤️ pic.twitter.com/8ByPgX0r5u

— Oh My Goal (@OhMyGoalUS) April 5, 2021
Samuel Eto'o (2004-2009)
After lengthy negotiations with Mallorca and Real Madrid; Eto'o joined Barcelona in the summer of 2004 for a €24 million fee. The Cameroonian striker proved to be an important figure during his five year stay at the Spanish club. His goals helped massively towards Barcelona's revival and journey to the top. He even won the 2005/06 Golden Boot in La Liga after scoring 26 goals that season.
His goals proved influential in every trophy that Barca picked up during that time as he also scored the equaliser against Arsenal in the 2006 Champions League Final. In the same year, Eto'o was voted as 'UEFA forward of the year' thanks to his astounding contributions in the Champions League that season.
However, at the start of the following season, the forward ruptured his knee leaving him sidelined for three months. This meant that Eto'o missed nearly half the games that season as Real Madrid got their hands back on La Liga trophy.
Again, the season after he suffered another injury during pre-season that left him out until December 2007. Also, Real Madrid went onto win La Liga for a second season in a row which proves how important Samuel Eto'o's goals were to Barcelona.
This statement was proved further during the 2008/09 season as Eto'o managed to stay clear of any injuries. A front three consisting of himself, Thierry Henry and Lionel Messi made Barca unstoppable that season. They went onto grab the league title back from Real Madrid as the Pep Guardiola era was in full flow.
Eto'o provided 30 league goals that season but somehow missed out on the golden boot as Atletico Madrid's Diego Forlan scored 32 goals in 33 league games. The Cameroonian striker also scored the opening goal in the 2009 Champions League Final as they went onto beat Manchester United 2-0, adding a second Champions League medal to Eto'o's collection.
Samuel Eto'o was certainly one of the best signings under Joan Laporta's presidency and he'll be hoping to bring in a striker that can have the same impact as Eto'o did all those years ago.
Could that man be Erling Haaland?
Happy birthday to the only man in football history to win back-to-back trebles:

◉ 2008-09 x Barcelona
◉ 2009-10 x Inter Milan

Samuel Eto'o is Mr Double-Treble. pic.twitter.com/ea5O4zf4y5

— Squawka Football (@Squawka) March 10, 2021
Dani Alves (2008-2016) 
Dani Alves was signed towards the end of Joan Laporta's first tenure as president. He joined from Sevilla for £30 million (including add ons) – making him one of the most expensive defenders ever at the time.
In his first season, he went onto help his new team deliver a treble winning season, picking up La Liga, the Champions League and the Copa Del Rey. From then, the Brazilian right back cemented his place in the side for years to come. Dani Alves went onto win two more Champions League titles in 2011 and 2015 along with five more La Liga titles and three Copa Del Rey's.
This is evidence of the Joan Laporta era carrying on, after he left, for years to come. The FC Barcelona president intended to create a legacy and that's exactly what he did. Barca fans will be hopeful that he can do the same again.
Dani Alves fast became the best right back in the world during his eight year stay at Barcelona as he was named if the FIFPro World 11 six times during his time at the club. He eventually left for Juventus in 2016 but this indication of continuity is something that Barcelona need to replicate in their current situation.
It's clear that Barcelona spotted a born winner when they brought him to the club as he currently holds the record for the most collective honours won by a player in football history.
ON THIS DAY: In 2008, Barcelona signed Dani Alves from Sevilla for £23m.

In 391 appearances for the club he won 23 trophies, averaging a trophy every 17 games 🤯 pic.twitter.com/xZ6BoMy6mW

— Footy Accumulators (@FootyAccums) July 2, 2020
Gerard Pique (2008 – present)
Another player signed during Laporta's first tenure as president that went onto become a legend for the club. Pique was signed from Manchester United for only £5 million in the summer of 2008 – the same summer that Dani Alves was signed.
The Spaniard spent seven years of his youth career at La Masia, before he decided to join United in 2004. The centre back seemed delighted to have been given a chance to play for his boyhood club once again.
Similar to Dani Alves, Pique has cemented himself as one of the best centre backs in the world, during his ongoing 13-year spell at the club. Gerard Pique has gone onto win eight La Liga titles with Barcelona since he was signed, along with, three Champions League's and eight Copa Del Rey's.
This is yet another example of the continuity that Joan Laporta achieved during his first tenure. Pique is still yet to leave Barca, but we could see it happen this season as Joan Laporta will be looking to start a new era by finding the new Dani Alves or Gerard Pique.
The 34-year-old has won nearly everything there is to win during his illustrious career including the World Cup in 2010 with Spain and the Premier League with Manchester United in 2008.
Pique's calmness on the ball is the reason why he's thrived in the 'tika taka' teams of Spain and Barcelona. The two sides are well known for keeping possession and this style of play became iconic during that time. Pique's style of play and achievements ranks him as one of the best signings under Joan Laporta's presidency.
🔝 Defenders with most goals in Champions League history:

⚽️1⃣6⃣ Roberto Carlos
⚽️1⃣5⃣ Sergio Ramos
⚽️1⃣5⃣ Gerard Piqué
⚽️1⃣5⃣ Iván Helguera
⚽️1⃣2⃣ Dani Alves#UCL pic.twitter.com/8s3iZv8EvR

— UEFA Champions League (@ChampionsLeague) March 16, 2021
Second time's a charm
It's obvious that Joan Laporta was re-elected in hope that this rein can be as good as his last as FC Barcelona president. It's highly likely that more players will be added to the list of the best signings under Joan Laporta's presidency as he's already met Erling Haaland's dad and agent in a push to sign the Norwegian striker.
In 2003, Laporta took over when Barcelona were in a murky situation and this time it's a similar story. Will history repeat itself? Or will Laporta's philosophy prove to be outdated? Time will tell.
We hope you enjoyed the article 'The Best Signings Under Joan Laporta's Presidency.' Do you think Joan Laporta can bring Barcelona back to their best? Let us know!
Read more on football here: