The Greatest Goal Celebrations of All Time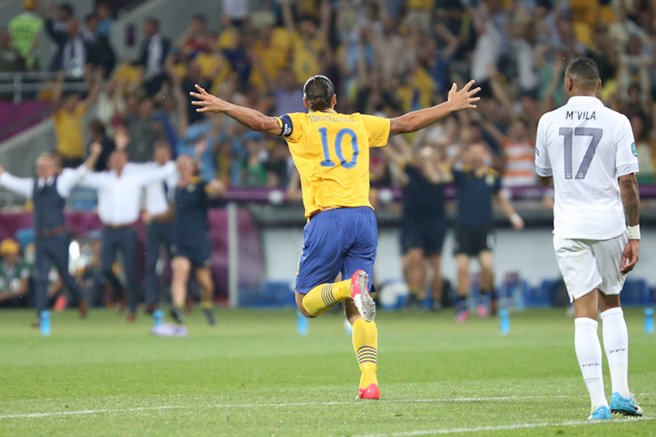 The Greatest Goal Celebrations of All Time
Is there a better feeling than the ball hitting the back of the net? Those less attached to the beautiful game may argue so, but for us? No, how could there ever be. Whether you are a spectator in the stand, sat at your local boozer, or simply watching eagerly from the sofa, we all know what it feels like to celebrate our beloved club scoring.
Imagine how it must feel being the player? Running towards the fans (a distant memory) after a last minute winner, scoring a screamer, bagging yourself a goal in the derby, against your former club, scoring for your country in a major tournament- these are moments to be cherished and celebrating after a goal allows you to do just that.
Newport County forward Kevin Ellison, went viral on social media after celebrating in the face of his former manager last week. The 42-year-old came off the bench with 20 minutes to go to score his sides third goal against Morecambe at the Globe Arena. The veteran striker played for Morecambe between 2011-2020, but the Liverpool-born forward was frozen out of the team by his former coach Derek Adams, forced to train on his own.
Running the length of the pitch to voice his celebrations in front of his former manager, it's safe to say Ellison truly made the most of the moment, and to be fair to him-why not?
We take a look at the greatest celebrations over the years- from loose hips, dog impressions, to players taunting their former clubs, our top 20 list really has it all.
20. Peter Crouch (2006)
Peter Crouch debuted the infamous robot in an international friendly for England against Hungary in May 2006.
Speaking on 'That Peter Crouch Podcast' he explained how the move initially featured on the dance floor at a party at David Beckham's house, and after being caught on camera he was edged on by his teammates to do the dance if he scored in their following fixture.
The robot was reintroduced after the former Liverpool man bagged a brace against Jamaica in a warm-up friendly prior to the 2006 World Cup, and then for the last time (publicly) after he scored his 100th Premier league goal for Stoke City.
19. Mario Balotelli (2011)
Back in 2011, Mario Balotelli opened the scoring in a memorable 6-1 thrashing of Sir Alex Ferguson's men at Old Trafford. After calmly slotting the opener in typical Balotelli fashion, he unveiled a top underneath his City shirt which read "Why always me?"
Balotelli later revealed in an interview with TIME that the English press had spoken about him frequently, and it was a way of him questioning their focus on him.
Setting off fireworks in his bathroom, and allegedly dressing up as Santa Claus giving out money in Manchester, might have had something to do with it.
#OnThisDay in 2011@ManCity pic.twitter.com/BlwJPjXGDt

— Premier League (@premierleague) October 23, 2018
18.Fabrizio Ravanelli (1996)
Fabrizio Ravanelli, the man behind the iconic shirt over your head celebration. We have all had a go at it in our youth, let's be honest, and we may never have if it wasn't for the Italian magician.
Middlesbrough were no strangers to a statement signing in the 1990's, and their glamorous acquisition of Ravanelli from Juventus was a prime example. The 'White Feather' as he was known due to his distinctive hair colour, had a debut to remember for Boro, notching a spectacular hat-trick against Liverpool.
Sprinting to the fans with his shirt over his head became a familiar sight throughout his time on Teesside, and he remains a fan favourite amongst the Boro faithful. His trademark celebration is rarely seen in the game nowadays, due to it now being deemed as a bookable offence. Shame.
Has to be the Ravanelli shirt over head celebration… Every kid in the 90s emulated it at some point #bbcsportsday pic.twitter.com/TieQY4HXWx

— Samuel Pearce (@samtombo11) March 2, 2015
17. Roger Milla (1990)
Roger Milla, a fine, fine wine. The Cameroonian star was 38 when he got the call to join up with his national side for the 1990 World Cup in Italy.
His four goals in the tournament were influential in guiding Cameroon to the quarter-finals, the furthest an African team had made it in the tournament at that time.
Cameroon's credible efforts were overshadowed however by Milla's loose hips. The veteran is credited for bringing flair to goal celebrations and it is clear to see why he developed that reputation.
Happy birthday to Roger Milla 🇨🇲

The greatest celebration ever?pic.twitter.com/jVprqe82h0

— Goal (@goal) May 20, 2019
16. Bebeto (1994)
On their way to lifting the World Cup in 1994, Brazil beat The Netherlands 3-2 in a quarter-final in Dallas.
Bebeto put his side 2-0 up and inspired by the recent birth of his son, celebrated by holding out his arms in a rocking motion as if he was cradling his youngster. Two of his team mates instantly joined in, and the famous celebration has been repeated over the years' time and time again by players as tributes to their newborns.
15. FC Stjarnan (2010)
FC Stjarnan have become renowned for their innovative and highly entertaining team celebrations over the years. The Icelandic team play in the Urvalsdeild karla, the top division in the country and despite a stadium capacity of just under 1,300, their witty celebrations have become universally recognised.
The Human Toilet is well worthy of its inclusion at number 15.
14. Brian Laudrup (1998)
Brian Laudrup's brilliant equaliser against Brazil in the quarter-finals of the 1998 World Cup was matched by an equally impressive celebration.
After thundering Denmark back into the tie against a Brazilian side who would go on to reach the finals, the Dane ran off in celebration before sliding into a resting position, leant on his elbow. Smooth.
In an interview with Goal, he later admitted his son was the inspiration behind his memorable celebration: "It was not really prepared, but before the game, my son said to me 'Dad, you're so boring when you celebrate after the goals. Come out with something."
He did not disappoint.
13. Jurgen Klinsmann (1994)
There was a lot of hype surrounding Jurgen Klinsmann's move to Tottenham from Monaco in 1994, but that did not come without the unwanted reputation he had developed as a 'diver', particularly during the 1990 World Cup.
Best way to respond to the critics? An elegant Swan Dive after scoring the winner on his debut against Sheffield Wednesday on the opening day of the season.
The German revealed in his post-match interview that Teddy Sheringham had suggested the move and that his team-mates would follow suit.
Klinsmann instantly won over both the Press and the Spurs faithful, going onto score 29 goals in all competitions that year.
After Jurgen Klinsmann came to the Premier League with a reputation for diving he immediately endeared himself to football fans with his celebratory swan dive.

Who hasn't done a 'Klinsmann 😂
pic.twitter.com/OG9QcZlPtj

— betclever (@bet_clever) September 22, 2019
12. Finidi George (1994)
Coming in at number 12, Finidi George poses with quite easily the oddest celebration, but high in entertainment nevertheless.
Rewind to the 1994 World Cup Finals, and the former Champions League winner with Ajax, completed a brilliant break-away goal on the stroke of halftime with a deft chip to put Nigeria ahead against Greece.
Instead of running towards the crowd in jubilation, George opted to drop on all fours before lifting his leg quite literally like a dog.
The right-winger then finished off the enactment with a 360 spin.
11. Lomana LuaLua (2006)
It just would not feel right disregarding an acrobatic celebration from our top 20-  enter Lomana LuaLua.
The former Newcastle and Portsmouth man was capable of pulling off as many as seven backflips after bagging himself a goal in the Premier League, quite often going against his managers request.
During the 2005/06 campaign LuaLua was forced off due to an injury he picked up acrobatically celebrating his equaliser against Arsenal (have a watch below). Portsmouth were in the midst of a fierce relegation battle, but fortunately for the striker, Pompey survived the drop during his time on the side lines.
Whilst on loan at Portsmouth the Congolese forward famously grabbed an 89th minute equaliser against his parent club Newcastle. The Toon side failed to include a clause in his loan contract permitting him from playing, during a post-match interview via the Guardian's Jon Brodkin LuaLua guessed: "Maybe it was saying I wouldn't do damage.
10. Ryan Giggs (1999)
Manchester United icon Ryan Giggs and his hairy chest break into our top 10 greatest goal celebrations of all time. The Red Devil's FA Cup semi-final replay against fierce rivals Arsenal had gone into extra time at Villa Park, with the scores level at 1-1.
With his side down to ten men, the Welshman picked up the ball in his own half before dancing his way through four Arsenal defenders and launching a fierce shot into the roof of the net to see his side through on the night.
The shirt was immediately off as Giggs sprinted towards the dugout swinging his shirt around in the air. His goal would prove vital as United went on to record a historic treble, pipping Arsenal to the league by a single point, and beating Bayern Munich in an incredible Champions League final.
In an interview with Sky Sports, Giggs admitted that his children are haunted to this day by his choice of celebration: "I took my top off and started twirling my shirt around in the air-to my kids' dismay to this very day. They don't enjoy watching that."
We are glad you did Giggsy, a well-deserved 10th place.
9. FC Stjarnan (2010)
The Icelanders are at it again, featuring for the second time with their quite brilliant 'Human Fish' celebration.
After dispatching an ice cold panenka penalty, Hallor Orri pulls out his fishing rod before reeling in his teammate, Johann Laxdal.
Another fine piece of improvisation from FC Stjarnan.
8. Edmilson Ferreira (1998)
Edmilson Ferreira's pure sh*t-housery sees him land in the number eight spot.
Playing for Brazilian side Atletico Mineiro in a fierce derby against rivals America-Belo Horizonte-nicknamed The Rabbits, Ferreira celebrated his goal by chomping on a carrot he had hidden down his pants for the entire match.
Horizonte did not seem to see the funny side, understandably, and Ferreira was spat at by one of his opposition players and taken down viciously by a fierce tackle.
Step too far? The cheek we feel, is commendable.
7. Emmanuel Adebayor (2009)
Emmanuel Adebayor's celebration against Arsenal is without doubt one of the most iconic celebrations in Premier League history.
The Manchester City man came back to haunt his former club after heading home his sides third goal in a 4-2 victory over the Gunners. The striker suffered heaps of abuse from the away fans all game and after grabbing his goal, he ensured he made the most of the moment.
As soon as he saw the ball hit the back of the net, he was off, sprinting the length of the pitch to slide in front of the Arsenal faithful with his hands in the air embracing their rage.
The journeyman was fined £25,000 by the FA, while also receiving a three match man for stamping on former teammate Robin Van Persie. An eventful game for Adebayor to say the least.
Despite initially stating his regret in his post-match interview, years later in an interview with So Foot magazine via The Mirror, he explained he had no regrets and would have done the same thing over if he had the chance.
He said: "Afterwards, I got told the English FA wanted to give me a nice fine, but even if I would have had to pay €2 million, considering what I went through, I would have still done it."
Happy Birthday Emmanuel Adebayor. pic.twitter.com/TJaDKoiAcU

— SPORTbible (@sportbible) February 26, 2021
6. Jimmy Bullard (2009)
An absolute classic from the former Fulham and Hull City striker Jimmy Bullard. Back in 2008, Hull manager Phil Brown opted to carry out his half-time team talk on the pitch with his side trailing 4-0 to Manchester City.
A year later, in the same fixture at The Etihad, Jimmy Bullard repeated the act after equalising for Hull from the penalty spot. Waggling his finger at his fellow teammates who sat around him in a circle.
In his post-match interview Brown said it was a "fantastic celebration", however Bullard revealed years later that he was told to "wind his neck in" by his manager in the changing rooms afterwards.
Full marks for such meticulous choreography.
5. Diego Maradona (1994)
A typically precise finish from Diego Maradona against Greece, in Argentina's opening game at the 1994 World Cup in the States would not go down in history, but the celebration? Forever cementing its place in the history books.
The man regarded by many as the greatest footballer who ever lived, ran towards the nearest camera, his eyes bulging as he screamed down the lens in a state combining both joy and anger.
Prior to his final World Cup, the Argentine had  finished serving a 15-month ban for cocaine just two years earlier, and unsuccessful stints at Sevilla and Newell's Old Boys meant he headed into the 94 World Cup playing just 60 matches over the space of four seasons.
Unfortunately for the God-like figure in his homeland, his final World Cup would be short-lived. Nine days after Argentina's opener, news broke that Maradona had failed a drugs test and he was sent home immediately.
A sad ending to a man who had almost single-handedly won the World cup for his country in 1986. A celebration that will never be forgotten, along with a true servant to our beautiful game.
4. Paul Gascoigne (1996)
One of England's most gifted footballers to play the game, Paul Gascoigne's brilliant goal against Scotland at Euro 96 was matched by a fantastic bit of improvisation whilst celebrating with his fellow teammates.
The England squad were slammed by the English press due to their pre-tournament get-together getting slightly out of hand in Hong Kong. The Sun published a photo where Gascoigne, Sheringham and Steve McManaman can be seen soaked in booze as they receive the "dentist chair'- where bartenders would pour spirits and liqueurs into the open mouths of their thirst patrons.
The pressure was on for Terry Venables' side to deliver and deliver they did against Scotland in an enthralling tie. Seconds after David Seaman's penalty save against Gary McAllister, the ball was punted up field before Gazza collected it in his stride before effortlessly lofting it over a bewildered Colin Hendry, and burying a first time volley with his left foot.
Gascoigne immediately rushed over to a water bottle by the side of the pitch, ushering his teammates over, before lying flat on his back as Jamie Redknapp, McManaman and Shearer proceeded to pouring the contents of the bottle onto Gascoigne's face.
Just 17 days after The Sun's "disgracefool" headline, the Daily Mirror published an "Apology to Mr Gascoigne" signifying his redemption.
3. Marco Tardelli (1982)
Swivelling on the edge of West Germany's penalty area before firing the ball into the bottom left corner, Marco Tardelli's strike in the 69th minute in the 1982 World Cup Final would prove to be the winner.
The images of the Juventus player wheeling away in celebration with such pure emotion demonstrated what words would never be able to-the feeling of scoring in a World Cup Final.
Re-watching the famous scenes is sure to send shivers down any football fans spine.
2. Robbie Fowler (1999)
A true Liverpool legend, Robbie Fowler will always be remembered by the Anfield faithful for his fantastic service to the club throughout his time on Merseyside.
For the rest of us, it will be due to one of the most notorious goal celebrations ever witnessed.
Fowler was constantly targeted by the Everton fans for his unfounded drug abuse, and after scoring in the Merseyside derby at Anfield, Liverpool's number nine got down on all fours and sniffed the byline in front of the away end.
Fowler was hit with a four match ban and fined £32,000- the largest fine given to a Premier League player at that time.
Gerard Houllier, his manager at the time, attempted to defend his player by claiming he was instead eating the grass, a celebration picked up by his Cameroonian teammate Rigobert Song.
Yeah, nice try Houllier.
1. Eric Cantona (1996)
So, the moment you have all been waiting for. Numero uno, and who else, other than the King himself-Eric Cantona.
The Frenchman is regarded as one of the greatest players to ever grace the Premier League, and the former footballer-turned-philosopher is equally as responsible for one of the league's most iconic moments.
After exchanging a neat one-two with Brian McClair, Cantona pulled of a glorious chip from just inside the penalty area to put the Red Devils 5-0 up against Sunderland.
With Old Trafford erupting, Cantona stood nonchalantly, collar up of course, pushing out his chest before raising his arms in the air, taking in the stadiums pure euphoria.
Magnifique.
The chip.

The celebration.

The King.pic.twitter.com/jZtXLuclZc

— Goal (@goal) May 24, 2020
We hope you enjoyed this article 'The Greatest Goal Celebrations of All Time'. What is your favourite goal celebration of all time? Disagree with our selection? Let us know! 
Read more on football here: