Lewis Hamilton: Who is next in line at Mercedes F1?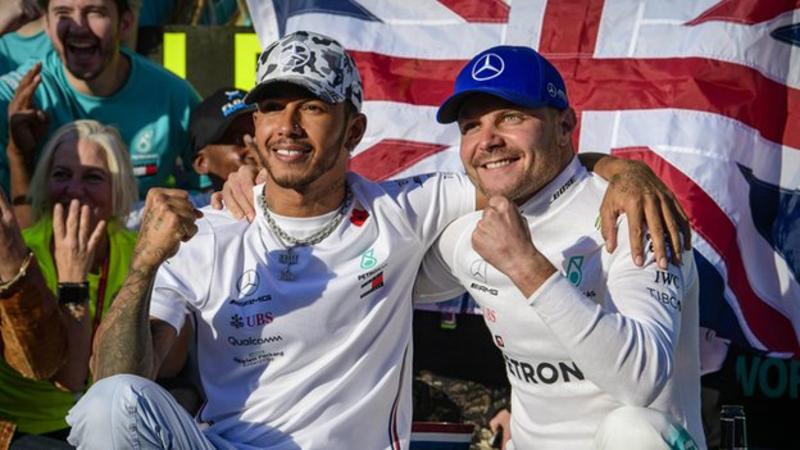 Lewis Hamilton: Who is next in line at Mercedes F1?

Lewis Hamilton is set for another year of Formula One as the seven-time world champion embarks on a charge for an unprecedented eighth world title with Mercedes-AMG Petronas. 
Someone once said: 'All good things must come to an end.' This will be exactly the case once the current world champion, Hamilton, folds away his gloves and hangs up his helmet one last time.
While it may be years before the Briton finally decides it's time to end his Formula One career, the light can be seen at the end of the tunnel.
This begs the question, who is worthy to sit in a seat of a multiple-time world champion? and who can deliver similar results?
Pierre Gasly
Ever since the Frenchman's demotion from Red Bull half-way through the 2019 season, which saw him trade seats with Alexander Albon, Pierre Gasly has been on a drive for redemption within the motorsport.
While fate swung his way in the Italian Grand Prix at Monza, he is now a proven race winner. Although Alpha Tauri might not threaten their bigger sister, Red Bull, more race wins may swing in favour of the French driver if the 'B' team keeps improving.
However, since his demotion, it looks likely that a seat in Red Bull may never happen again. In addition, he may have to look outside the Red Bull family like Daniel Ricciardo and Sebastian Vettel if he wants to increase his chances to win races.
But, if Hamilton resigns from F1 at the end of his one-year contract, he may be able to obtain the free seat (as long as he can prove he deserves it).
Nico Hulkenberg
While the German driver never managed to secure a podium position in F1, out of a total 179 races, Nico Hulkenberg has proven he still has the skills to race amongst the highest levels.
In 2020, Hulkenberg was sidelined after the 2019 season as he was replaced by Esteban Ocon at Renault. However, we still managed to see the German driver participate in race weekends, that season, as he replaced two Racing Point drivers Perez and Lance Stroll when they contracted Covid-19.
Although he missed out his first race in 2020 after his car failed to make it to the grid during the British Grand Prix, he managed to get a second chance as he retained Perez's seat for the 70th Anniversary (finishing seventh) and managed to obtain eighth at the Nurburgring (as he replaced Stroll).
Despite his time on the sidelines, the German provided the best race finishes out of all the replacements that season. Proving, he can still battle with the best.
Lando Norris
While McLaren may be on an upwards trajectory, the youngster for the Woking-based team doesn't look to be moving anytime soon.
He may have been less consistent against his teammate, Carlos Sainz Jr., in his rookie season (2019) on race day he finished the year in 11th with only 49 points, 47-pts behind Sainz (96 pts).
He vastly improved in 2020 as he remained on the heel of the Spaniard across the season and finished in ninth with 97-pts, eight points behind his more experienced teammate – who finished with 105pts.
It may be unclear when the defending world champion is going to hang up his helmet but if McLaren do not improve to challenge the top two teams (Mercedes and Red Bull) while the young Briton builds on his potential to scrap with the higher teams, it could be likely the 21 year old may be in for a fighting chance at Mercedes.
Valtteri Bottas
During the time where Hamilton's future in F1 seemed uncertain, from the end of 2020 until February 2021, some outlets posted fan polls on who they would like to see in the Mercedes 2021 line-up. One option didn't include the seven-time world champion, rather a line-up between Valtteri Bottas and George Russell.
It does seem likely that Bottas will lose his seat to Russell for the 2022 season prompting a potential line-up of Hamilton and Russell. However, with the seven-time world champions new one-year contract, the 36 year old could retire as soon as he clenches an eighth world title to put him as the most successful F1 driver of all time.
This would allow Bottas to see out his contract and extend it on a, potential, multi-year deal as Mercedes' new lead driver and Russell could occupy the vacant seat.
George Russell
Fans-alike most likely see the current Williams driver as the future of the Mercedes' F1 team – whether this be from a biased British standpoint. However, with snapshots behind the scenes in the Netflix F1 documentary: Drive to Survive, Russell is shown to be eager to get a Mercedes seat. While he only got a test-drive of the Mercedes W11 when Hamilton was in self-isolation due to Covid-19 last year, he put in a mighty performance.
In one opportunity that could be portrayed as a job interview, Russell was on course to obtain his first ever points and podium finish and looked to be on his way to securing his maiden victory during the Sakhir Grand Prix – hindered by a puncture and tyre mix-up.
He may have been out-qualified by Bottas on the Saturday before the race but the Briton put in a shift to ensure his name was at the top of the list of future Mercedes drivers'.
It seems Russell is now destined to obtain a Mercedes seat in F1. Whether this is to replace Hamilton or Bottas remains unknown. However, when Hamilton retires Russell looks to have the best chances of replacing the seven-time world champion.
We hope you enjoyed Lewis Hamilton: Who is next in line at Mercedes F1? Who do you think will likely replace the seven-time world champion? Let us know in the comments!
Read more on F1 here: