Football songs – a brief introduction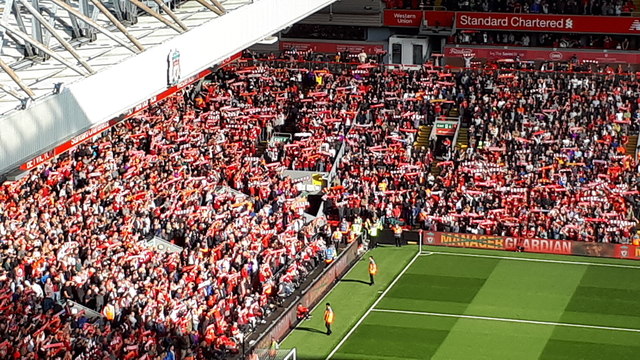 What makes a football song?
Football Songs – a brief introduction
The Traditional View
When you think of songs specifically written about football what comes to mind? It's likely to be huge sellers connected to world cups or official team songs. Most fans popular suggestions are likely to include the following: New Order and the England team's Italia 90 anthem World In Motion, Baddiel and Skinner's Euro '96 rallying call Three Lions or the Liverpool team and their Anfield Rap.
Despite this there are thousands of others to choose from, discover and enjoy. The worldwide popularity of both football and music has seen many songs written about the game over the years in several different languages. The website 45football is dedicated to football vinyl records and has more than 1,000 listed from over eighty countries. Amongst their collection are songs from football hotbeds Canada and Kuwait along with 181 tunes from England and 194 from Italy.
The song "Si, Si Señores" is very popular in South Amercian football. According to the book "Historia de Peñarol" by L. Alvarez (graçias de nuevo Brunildo!) is was composed for Peñarol and first sung there after the 1961 triumph against Benfica. pic.twitter.com/0P9sk6EECz

— 45football.com (@45footballCom) January 18, 2021
Popular Supporter Songs
Other tunes not specifically written about football have become forever linked with the game. You'll Never Walk Alone popularised by Gerry And The Pacemakers has been sung by Liverpool and Celtic followers for decades and is the probably the most recognisable football chant song. Originally a number from a Rogers and Hammerstein musical, the lyrics fit into the football fans collective need to be part of their club collective. A fantastic version here from a Champions League match.
Elvis Presley's Can't Help Falling In Love, is sung by several groups of supporters including Hull City, Swindon Town and Huddersfield Town. It has been most commonly linked with Sunderland AFC since the 1960's.  Another chant with the lyrics relating to what it means to follow your club. In this case the inexplicable love of your team as they continually let you down. You Tube has several videos of fans singing include this one away at West Ham United.
A more offbeat selection was Stoke City who took Delilah by Tom Jones and made it their anthem in the early 1980's. Even Stoke fans are not sure why they adopted the song but it sounds fantastic. Watch out for the laughing ha ha ha ha.  Stoke boxer Nathan Heaney also does his ring walk to Delilah.
The Twitter world has said I have one of the best walkouts they have ever seen… Well here's a better look of it 😍

WE ARE STOKE ❤️@frankwarren_tv @EddieHearn @TopRankPR @SauerlandBros @BCB_Boxing @RealSirTomJones pic.twitter.com/1Q9WlmegtA

— Nathan Hitman Heaney 🥊🔴⚪ (@NathanHeaney) March 16, 2020
The BBC produced a list of their 10 best pop songs chanted at football matches. You can also find several sites with ideas for new chants including football songs.
♫ MANCHESTER LOVES BRUNO FERNANDES! – Manchester United Football Song | Pulp – Disco 2000https://t.co/ja8UcYdBSu pic.twitter.com/AAM1KNTD1n

— FOOTBALL SONGS (@FootballSongsHD) July 21, 2020
A Few Alternatives
Moving on from hugely recognisable songs, vinyl 45's and terrace chants there are many alternatives available to catch your attention with a little research. Whatever type of music you like there is an alternative football song for you. For example try this catchy Brazilian number.
The Hitchers released Strachan in 1997 as part of their EP It's All Fun and Games 'til Someone Loses an Eye. The band are from Limerick in Ireland. John Peel had Strachan at number 21 in his Festive Fifty of 1997. During the countdown he commented "I always like a good football record, and that's a good football record, no question about it. There aren't many of them, though." A song can be used to tell a story. This one tells two. A domestic argument over the singer watching a football game intertwined with highlights from a game. Each verse builds a crescendo of domestic friction and football action.
She waited for the match to start
to start a fight up with me.
She said, "what's that you're watching?",
"It's a Programme about art".
She said, "A Programme about art?", I said
"A programme about art" and then the greatest
midfield artist of them all walked out onto the park.
Writer Niall Quinn (not the footballer) wrote the song the day after Leeds United won the Football League in 1992 but didn't develop it for a few years. Most members of the successful Leeds squad are namechecked. It pays homage to Gordon Strachan "the tiny wee Scotsman with the copper coloured hair".
Strachan the footballer
Strachan captained Leeds United to promotion in 1990 and the Football League Championship in 1992. He was the Football Writers Association's player of the year in 1990-91. Strachan previously played for both Aberdeen and Manchester United under Alex Ferguson. Their relationship was fractious. Ferguson wrote in his autobiography that Strachan couldn't be trusted an inch. Strachan was still an effective Premier League player with Coventry City in his late thirties. Eventually he retired from playing in 1997 aged 40.
With Aberdeen Gordon Strachan secured the League Championship and  won the Scottish Football writers Player of the Year in 1979-80. In 1982 and 1983 Aberdeen won the Scottish FA Cup. They defeated Real Madrid in the European Cup Winners Cup final to win their first European trophy. In his final season with Aberdeen before joining Manchester United, Strachan secured the Scottish title, FA Cup and European Super Cup. At Manchester United, Strachan helped the club win the 1985 FA Cup but it is for his exploits at Aberdeen and Leeds he will mostly be remembered.
Give Him A Ball (And A Yard Of Grass) – Sultans Of Ping FC
Cork punk band Sultans Of Ping FC released their debut album Casual Sex in the Cineplex in 1993, which included Give him a ball (and a yard of grass).  It also featured Where's Me Jumper which is probably their most famous song and a favourite on BBC 6Music. The subject of the song is less obvious than Strachan. In this case it centres around three quotes from legendary manager Brian Clough.
Give him a ball and a yard of grass
He'll give you a move with a perfect pass
Give him a ball and a yard of space
He'll give you a move with goodly grace
A man can't have no greater love
Than give ninety minutes to his friends
Brian Clough
In his nine year playing career Brian Clough scored 251 league goals in only 274 games at Middlesbrough and Sunderland. He also won two England caps before his career was cut short aged 29 due to an anterior cruciate ligament injury. Having just turned 30 Clough took his first management job at Hartlepools United.  Two years later a move to Derby County was agreed, and promotion from Division Two was achieved in the first season with the club. In 1971-72 under the management of Clough Derby County won their first league championship.  After falling out with the club board he resigned in 1973.
Brief, unsuccessful spells at Brighton and Leeds followed before Brian Clough joined Second Division Nottingham Forest. Not content with turning one unfashionable team into league champions, within four years Clough and assistant Peter Taylor had repeated the trick with Forest.  Winning the First Division in 1977-78 qualified Forest to play in the European Cup which they then won two seasons in a row. In his 18 years at the club they won twelve trophies.
English manager of the year in 1977-78 and European coach of the year honours in 1979 and 1980 followed. ESPN rated Brian Clough 3rd in its list of Greatest Managers. Several books have been written about his life and the movie The Dammed United chronicled 44 days as manager of Leeds United.
In addition to being an unbelievably successful manager at two unlikely clubs, Brian Clough had a reputation for speaking his mind and making controversial statements. In the early 1970's ITV even had a message for Clough from Muhammad Ali.
His famous quotes include:
"I wouldn't say I was the best manager in the business. But I was in the top one."
"Players lose you games, not tactics. There's so much crap talked about tactics by people who barely know how to win at dominoes."
"If I had an argument with a player we would sit down for twenty minutes, talk about it then decide I was right!"
14 years ago we lost of the finest managers in football, Brian Clough.

Here's a thread of his finest quotes. pic.twitter.com/9QNEBOrOAv

— Pro:Direct Soccer (@ProD_Soccer) September 20, 2018
John Robertson
Sultans Of Ping FC based the title of their song around a quote about mercurial midfielder John Robertson. He played over 240 consecutive games for Forest between 1976 and 1980. On the transfer list when Clough arrived Robertson repaid his managers confidence in his ability in two spells with the club. Robertson provided the cross from which Trevor Francis scored the winning goal in the 1979 European Cup Final. He went one better the next year scoring the winner as the Nottingham club retained the trophy.
"John Robertson was a very unattractive young man. If one day I was feeling a bit off colour, I would sit next to him. I was bloody Errol Flynn compared to him. But give him a yard of grass and he was an artist. The Picasso of our game."
Nigel Clough
The second quote is about Brian Clough's son Nigel. Clough junior was an England International who played for his father at Nottingham Forest before joining Liverpool when Brian retired in 1993. A goal scoring midfielder he has had a successful management career in the lower leagues.
"He's a nice young man, it's a lovely smile"
Playing the right way
Brian Clough expected his teams to play the right way and behave appropriately towards referees on the pitch. One of is most famous quotes revolves around his philosophy of playing a passing game and retaining possession of the ball. This was unlike many of his contemporaries who asked their teams to play a more direct game.
"If god had wanted us to play football in the sky, he'd have put grass up there"
Daydream Believer (Cheer Up Peter Reid) – Simply Red & White
In the list of football songs this a hybrid. First a terrace chant and then recorded and released by a group of fans. In the first few months of 1996 Sunderland mounted an unexpected promotion push under the management of Peter Reid. The club had been hovering near the relegation zone for most of the first half of the decade. Disaster had been averted in the last few games on several occasions. In March 1995 when Reid was appointed Sunderland were struggling near the bottom. A run of one loss in seven games saw the club finish strongly six points away from the relegation zone.
With only the addition of veteran Paul Bracewell and loan goalkeeper Shay Given Sunderland were transformed into promotion contenders. Reid's dour demeaner contrasted with the fans who were delighted with the improved form of their team. By the end of the season Sunderland had been promoted to the Premier League for the first time. Winning the 1995-96 Football League First Division by 4 points completed a dramatic season.
Around the turn of the year fans began to sing Cheer Up Peter Reid to the tune of the Monkees Day Dream Believer. The song fitted the belief that promotion could be obtained and their dreams could come true.  After a few weeks a group of supporters came together to record the song calling themselves Simply Red and White. One participant's story can be found here. It became the anthem of the season and the promotion party.
Oh I could fly without wings
On the back of Reidy's kings
At three O'clock I'm as happy as can be
'Cos the good times they are here
And the Premiership is near
So watch out world while all of Roker sings
Peter Reid
During his playing career Peter Reid was a centre midfield player firstly with Bolton Wanderers and most famously Everton. Reid was a mainstay in the Everton side which won two Division One League Championships, FA Cup and European Cup Winners' Cup. Peter Reid was Professional Footballers Association Player Of The Year in 1985 and finished fourth in voting for the world player of the year the same season. An England international with 13 caps his most memorable England game came in 1986 when he was the first player not to tackle Diego Maradona.
In his mid thirties Reid became player manager at Manchester City and stayed at the club for three years before he was sacked. Between the sacking at Manchester City and the Sunderland job he continued playing for Southampton, Notts County and Bury. His last appearance for Bury coming at the age of 38, finishing his career with over 500 league appearances in twenty years.
After relegation and subsequent promotion Reid oversaw Sunderland's most successful spell in the top flight since the 1950's with two successive seventh place finishes. He also had spells at Leeds, Plymouth and several other teams. As a manager he will always be associated with his time in the North East.
All I Want For Christmas Is A Dukla Prague Away Kit – Half Man Half Biscuit
Of all the bands writing football songs Birkenhead's Half Man Half Biscuit were pioneers and continue to be prolific. All I want for Christmas Is a Dukla Prague Away Kit appeared on the 1986 EP The Trumpton Riots. This song reminisces about visiting a friends house after school to play Scalextric and Subbuteo. A theme of the song is the owner of the toys feeling he is better than the other boys and eventually "he's working in a job with a future" while the author is on benefits. Dukla Prague were a Czech football club who briefly came to the attention of British football fans when they knocked out Everton, on away goals, in the 1978-79 UEFA Cup.
And he'd managed to get hold of a Dukla Prague away kit
'Cos his uncle owned a sports shop and he'd kept it to one side
And after only five minutes you'd be down to ten men
'Cos he'd sent off your right back for taking the base from under his left winger
And come to half time you were losing four-nil
Each and every goal a hotly disputed penalty
So you'd smash up the floodlights and the match was abandoned
And the dog would bark and you'd be banned from his house
And your travelling army of synthetic supporters
Would be taken away from you and thrown in the bin
Not their only football song
The band continue to tour and release new material including several football songs. Other songs by Half Man Half Biscuit include Bob Wilson Anchorman, 1966 and all that and The Referees Alphabet. Their latest release in 2018 included a song on avoiding watching the Checkatrade Trophy.
We hope you enjoyed this article "Football songs – a brief introduction". Which songs are sung at your club that we should check out? Let us know.
Read more on football here: