Ruben Loftus-Cheek Transfer: Will He Go Out On Loan?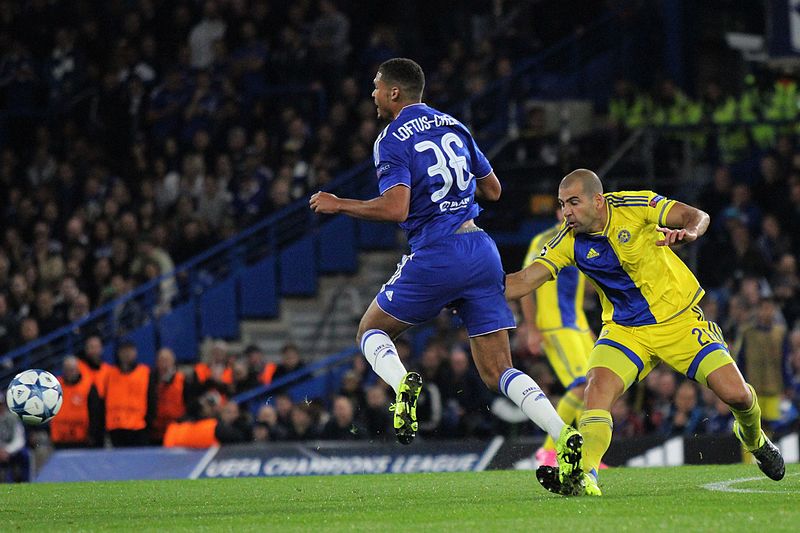 Ruben Loftus-Cheek Transfer: Will He Go Out On Loan?
Ruben Loftus-Cheek missed the majority of last season after battling an achilles injury. He is a player who is held in high regard by Chelsea fans and coaches, but has often struggled to find game-time with his fitness.
The 24-year-old has 10 caps for England and has played over 70 times in the Premier League, for Chelsea and Crystal Palace. With his youth still on his side, he can now look to take his game to the next level.
Chelsea's midfield is arguably the most competitive position within the squad. Players like N'Golo Kante, Mateo Kovacic, Jorginho and Mason Mount are all fighting for their place in the team.
Not to mention the arrival of the £71m, highly-rated Kai Havertz from Bayer Leverkusen. The German international is Chelsea's club-record signing and is another player that will start in Lampard's central midfield.
It is now looking more and more likely that we will see the England international play for another club this season. With the European Championships next summer, Ruben will be looking to seal a place in Gareth Southgate's team.
Teams like Aston Villa, West Ham United and Southampton are all linked to the player. But which club will be successful in acquiring the bright and talented midfielder for this years campaign?
— Ruben Loftus-Cheek (@RLC) September 12, 2020
Aston Villa
Villa have been linked with the midfielder for quite a while now, and look like the front runners in the race to sign him. As favourite's to gain his signature, he will certainly be a boost to their talented midfield.
Loftus-Cheek has not been apart of Lampard's match day squad since their season opener against Brighton. This could be a big development in Villa's plans, as manager Dean Smith has hinted that they want another midfield this transfer window already.
"Midfield is an area we're looking at where we feel we lack numbers. There are many players who are speculated upon all the time and we are looking to add more to the squad" he said.
Smith has a good ability to get the most out of his players and would be a great addition to his ranks. Ruben could definitely flourish with players like Jack Grealish, John McGinn and Conor Hourihane playing alongside him.
With Ruben's ability to play on either side of a midfield three, he would fit straight into their lineup. Often operating a 4-3-3 this season, Dean Smith will know that his versatility would be a huge asset for the Midlands side.
Having already spent over £70m so far this summer, a loan option for the midfielder is perfect for the club. They may have to offload one or two players to accommodate his weekly wages, but it is likely this move could happen.
Dean Smith drops transfer hint as Aston Villa target Loftus-Cheek #AVFC #CFC https://t.co/UxJ88RSmK5

— Aston Villa News (@AVFC_News) September 28, 2020
West Ham United
West Ham are another club that are looking to bolster their midfield. Having not made any more signings since Tomas Soucek in July, the Hammers board has become under increasing pressure.
Although Soucek has impressed after making his loan signing permanent from Slavia Prague, their squad needs more players to join him. They've been linked with numerous defenders this transfer window, as well as Ruben Loftus-Cheek.
The availability of a talented player like Ruben, would be of great use to manager, David Moyes' side. His physical presence and technical ability sets him apart from other central midfielders.
The Hammers have been desperate for a versatile midfielder that can create goals as well as score them. Since star man Dimitri Payet left in 2017, they have yet to feel that void in their squad.
Although Loftus-Cheek may not have similar qualities to Payet, he can offer returns defensively and going forward. He could form a great partnership with the likes of Declan Rice and Tomas Soucek in the midfield.
West Ham lost their first two Premier League games this season, before thrashing Wolves 4-0 on Sunday. Although they seem to be improving, it's important that they get another signing in before the window closes next week.
Being the only club interested in London, it may be the more suitable choice for Ruben. As a dynamic individual, David Moyes will definitely want to help give him the regular first-team football he needs.
West Ham and Aston Villa are battling for Ruben Loftus-Cheek 🤞

— Goal News (@GoalNews) September 24, 2020
Southampton
After a rocky start on the south coast, Southampton will also be looking to improve their squad. They won their first league game against Burnley on Saturday, but lost the other two.
Manager Ralph Hasenhuttl has only made two signings so far and will need more to compete in the league this year. The loss of their captain, Pierre-Emile Hojbjerg to Tottenham, was a big blow to the team. His desire to play in the Champions League forced Southampton's hand and they let him go.
The signings of Mohammed Salisu and Kyle Walker Peters for a combined £22m is good transfer business for them. However, a player like Loftus-Cheek on loan will add even more depth to their squad.
He would fit in well with fellow England international James ward-Prowse and Oriol Romeu in their midfield. They may need to adjust their formation to accommodate him or drop one of their players. However, his ability will be enough to persuade the manager to try and sign him.
He would go straight into the starting line up at Southampton and give them the bit of quality they need to win games. A loan option would also benefit both clubs and he would be a good asset on and off the pitch.
Not only this but the first-team football he would get, would boost his individual chances of playing in the Euro's next summer. Hasenhuttl's main problem is going to be interest from other clubs and they will have to swoop in fast.
His potential will no doubt give competitors the urge to approach him and compete with Southampton for his signature. If they can hold off other clubs, then we may well see Ruben Loftus-Cheek transfer down south this summer.
Aston Villa and Southampton have both been linked with a move for the midfielder, who has 10 England caps.

— Sky Sports Premier League (@SkySportsPL) September 29, 2020
Chelsea
His last option, and the most unlikely, is for him to stay at his parent club Chelsea. He would only be allowed to leave on a loan, but it seems as though Lampard is taking extra precautions in midfield.
Chelsea manager Frank Lampard has insisted that the midfielder is still fit, but it is important that he needs to be playing more minutes.
"I am very open with Ruben. We have had a couple of conversations in the last week. He is fit as a fiddle so he could play week in, week out, but he needs to play," said Lampard.
"He has done a lot of work now and would have been playing a lot of games earlier if it wasn't for lockdown and Project Restart. There is a possibility Ruben might go out [on loan] to play games because I think that would be great for him."
With the addition of Kai Havertz along with all his other options in midfield, it seems as though Ruben has fallen down the pecking order since his injury last year.
Having worked tirelessly to get back to the similar fitness levels he once was, Ruben will want to find regular football. If he was to stay at Chelsea, he would only find himself fighting for a spot in a very competitive team.
However, even though he may be fighting for his place, Loftus-Cheek did start their season opener against Brighton. His presence and versatility in the midfield is something that cannot be ignored and he would add good squad depth to their team.
This may be one of the factors that persuades Lampard to keep him on and let him fight for his spot in the squad. If no other clubs decide to make a loan move for him, he could be staying in West London.
Where will he end up?
With the window drawing to a close, clubs will be rushing to grab his signature. A Ruben Loftus-Cheek transfer may be on the cards, but teams have less than a week left.
After Lampard suggested that it is better for him to get some playing time on loan, it is likely we will see him at another club this season.
With Aston Villa looking like the club to snap him up, he would be a great addition to their squad. Playing with the likes of Jack Grealish and new star striker Ollie Watkins, may tempt Ruben to join them.
However, the locality of West Ham and the guaranteed first time football at Southampton may also be tempting factors. It is unlikely he will now stay at his parent club and it may be a case of which club will move for him first.
The team that wins the race for his signature, will no doubt get a re-energised and inspired Ruben Loftus-Cheek. He is fighting for a place in England's Euro squad and a move away could help that.
This will definitely be a motivating factor for him to make his mark in the Premier League again.
We hoped you enjoyed the article 'Ruben Loftus-Cheek Transfer: Will He Go Out On Loan?'. Where do you think the England ace should end up playing this season? Let us know!
Read more on transfer news here: