Sheffield Wednesday Handed Twelve Point Deduction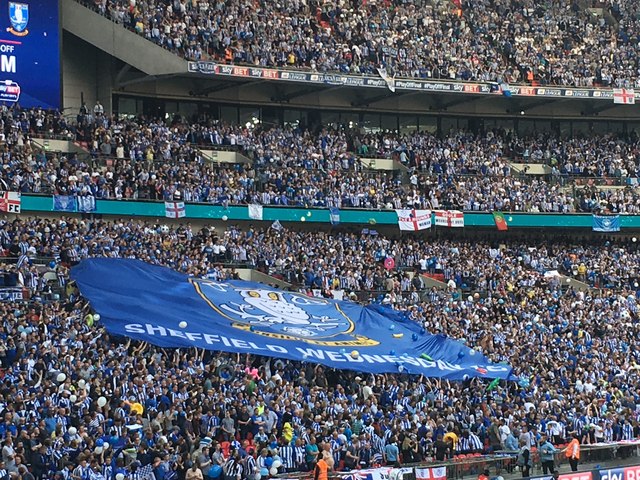 From Playoffs to Points Penalty
Sheffield Wednesday Handed Twelve Point Deduction
Sheffield is a city that means a lot to me, its where I was born, and spent the first few years of my life. University brought me back to the city, and although I never followed Sheffield's clubs extensively, I met many people who did, and some of those I would consider ranking amongst elite fans.
Today the focus is on Sheffield Wednesday, they have a passionate fan base, and can feel proud that their club is one of the oldest in the world, and is still playing to this day- not many can say that. Sharing the city with what is officially the oldest professional, independent club, Sheffield F.C., shows how much rich history the city holds of the beautiful game. Yet, despite this, things aren't looking so good for the boys in blue and white.
Sheffield Wednesday have been handed a 12-point deduction for next season – but why was it not deducted this season?

Football Law founder Thomas Horton has all the info 👇

— Sky Sports News (@SkySportsNews) August 3, 2020
Obviously, any football fan will know of the vicious rivalry between Sheffield Wednesday and Sheffield United, who had an impressive finish upon their return to the Premier League. Of course, for any of the blue side of Sheffield, seeing 'the blades' rise so high is a bitter pill to swallow. The truth is, there is a huge gap right now between the two, not only in quality of football, but also in finances, stability, and hope for the future.
If the gap were to truly get bigger, it would probably entail Wednesday being relegated next season, plummeting down to League 1. This isn't guaranteed to happen, and it isn't fair to assume that it will, but the possibility looms large, thanks to a massive 12 point deduction that will come in to play at the start of next season. Whilst trying to learn more about the deduction, and why it was ever issued, I spent an evening with a season ticket holder who last year turned to the internet to comment on his beloved team.
An Interview With 'The Wise Owl'
Harry Edwards runs The Wise Owl podcast, and has been doing since May 2019. Having gained a steady social media presence, the podcast is sitting nicely besides other Wednesday commentators, and he has a large Twitter following to back it up. Although I was learning a lot about the situation, I was really interested in hearing what this all means to the fans.
We start by discussing the clubs last five years, and looking back on the 2015/16 season. It might not have seemed imaginable at the time, but Wednesday were going to achieve their highest ever finish in the Championship and enjoy a play-off final, despite finishing dismally the previous three seasons in 13th, 16th, and 18th respectively.
Harry explains to me how the 2015/16 season felt like a "clean slate", all thanks to new owner, Dejphon Chansiri. Gone were the days of desperately selling the club for a mere £1, the Thai businessman was hear with a mission: get Sheffield Wednesday back to the Premier League. The 99/2000 season saw the Owls relegated from top tier football, and they haven't been back since. "He put his name on the stadium, bought a new, better quality pitch, and replaced our scoreboard which was really old and outdated". The word 'outdated' seems right, Wednesday were a club behind the times, but finally a saviour had come to town with a new plan, and that involved gutting out the clubs players and staff.
#OnThisDay in 2015 – #SWFC Headlines Thai company completes £30m takeover of Sheffield Wednesday" "Thai Union Frozen Group buys out Milan Mandaric" Group is headed by businessman Dejphon Chansiri
'I believe this club has huge potential,' says Chansiri #WAWAW pic.twitter.com/jFF470dGpP

— DunsbyOwl (@Dunsbyowl) January 29, 2019
Prior to the season starting, 11 players were released from their contracts, and Stuart Gray was sacked from the managers position after only 18 months in the job. "I think it would have been interesting to see how Gray would have spent the money", Harry says intriguingly, "Perhaps he would have spent it better, but he wasn't the man who Chansiri wanted". Admittedly, there was a lot of trepidation around Chansiri announcing new manager, Carlos Carvalhal: "No one knew who he was, we all look at him now, thanking him for what he did, but people were sceptical because he'd never been a part of the English game". Despite any worries, a combination of new backroom staff, solid signings, and new management, Wednesday finished up in the Championship play-off final.
Despite finishing 13th just a year before, there was a glimmer of hope that the Owls would be going back to the Premier League. On the 28th of May 2016, Wembley was packed out with 70,000 fans from Yorkshire, as Sheffield Wednesday took on Hull City. The tigers were strong, and had a team of players who had already been in the Premier League, or were destined to stay in it, like a certain Andrew Robertson. Looking at the statistics of the game, one would think it was an equal match, but ultimately, Hull were a dominant force. A wonder goal from Mohamed Diamé saw Hull promoted, and Wednesday remaining in the Championship. But there was optimism; if it could be reached once, it can be reached again.
The 2016/17 season began brilliantly, getting friendly wins over Chesterfield, Port Vale, and Portuguese sides Nacional, and Benfica. A solid second season was expected after this string of results, and last seasons success story. Wednesday fans got more than they could have hoped, as the Owls finish in a record high 4th place. Because of this, they get Huddersfield in the play-off semi finals. This seemed like a great opportunity, as The Terriers were the only team in the top 11 to have a negative goal difference. Despite their best efforts, both legs saw two draws, meaning it was time for penalties. We already know the outcome, as Huddersfield went on to become a Premier League team for the first time, but again, a successful season ended with no trophy and no promotion. Perhaps 3rd times the charm?
Sheffield Wednesday 1 Huddersfield 1 AET: Terriers reach Championship play-off final on penalties https://t.co/Llaylz24h7 pic.twitter.com/h9gIOac1RQ

— The Sun Football ⚽ (@TheSunFootball) May 17, 2017
All Downhill From Here: 2017 to 2019
"The aim was for Carlos to get us to the Premier League for the 150th anniversary of the club, which should have been 2017, so he failed". It seems that all the good that came along with Carlos had now started to run dry, as his third season in charge ended miserably in comparison to the previous two. On Christmas Eve 2017, Carvalhal left the club by mutual consent, seeing Lee Bullen appointed as caretaker manager, who in turn lasted just under two weeks, before Jos Luhukay was hired on a permanent basis in early January. The season was disappointing to say the least, as they conceded just as many goals as they scored, and now under another manager who seemed like a questionable appointment. "Jos was the opposite of Carlos, he played defensive football, he wasn't very good in front of the camera, but we knew he'd keep us afloat".  That was the attitude of fans who had already lost the hope and joy that the previous two seasons had brought. Overall, a 15th place finish was all Wednesday could muster.
Harry goes on to mention that Chansiri raised the prices of season tickets within his first year at the club, equalling some prices of Premier League teams. It is clearer to see now that Chansiri came in to the picture truly believing that making the club look and sound like a top tier team, whilst also charging fans more to see them play, was a plan to convince others that he could transform a historic football club back in to a Premier League competitor. I understand the idea, and what he would have gained had he pulled it off, but despite coming so close, dropping eleven places in the table after Sheffield Wednesday's highest ever Championship finish is what he got.
This is quite a statement from #SWFC's Dejphon Chansiri. It includes an offer to conditionally refund season tickets and the question 'is my worth just to invest money for our fans?' Some quotes below & piece in full via the link https://t.co/BtqTWclXOd pic.twitter.com/QxshRnvSIS

— Rob Staton (@robstaton) December 24, 2017
As the 2018/2019 season began, Wednesday were in poor form all the way up to December, including a disappointing home draw to local rivals Rotherham United. Making things worse, record signing Jordan Rhodes, who was signed for just over £10 million a year prior, had been sent on loan to Norwich. On the 21st December 2018, Jos Luhukay was sacked after gaining only a single win out of the last ten games.  The team looked like a different one to the boys that were in the play-offs only a couple of years prior, and were now having to put up with another managerial change.
Lee Bullen returned as caretaker until early January, then a team of Steve Agnew & Stephen Clemence took over as caretakers until the 1st of February. But then something miraculous happened, a sure sign of a turn around from the previous seasons low quality football. Steve Bruce, who holds the joint record of most promotions from the Championship (4, tied with Neil Warnock), has signed on as the Wednesday manager. With only half of the season left, the aim was to make sure Wednesday finish in a comfortable position, with an aim to bounce back for the 2019/2020 season.
Harry explains to me how all the fans truly believed that a top manager like Bruce could help Wednesday reach a new high, that this was a new era for the club. In the end, Bruce helped the team finish 12th; not losing a league game until the 6th of April since his appointment. It was a great finish to say they were 18th at Christmas, and their was excitement heading in to the start of the new season, but as history repeats itself, the excitement dwindled quickly.
Now that the dust has settled on Sheffield Wednesday's 2018/19 campaign, as #SWFC fans wonder what could've been, here's a look at some of the big stats from the season that was…

Top Stat: Not a single own goal scored for us. https://t.co/ApWHwyr0FN 🦉⚽️ pic.twitter.com/wOwLd0rvWm

— Joe Crann (@YesWeCrann) May 9, 2019
2019/2020 Season: The Final Frontier
Disaster was just around the corner for the Wednesday. Before the season even begins, Steve Bruce gets an offer from his hometown club, Newcastle United, that he couldn't refuse. "A lot of us genuinely believed that if Bruce had the same financial backing as Carlos did, then we would have gone up". With this in mind, Bruce was the man in charge of Hull when they won the play-offs just a few years earlier, so surely he could have done it again. "He had connections and new a lot of good players. We did get a couple of good signings, like Dominic Iorfa, who I think is the only real Premier League worthy player we have. The thing is, when the rumours started that Newcastle wanted him, we already knew he'd be going, it was a no-brainer for him. But our fans can turn quick, and he was instantly seen as a snake".
I understood Harry's frustration, the club have signed their first high profile manager in years, and before he even gets going properly, he leaves. It's a shame, as we all know what Steve Bruce is capable of, but there's no use dwelling on what could have been. It was time to move on, where we finally get to the present.
Bruce left in mid-July, leaving the club without a permanent manager, with no rush to fill the space. Another quick decision could be the wrong one, but by early September, another manager with Premier League experience was hired: Garry Monk. Monk isn't exactly known for his all out attack style of management, and his highest win rate at any club is just under 50% (during his time as Leeds manager). He has certainly had good experiences as a manager, and like Bruce, has worked with solid, reliable players with high quality.
Sheffield Wednesday have reported Newcastle United to the Premier League over the appointment of manager Steve Bruce.

More: https://t.co/C9yb3i305u pic.twitter.com/XCI8uphvzG

— BBC Sport (@BBCSport) July 23, 2019
Some great players had just come arrived at Wednesday (albeit, signed before Monk arrived, but at least Bruce left him something nice behind) such as Moses Odubajo and Massimo Luongo, so there was certainly some promising talent. Also, a total of twelve players were released, so clearly the aim was to drop the wage bill, and get rid of some dead wood. This is most likely due to the growing financial troubles that were now very much public (we'll get in to that later). Monk kept a steady ship until Christmas, but after the New Year, results started to slip. Also not helping, the Covid-19 pandemic stopped football altogether for some months, and upon the return of empty stadium football, the results became even worse. If it wasn't for the mildly successful pre-Christmas period, Wednesday would surely have been in contention for a relegation place. A 16th place finish was the result of Monk's first year in charge, but to give him some credit, nobody could have expected football to have become as disrupted as it did.
2020/2021 Begins: Down But Not (Quite) Out
The new season has just begun, and it has been announced that Sheffield Wednesday must start the season on -12 points. Some good news is that that number has already become -8 after two games played, with a surprising away win over Cardiff, and a hard earned point against Watford at home. There's also been some promising signings. Josh Windass has had a great start, scoring on his league debut, and a couple of young Premier League academy players in Fisayo Dele-Bashiru and Korede Adedoyin from Manchester City, and Everton respectively. Of course, the fans know how lucky they are.
The twelve point deduction could have been handed to them at the end of last season, meaning certain relegation has been avoided. Supporters of other clubs have spoken out against the decision, as Wigan Athletic were handed a similar penalty, but theirs was put in place instantly, which did actually result in their relegation from the Championship. Whatever the real reason is, Wednesday know they have been riding their luck for the last few years after some questionable moves by chairman Chansiri.
Another game, another clean sheet for Sheffield Wednesday against highly-rated Watford, with the Owls having now chipped away at their 12-point deduction by four points after two games.

We looked at the Heroes and Villains from Hillsborough: https://t.co/m1w7TjtXSk #SWFC 🦉⚽️

— The Star SWFC (@TheStarOwls) September 20, 2020
So What Is This Points Deduction All About?
Unfortunately for Wigan, their points deduction came about due to going in to administration. They were taken over by new Hong Kong based owners in June, but had to enter in to administration in July due to their soaring debts, which have mostly being blamed on the coronavirus pandemic.  Sheffield Wednesday however, have avoided such fate. The decision to take twelve points away this season, instead of last, came about because the Owls were only charged on a disciplinary matter. So Chansiri has had a slap on the wrist, and he's lucky that so far it hasn't proven too costly for them, but there's a long way to go until the end of the season.
The EFL decided to come down hard on Wednesday for their dodgy financial postings a couple of years ago. The club were in massive debt, mostly down to the loans that Chansiri had provided over the years of his ownership- not including the money he had already willingly invested out of his back pocket. In the 2017/18 season, Wednesday's debt had amassed to the point that it would have breached the EFLs spending rules, so the club needed money fast. In short, Chansiri pushed through with a sale of Wednesdays home, Hillsborough, and its surrounding land. The buyer? Chansiri himself, but to a second company of his.
The six-figure cost of Sheffield Wednesday's appeal against points deduction revealed. #SWFC https://t.co/mAMoohjLxt

— Dom Howson (@domhowson) August 19, 2020
It might sound like a shifty work-around, but the penalty doesn't really have much to do with the sale itself, as it's not unheard of for club owners to do this. It's more to do with the figures, and when they were presented to the EFL. Chansiri sold Hillsborough for £60 million, but when West Ham sold their ground in 2014, it was only worth £40 million. A smaller club, and far outside London, Wednesday's sale seemed curiously worthwhile.
All evidence points to a tactical sale, as the £60 million pushed them out of the EFLs radar, by helping them avoid breaking the spending rules. Unfortunately, it was clear that some documentation and finance figures had been altered, as the actual exchanging of money didn't appear until a financial year later, meaning the sale hadn't actually even begun in the 17/18 season. There have been different reports as to what exactly happened, but as the BBC put it: "Wednesday's charge related specifically to "how and when" the sale of Hillsborough took place, rather than the sale of the stadium itself".
It was only when the new accounts were posted in July 2019 that it was obvious the sale had gone through later than originally stated. Chansiri's second company didn't actually own the stadium yet, and this is why the EFL have come down hard. The finance books have essentially been doctored to look like a sale had happened, but yet no money was exchanged, so technically, Sheffield Wednesday still had enough debt that should have got them penalised a couple of years ago. After being charged with misconduct in November 2019, it wasn't until July 2020 that they heard their fate- a twelve point deduction at the start of the 2020/21 season. If Chansiri is investigated further, he could face tough disciplinary action, including a lifetime ban from football altogether.
Difference between Sheffield Wednesday points deduction applying next season, and Wigan's applying this season:

– Wigan's, for going into administration, applied automatically to the current season;
– Wednesday's was determined by an independent panel which had discretion. https://t.co/iLPw9IZyXB

— David Conn (@david_conn) August 4, 2020
Chansiri: A Blessing And A Curse
Looking back over the last five years, it is oddly painful to see just how close this old club came to getting back to the top of the English football food chain. In many years, they'll feel robbed, like they truly deserved it. Looking back at the years under Carlos, Wednesday played the best football they'd produced in years, and now, they're slogging it out for a draw under Garry Monk. Although I can't be certain what will happen to Wednesday, I know that Harry, the Wise Owl, might have a pretty good idea.
"I think the club is in balance at the moment. We've got some fresh young talent, and we're starting a new chapter. I can't be sure that the manager is right for us, and I think the saying is true, you can't win anything with kids".  I empathise with Harry and the fans, but also the clubs staff, and even Garry Monk. Clearly, they don't get involved with Chansiri and his actions behind the scenes, so it's no surprise that they're all feeling the pressure of what will happen to the club in the near future. One thing is for certain though; that it's heartbreaking seeing another Yorkshire club come so close to representing the best of English football, only to fall short, but then to keep on falling, with no certainty of recovery.
We hope you enjoyed this article 'Sheffield Wednesday Handed Twelve Point Deduction'. What are your thoughts on the punishment issued to The Owls? Let us Know!
Read more on football here: