Alex Gray Interview: NFL star on trailblazing in America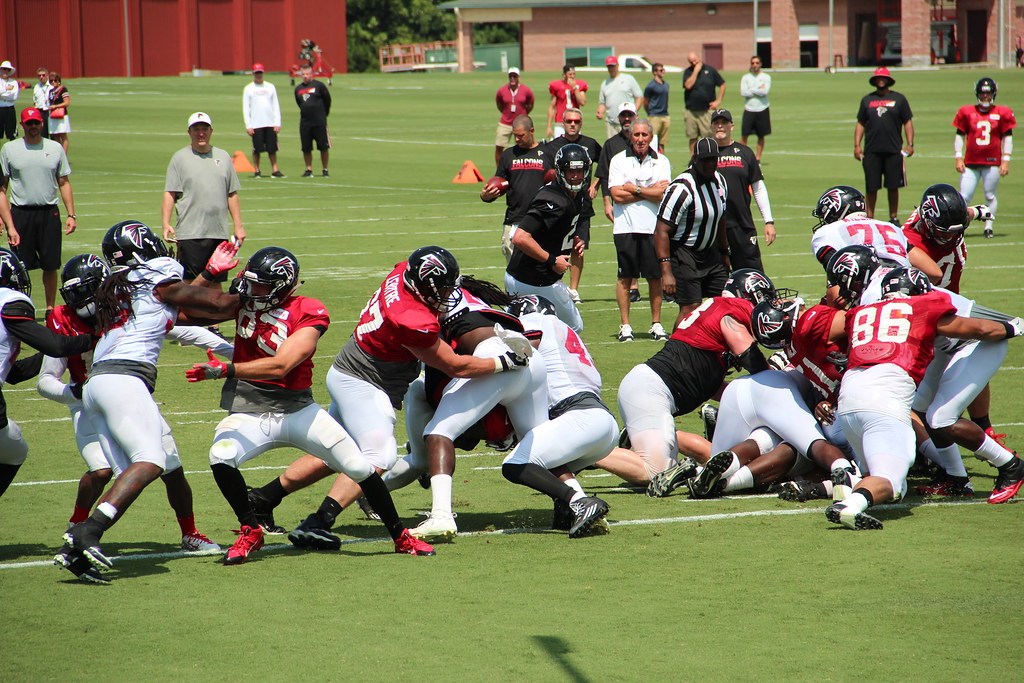 Alex Gray Interview: The cross-code NFL star on trailblazing, captaincy and Olympic heartbreak
Alex Gray Interview
It started as a joke. An offhand comment to his agent about making big bucks stateside, a chat two weeks later and just like that Alex Gray was the first ever professional rugby player to move to the NFL.
After top-flight spells with London Irish and Newcastle Falcons and three stellar years with the England Sevens team, the pain of missing the 2016 Rio Olympics with the Sevens through injury sparked his move across the pond.
? → ?

Former English rugby star Alex Gray is set to take on the NFL pic.twitter.com/ASandCU94s

— Bleacher Report (@BleacherReport) July 27, 2017
After signing with Atlanta Falcons he spent three years with the side, but despite being removed from the Falcons' list of injured reserves and becoming unattached as a free agent in January, tight end Gray knows it was the right move.
On fate and missing the 2016 Rio Olympics
He said: "I'd built the last four years around getting to the Olympics; that moment was going to be huge. I knew I deserved to be there – I was good enough and had worked harder than anybody, so for it to be taken away really hurt, it cut me deep.
"I wasn't getting back out what I was putting in, in terms of effort and success. 'If nothing good comes up in rugby, why don't we go to the NFL and make a load of money for us both?' I asked my agent as a bit of a joke.
"Two weeks later he said 'You'll never guess what – a couple of NFL scouts would love to have a chat'.
They sold the American Dream pretty hard, saw I was the real deal in person and that was that. The universe threw me a lifeline and I took it."
(Insert photo of Alex Gray playing rugby sevens for England)
Alex Gray interview: making it into the history books
Furthermore, cross-code star Gray, 29, a forerunner to English rugby players like Christian Wade and Christian Scotland-Williamson in moving to NFL, also stated his pride at being a trailblazer.
He added: "I didn't find it daunting, I prefer to be that person. You only get one shot in this merry-go-round of professional sport and I want to pack as much in as I can.
"It's trying to show kids who love American football but have never seen anyone do it what is possible. How amazing to be that guy who's the first, and you're already seeing guys follow suit.
"When I've finished playing and history books are written if I get a mention for being the one to do it that's amazing."
Stand fast and anchor ⚓️

– Gray family motto

Challenges are coming for us all, one way or another. Stand your ground and meet them head on.#thegrayway pic.twitter.com/Lw1FIBnW22

— Alex Gray (@AlexShaggyGray) October 10, 2019
On the unique pressures of learning a new sport
And despite possessing a natural stature and athleticism which served him well in rugby, Gray admitted changing sports brought its own pressures.
"Coming into American football, where I actually had to study as if I were learning another language or a university degree, was all new. It's the detail," he continued.
"You get told a call which could be 15 words long and you figure out where and how you're standing.
"Do you have to move? What snap count is the quarterback is using? Then, who and how you're blocking, am I working with somebody else?
"At any point the quarterback can change it and put the ball onto a second play! That one six-second play could be the difference between winning and losing.
"Culturally, the way the sport is run is completely different too, so it's getting used to its cut-throat nature. You could be sat next to a guy one day and the day after it's someone new. It's business-first, dog-eat-dog."
Alex Gray interview: the pride of captaining an NFL side
Gray skippered England's U16, U18 and U20 rugby union sides – including leading Owen Farrell, George Ford and Jonathan Joseph to the U20 Grand Slam – making him a prime candidate to captain the Atlanta Falcons too.
However, to do it just one year after his first ever American football match must have been unexpected.
"That was wild," he laughed.
"It's something I've always enjoyed, I liked being the go-to guy for the team, I liked the pressure.
"So, I was well suited to it but I never thought in a million years that would happen for an NFL team. It's been a crazy journey and it keeps getting crazier. That was a very special moment.
"Guys in the locker room, all they've ever wanted to do is pull on the NFL jersey so to lead them out was a huge honour and something I'll always remember."
Captaining the @AtlantaFalcons one year on from playing my 1st ever game. Massive honour and a very surreal moment in my career.
Thank you to everyone for your support, it means a huge amount ??. #thejourneycontinues #grind #builtbythebrotherhood pic.twitter.com/QRHko6VmGH

— Alex Gray (@AlexShaggyGray) August 19, 2018
On which sport is tougher
And the 2015 Rugby Players Association Sevens player of the year settled the infamous rugby v NFL debate.
He concluded: "Rugby will beat you up more, but the actual impacts in American football are much higher. As far as toll on the body goes, rugby is definitely far worse.
"There's that old argument of no pads, no helmet, which I fight in the locker room with other people!"
Although currently trapped in the UK due to lockdown, Gray's pioneering journey chasing the American Dream will soon continue.
We hope you enjoyed this Alex Gray Interview! How much are you looking forward to seeing him in an NFL jersey soon? Let us know!
Read more on NFL here: