Richard Snell: The Forgotten South African Bowler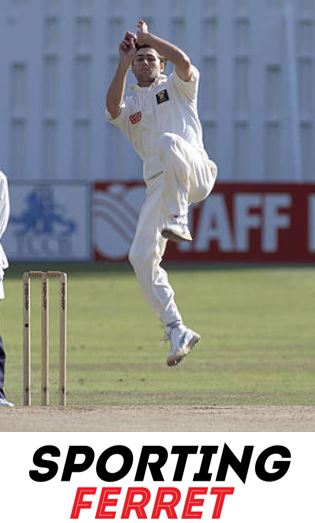 Richard Snell: The Forgotten South African Bowler
In 1992, South African cricket was returning from a twenty-year hiatus, having been banned due to the country's racial segregation regime, apartheid.
The team were an unknown entity on the international stage, but they were back with a bang, reaching the semi-finals of the 1992 Cricket World Cup, and the South African cricket stars of the nineties were quick to emerge, including the likes of Allan Donald and Hansie Cronje.
One man, who is rarely credited, but played an important role in breathing life back into South African cricket was Richard Snell, the seemingly forgotten man of South African cricket.
From Humble Beginnings To Cricket Stardom
Richard's cricketing education began at school and continued throughout his time at University in Johannesburg, while studying physiotherapy.
Upon graduating, he was immediately selected for the first-class South African cricket team, formerly known as Transvaal, now Gauteng. He joined the team, catching the tail end of a formidable side referred to as 'the mean machine,' lead by Captain Clive Rice.
At the time, with no International cricket in South Africa acting as a distraction, the domestic game was played at a particularly high level, as Richard revealed, "I think that it had an extra edge and competitiveness, but it was far more social cricket than the professional game that's around today. Although it was hard fought and at a fantastic standard, there was still a lot of enjoyment in that you played hard on the field, but you would socialise with the opposition afterwards. It was really quite an insular environment to play cricket in South Africa at the time."
It was while playing for Transvaal that Richard formed his fierce bowling partnership with childhood friend Steven Jack.
Forming bowling partnerships was a standout feature of Richards career, as his pairing with Allan Donald also became a matter of envy for other International sides in the early nineties.
"Bowling attacks where the bowlers complement each other have been the most successful attacks throughout history," Richard explained, "whether it's a combination of spin and seam, or opening bowling partnerships, you feed off the other person. Certainly, in opening bowling partnerships, it's about creating pressure and if you've got someone on the other end doing that, then sometimes you get the wickets or sometimes they get the wickets, but you feed off each other."
Perhaps the peak of Richard's bowling career came in the opening game of the 1993/4 World series cup between Australia and South Africa at the MCG. Most cricketing fans will be well aware of Shane Warne's ball of the century to Mike Gatting, but Richard's leg cutter to Allan Border in that series is widely credited in South Africa as being a close second. It's well worth a YouTube search, as it makes for spectacular viewing.
"I found often bowling to the left handers, it was beneficial to bowl around the wicket" Richard said, "because it just tucked them up a bit. So, I got one right because it came back a bit and did the job. I always felt as though if I was bowling well, the actual wickets or the rewards that came would be there."
Richard also boasts the scalp of a young Tendulkar on his resumé and despite taking his wicket, like many others, Richard admitted he was in awe of the young man, saying, "on our first tour to India, he came in and he was probably sixteen or seventeen years old. He was a small, immature guy and I think he scored sixty or seventy against us in the opening game, facing the likes of Donald and McMillan. it was remarkable that a player of that age could be as proficient as he was in facing quick bowling."
Nonetheless, like any bowler, Richard also had his bad days at the office. His most notorious coming while playing in a domestic game for Transvaal against Natal, as Richard told the Sporting Ferret, "I always joke that if it was in the modern era with the scrutinisation of match fixing and gambling I would've been in a lot of trouble. What happened is I was bowling to Jonty Rhodes in a one-day game and that season they'd just brought in the waist high no ball rule. They needed seven in the last ball and I bowled a waist high no ball that went for six and the next one went for four."
Although, Richard justified this blunder, as he confessed jokingly, "I always profess to be a Natalian at heart, because I grew up in Durban, so that's my excuse!"
Snell's Foray On The International Stage
On the international stage, while I have mentioned South Africa's tour to India in 1991 and the subsequent World cup in 1992, Richards first foray into international cricket came before South Africa's ban after apartheid had even been lifted.
In 1991, as South Africa were manoeuvring to get out of isolation, a rebel tour led by England's Mike Gatting went to challenge the Proteas to a few one-day games and a test match, before the tour was cut short, as Richard quipped, "I tell people that's how old I was, I actually played cricket for South Africa before we were allowed back into International cricket, it's crazy stuff!"
From there, after the ban was lifted, a young South African side, inexperienced on the world stage, was quickly thrust back into international cricket with little warning.
"We had come out of a very good provincial system here," Richard explained, "but we certainly lacked international experience at that top level. Fortunately, we had Kepler Wessels as our captain who had played for Australia and had that exposure, but for most of us it was absolutely a new experience."
Richard went on to say, "Suddenly, within a period of three weeks, we were off on a tour to India, our first taste of international cricket since we were isolated. We went from playing domestic cricket to suddenly being exposed to playing at Eden Gardens where there were 90,000 people, so from a domestic isolated cricket to international cricket on a massive scale. Then we went straight to the 1992 world cup in Australia and New Zealand and then immediately onto a tour in the West Indies after that."
After losing their first series against India, the South African team were quick to redeem themselves, making it to the semi-finals of the 1992 World cup, being knocked out by England via the means of Duckworth Lewis in a rain affected game: "We were obviously disappointed to go out in that nature." Richard acknowledged, "if the game had gone on the duration and we'd lost, at least we could've given it our best chance. But, suddenly, we were back and we were competitive and there was everything to play for, so it was a fantastic time to be part of the set up."
This was quickly followed by a tour of the West Indies and South Africa's return to test cricket, a return that Richard played a big part in, taking South Africa's first test wicket after their ban due to apartheid and etching himself into the annals of cricket history.
10.11.1991 marked SA's return to International cricket. You all have seen the iconic pic of SA team thanking the crowd but now I've dug out this GOLD from my archive. 😎 Unseen footage plus insights from Ali Bacher, Clive Eksteen, Richard Snell and the legend Clive Rice himself💚 pic.twitter.com/h9pCzGvmPc

— Mainak🏏📽️ (@desi_robelinda) December 1, 2019
Richard also had the opportunity for that first wicket to have been that of cricketing legend Brian Lara's, which would've been a sensational return to test cricket, but it was not to be as he was dropped in the slip cordon, with Richard commenting, "I don't really follow my stats and it was never really the motivation for me, but you remember the odd occasion and that certainly was one of them."
A Reflection Of South Africa's Readmission
While in the midst of such a whirlwind return to cricket, Richard was quick to admit that the gravity of the occasion, in terms of representing a country on the world stage that had just been through twenty years of global condemnation, had perhaps passed them by, saying, "I think we were just naïve and so excited to be back playing that we were focusing on doing our best on the field and I think that in terms of the responsibility, that only registered later."
"It was just suddenly we were back," Richard continued, "there wasn't the pressure of this series coming up or that game coming up that you need to prepare for. We were chucked in the deep end at short notice and there was a certain amount of benefit to that, because there was an opportunity, so we just had to go out there and perform."
While Richard was able to enjoy the buzz and excitement of international cricket, he was keen to acknowledge that during South Africa's period of isolation, a lot of cricketing talent missed out on that chance, saying, "from an International point of view there's a generation of players who never got that opportunity, but who were definitely good enough to compete at that level and weren't really tested. A few of them played county cricket and there was that exposure, but Test cricket is probably the ultimate challenge, and there were lots of players who probably needed that next level of competition."
So, having rubbed shoulders with some of the all-time greats of international cricket, including the likes of Shane Warne, Brian Lara and Sachin Tendulkar, it could be considered slightly strange that Richard Snell is not a household name himself, and perhaps more likely to be used as the answer to an obscure trivia question, owing to his unfortunate aforementioned no ball six incident. However, in my opinion, his lack of notoriety does not make his career and contribution to South African cricket any less worth remembering.
We hope you enjoyed the article 'Richard Snell: The forgotten South African bowler.' Had you heard of Richard Snell, does he rank as one of the best South African bowlers of all time? Let us know!
Fancy writing for us: Apply to become a Sports Writer at the Sporting Ferret
If you liked this article why not check out: