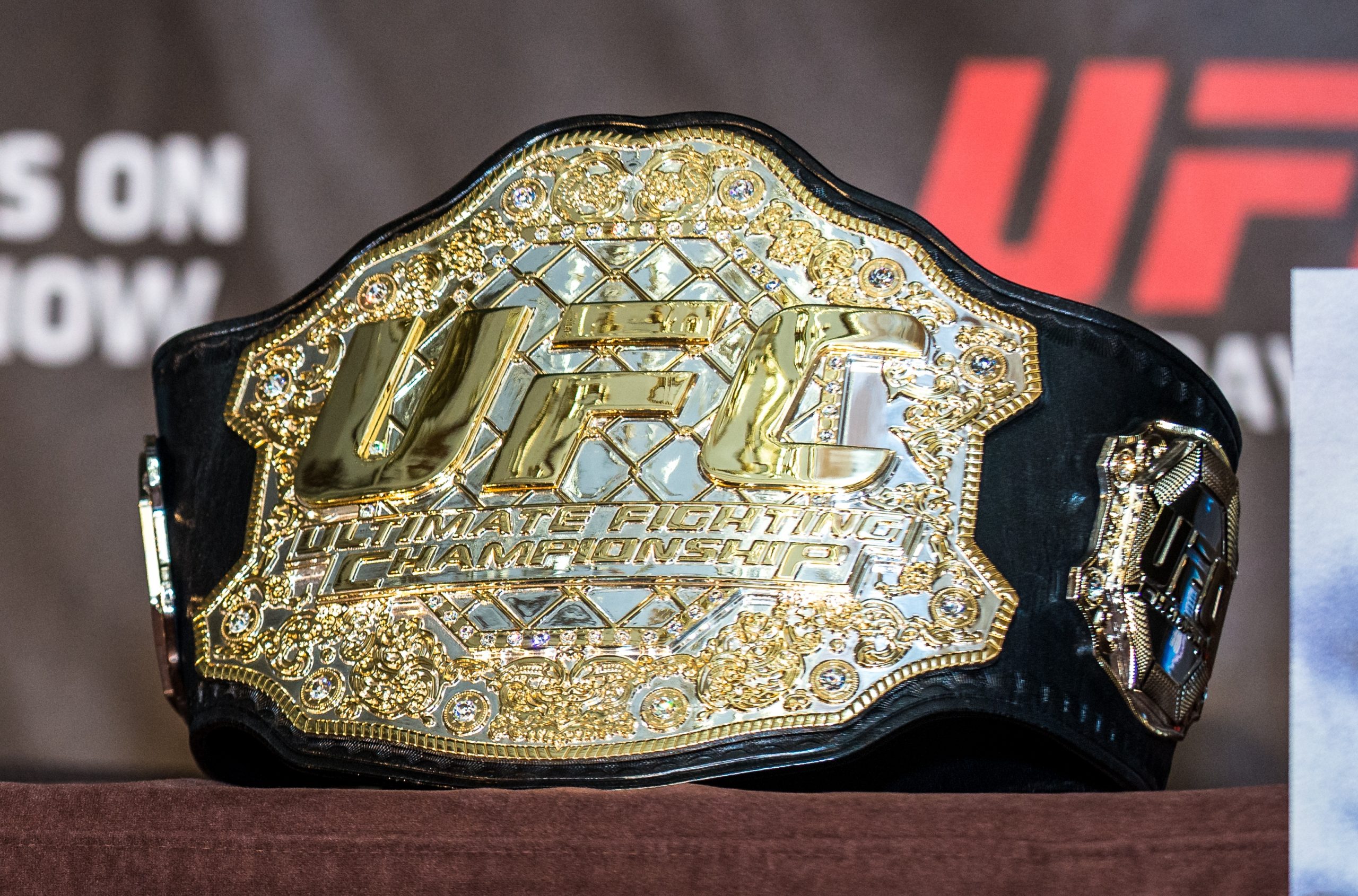 Who will emerge victorious at UFC 268?
Most MMA fans around the world will have had UFC 268 marked on the calendar since its announcement earlier this year. The promotion has pitted together a variety of exciting matchups, with a mouth-watering main card that contains a wide selection of talented fighters. It's an event that boasts some of the sport's most promising athletes, as well as several experienced heads. One will leave Madison Square Garden with the Welterweight belt. One will leave with the Women's Strawweight title. 2021 has just two numbered UFC cards left, and all those involved will be looking to enter the new year off the back of victory in front of millions.
UFC 268 will be the first card in over two years to take place at Madison Square Garden in New York. For UK fans, the event will make for typically difficult viewing, with prelims beginning on BT Sport live at midnight, and the main card two hours later.
🇳🇬 @Usman84KG v @ColbyCovMMA 🇺🇸

Two years after their first meeting the animosity is still there, the rivalry is still there, and the beef is real! 😤

Will Chaos or the Nigerian Nightmare prevail?#UFC268 | Saturday | BT Sport 1 HD pic.twitter.com/5XND2HRfet

— UFC on BT Sport (@btsportufc) November 2, 2021
UFC 268 Early Prelims
CJ Vergara vs. Ode' Osbourne: Flyweight Bout
Melsik Baghdasaryan vs. Bruno Souza: Featherweight Bout
Dustin Jacoby vs. John Allan: Light Heavyweight Bout
Gian Villante vs. Chris Barnett: Heavyweight Bout
UFC 268 Prelims
This year, MMA enthusiasts have been treated to many enthralling prelim bouts, that have often exceeded the excitement of their main events. Sunday's undercard should make for entertaining viewing, with some notable names to watch out for.
One bout which will have everyone's eyes glued to the coverage takes place between middleweights Alex Pereira and Andreas Michailidis. Many martial-arts enthusiasts will recognise the former's name as the only fighter to have beaten the division's champion Israel Adesanya, during his highly regarded kickboxing career. The duo fought twice within the sport, with Pereira emerging victorious each time via unanimous decision and knockout. 'Poatan' is a former two-division Glory Kickboxing Champion, and his first fight within the promotion will be against Michailidis, a Greek martial-artist entering the UFC octagon for the third time in over a year. If the Brazilian manages to gift viewers with a highlight-reel finish, it might not be too long before Dana White gives him a main card bout.
Another preliminary fight to look out for is between Ian Garry and Jordan Williams, with the former making his UFC debut at just twenty-three years of age. 'The Future' is looking to represent his Irish roots with pride at the event, taking obvious inspiration from a certain other fighter from his country, Conor McGregor. Originally coming from boxing roots, Garry will be looking to utilise that innate striking ability against Williams, who is entering the cage off the back of two UFC losses to Mickey Gall and Nassourdine Imavov.
The rest of UFC 268's prelims involves middleweight bouts between Imavov and Edmen Shahbazyan, as well as Phil Hawes and Chris Curtis. Experienced lightweight Al Iaquinta also takes on Bobby Green, following a duo of losses last year to Donald Cerrone and Dan Hooker. The American has been signed to the promotion since 2012, and in that time has beaten talents such as Jorge Masvidal and Kevin Lee.
GLORY champ Alex Pereira makes his UFC debut this weekendpic.twitter.com/amIaLX5SIA

— Cerebral Vigilante (@Delisketo) November 1, 2021
UFC 268 Main Card
Madison Square Garden has hosted some of the promotion's largest ever events. Fans will recall McGregor defeating Eddie Alvarez to become the first ever dual-wielding champion, and Georges St-Pierre overcoming British MMA legend Michael Bisping for the middleweight title. As previously mentioned, UFC 268's main card should make for one of the most captivating events of the year. Each fight has its own individual tale leading into the octagon, and all can promise great levels of fascination as Saturday night approaches.
The card kicks off with what will surely be one of the most aggressive, violent matchups seen in the UFC for a while. Justin Gaethje vs. Michael Chandler was originally meant to be the main card's antepenultimate fight, but seemingly the former's coach Trevor Whitman would like some more time to recuperate before his two other students fight later on. Gaethje is currently at #2 in the lightweight rankings, but hasn't fought for over a year. The 32-year-old's last outing came against MMA G.O.A.T contender Khabib Nurmagomedov, which he lost via triangle choke submission in the second round. For the former interim lightweight champion, this bout acts as an important stepping stone back towards a title challenge, and he'll be hoping to further add to his reputation as 'The Highlight' with another impressive finish.
Pure Entertainment Inside & Out Of The Octagon 🍿

Looking at @Justin_Gaethje's best moments.

[ #UFC268 | Saturday | Live on ESPN+ PPV: https://t.co/xRVlqJBhNX ] pic.twitter.com/AU9BaGdD5a

— UFC (@ufc) November 4, 2021
Chandler, however, will also be thinking the exact same thing. For the 35-year-old, this bout will act as his third fight in the promotion, all of which have taken place in 2021. A former Bellator athlete, Chandler has been involved with MMA "365 days a year" since the age of 14, and made his name through other companies before signing for White in 2020. 'Iron' is one of few fighters who comes close to Gaethje's intense fighting style, once being described as a "gorilla" during his knockout debut versus Hooker in January. After missing his opportunity for the Lightweight title last time out (despite coming so close to dismantling Charles Oliveira), the American will be fully aware of what a victory could mean here. It's likely that whoever leaves UFC 268 with their hands raised will take on the winner of Oliveira vs. Poirier, who fight to become champion in just over a month's time.
Afterwards, American duo Shane Burgos and Billy Quarantillo take part in the second featherweight bout of the event. The former lost his last fight to Edson Barboza via a third-round knockout nearly six months ago; the Brazilian caught Burgos with a perfectly timed overhand right, a connection which sent him backpedalling slowly to the octagon floor before receiving several damaging blows. 'Hurricane' sits #14 in the featherweight rankings at present, and he'll be hoping that his snappy, aggressive boxing skills will be able to overwhelm Quarantillo.
'Billy Q' first appeared in the UFC in May last year, and has already had four fights despite a COVID climate. Fighting out of Gracie Tampa South, the 32-year-old is highly skilled in BJJ and grappling, yet also showed a talent in his striking game last time out as he beat Gabriel Benítez via TKO in July. It will be interesting to see how his game plan takes shape in this fight, and whether or not his wrestling is at a high enough level to overpower Burgos, who was so far shown great takedown defence in his career (89%).
Next in line is a bantamweight battle between promotion-veteran Frankie Edgar and Jiu-Jitsu artist Marlon Vera. 'Rocky' enters the octagon ranked #8 in the division and will be looking to improve after his last time out against Cory Sandhagen in February, in which he lost via a brutal first-round KO courtesy of a flying knee. Edgar has been registered for the UFC since 2007, and the 40-year-old will be looking to utilise his well-rounded ability to claim his 24th professional win against the Ecuadorian.
Vera comes into the bout having won six out of his last eight matchups, the last being via decision against Englishman Davey Grant back in June. 'Chito' is currently ranked five places below his octagon counterpart at #13, and in recent times has combined his clinch work with a devastating striking game that often leaves his opponents startled. Mix this with the 28-year-old's BJJ skills on the canvas, and you've got a difficult fighter to overcome. It will certainly be intriguing to see who can outsmart who as the rounds go on, but a stand-up bout undoubtedly favours Vera.
Rose Namajunas (c) vs. Zhang Weili: Women's Strawweight Title Bout
UFC 268's co-main event sees Women's Strawweight champion Rose Namajunas take on #1 ranked Zheng Weili, in a rematch for the division's belt. The duo's previous matchup came earlier this year in April, in which 'Thug' regained her title via a first round stoppage, following a shattering left roundhouse kick which connected flawlessly with the side of her opponent's head. It was the second time Rose had lifted the belt in her UFC career; she had previously defeated Joanna Jędrzejczyk back in 2017, as well as defending it, before losing out eighteen months later to Jéssica Andrade.
Five of the 29-year-old's eight UFC wins have come via stoppage, with each of these showcasing the full extent of the power she withholds. It is also worth noting that Namajunas is undefeated in rematches, avenging losses against Andrade and Tecia Torres, as well as claiming back-to-back victories versus Jędrzejczyk. Just like Gaethje, the two-time champ will have coach Whitman in her corner, as another of his students appears on the event's main card.
For Zhang, this matchup will be a chance to not only regain the Strawweight title, but also to prove her overall ability to viewers. The 32-year-old will be looking to showcase her skillset after such an early conclusion in the previous fight, much of which should be recently acquired under the guidance of former dual-division champion Henry Cejudo. 'Magnum' became the first ever Chinese and East Asian titleholder in UFC history after defeating Andrade back in 2019, and has won five of her six promotion bouts. Taking the fight to floor this time out may be to the benefit of Zhang, who's already impressive top-game will have been further improved via the coaching of 'Triple C'.
THUG ROSE 🌹

Rose Namajunas regains the UFC strawweight title at #UFC261 pic.twitter.com/P20isdLr4D

— SportsCenter (@SportsCenter) April 25, 2021
Kamaru Usman (c) vs. Colby Covington: Welterweight Title Bout
UFC 245's main event went down as one of the promotion's greatest ever matchups since its formation nearly three decades ago. The duo involved enter the octagon for what will certainly be a fiery rematch on Sunday, with the rivalry further escalating over the last two years.
Kamaru Usman is, at present, the UFC's pound-for-pound king, as well as champion of the welterweight division. He has constructed an image for himself as one of the most well-rounded fighters within the promotion, especially since defeating Tyron Woodley in dominating fashion over two years ago for the belt. The 34-year-old is looking to make his fifth title defence while riding a fourteen-fight win streak, and is the third fighter on the main card under the instruction of Whitman. In his previous bout, 'The Nigerian Nightmare' rematched Masvidal at UFC 261, emerging as victorious via second round KO, courtesy of an impeccably executed right-hand straight.
Usman's overall game has improved dramatically since UFC 245 (predominantly since swapping camps last year), something many supporters wouldn't have believed could be possible after looking so technically advanced. The champ will certainly be favourite in most fans' minds, particularly if the fight remains on the feet for long periods of time.
Covington's preparation for Sunday's matchup will certainly have been fuelled by the primary thought of vengeance. To this day, 'Chaos' still believes the fight was called prematurely, and that his rival acted out pain to receive stoppages for an eye-poke and a groin shot. The 33-year-old is well-known for his outlandish behaviour and loudly-outspoken political views, being described by many as "the UFC's biggest villain." Despite what MMA enthusiasts may think of his character, it's clearly obvious Covington doesn't mind, and he still remains one of the most talented fighters within the promotion. The American has only entered the octagon once since his last fight with Usman, defeating Woodley last September via TKO, who picked up a major rib injury halfway through the fifth round, causing him to ultimately forfeit the contest. To emerge from UFC 268 with the belt, the former interim champion's best option would be to take the battle to the ground, and perhaps utilise a variety of bottom game skills that we've seen him work on in training.
We hope you enjoyed the article 'UFC 268 Preview'. Who do you think will provide the most exciting fights of the night? Let us know!
Read more on UFC below: