Katie Taylor vs Delfine Persoon Rematch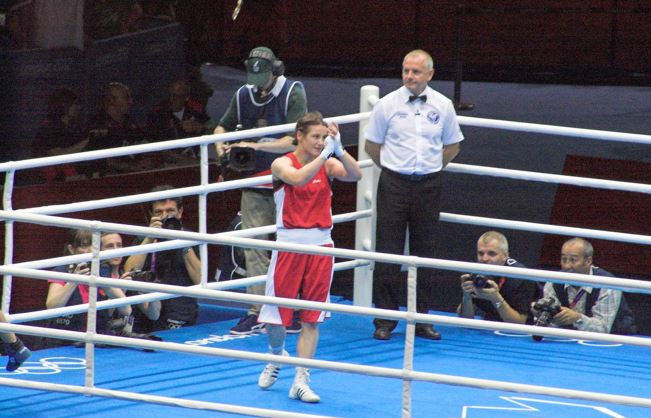 Katie Taylor vs Delfine Persoon: The Rematch is on
Who will win the rematch Katie Taylor vs Delfine Persoon?
June 1 2019 will forever be remembered as a key date in boxing history. It was the night that Anthony Joshua suffered his first professional defeat, relinquishing his heavyweight belts to the unfancied Andy Ruiz Jr.
Yet it was arguably not even the best fight of the evening. Further down the card was a women's contest between Irish superstar Katie Taylor and long-standing WBC champion Delfine Persoon with all of the lightweight titles on the line. Admittedly it did not have the drama of the main event in terms of knockdowns, but it was still a classic match-up.
After ten thrilling rounds, there was little to split the pair. Most at ringside felt that Persoon ought to get the nod having dragged Taylor into a toe-to-toe battle. The judges saw things differently. With two of the officials scoring the bout in Taylor's favour, she was announced the winner by majority decision.
Persoon was disgusted by the verdict and there were immediate calls for a rematch. Over a year has passed since, but finally the score will be settled following the announcement this week that Taylor and Persoon will meet again on August 22.
Let's take a look at how the first fight played out and how both boxers can ensure that they come away victorious this time around.
Taylor Must Stick to Her Skills
Taylor was one of the most decorated amateur boxers ever. Seen by many as the figurehead who has taken women's boxing to a new level in recent years, she won five World Championship gold medals, and capped her time in the unpaid ranks by claiming Olympic gold in 2012 in London.
At her best, she simply could not be matched. When she switched over to the professional game in 2016, Taylor proved herself a cut above once more. Within a year she won a world title, and she added another belt to her collection just six months later. She appeared unstoppable.
Yet as time has gone by, Taylor has been more willing to stand and trade at close range rather than sticking to her boxing skills. Having previously been dominant largely thanks to her ability to reel off combinations whilst moving in and out of range, Taylor has become easier to hit.
For her first 13 professional fights it was not a major concern. She was able to outbox and grind down her opponents. Then she met her match in Persoon.
Having only lost one of her 44 fights prior to last year's contest, Persoon was certainly a worthy champion. Perhaps Taylor underestimated her though. As the fight progressed, close range exchanges became the order of the day, and that suited Persoon.
Taylor has the skills to make things easier for herself in the rematch. She will need to use them, or she could be in for another tough night.
Persoon Relying on Toughness Once More
Persoon was the clear underdog last June. Despite holding a world title for over five years, she did not have the same following as Taylor. Through putting in the performance of her life, she very nearly pulled off the upset.
Her game plan was simple but effective. Make Taylor stand in front of her and fight. It worked. Whilst not being the most aesthetically pleasing boxer, Persoon won plenty of admirers with her grit and determination as she left everything in the ring.
She will need to adopt a similar strategy this time as well. That may appear one-dimensional, but that is clearly Persoon's best chance of winning and her venture back into the amateur ranks to try to qualify for the Olympics earlier this year provided evidence for this.
With the qualifying bouts shorter, Persoon was unable to make her work-rate count, and was outboxed on her way to losing her opening fight of the qualification process in March. It showed that Persoon can be made to look limited.
If she is to have any chance of getting her hand raised this time, Persoon must throw caution to the wind and drag Taylor into a fight rather than a boxing contest just like she did last year.
Will Age be a Factor?
Taylor turned 34 earlier this month, whilst Persoon is a year her senior. That brings the question: what do both women have left to give?
The Irish icon has started to plant her feet more in recent years. Some may put this down to Taylor wanting to show that she can out-fight her opponents and beat them any way she pleases. However, it may also be the case that she is starting to slow down a little. This fight could provide a clearer picture as to the truth of the matter.
Meanwhile, Persoon had to dig very deep to produce a stunning display the first time around. Can she do the same again or even up the intensity without a crowd present at the age of 35? That is a big ask, but she did manage to shock most onlookers in 2019 and she will be hoping that she can put in a repeat performance in August.
Katie Taylor vs Delfine Persoon Prediction
If Taylor did not know much about Persoon before last year, she certainly does now. No other fighter has tested Taylor as much in professional boxing, and there remain plenty of fans who see her as fortunate to still have an unblemished record.
It seems that it is up to Taylor to make adjustments. Persoon is likely to do the same again. Having had almost 15 months to prepare herself for a second battle by the time the bout comes around in August, Taylor should have figured out where she went wrong in New York.
Expect Persoon to give her all, ensuring that Taylor fully earns her victory. However, I expect Taylor to use her feet more to create angles and outbox Persoon on this occasion. If she does this, she will win by decision again, but this time the result will be more clear-cut, putting the rivalry to bed for good.
We hope you enjoyed the article 'Katie Taylor vs. Delfine Persoon: The Rematch is on'. Who do you see expect to come out on top? Let us know!
Read more on boxing here: