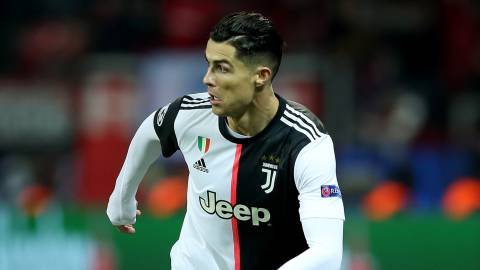 Cristiano Ronaldo personal information
Full name: Cristiano Ronaldo dos Santos Aveiro
Date of birth: 5 February 1985 (35 years old)
Place of birth: Funchal, Madeira, Portugal
Height: 1.87 m (6 ft 2 in)
Playing position: Forward
Cristiano Ronaldo club information
Current team: Juventus
Number: 7
Cristiano Ronaldo Youth career
1992–1995          Andorinha
1995–1997          Nacional
1997–2002          Sporting CP
Cristiano Ronaldo Senior career
2002–2003          Sporting CP
2002–2003          Sporting CP
2003–2009          Manchester United
2009–2018          Real Madri
2018–Present    Juventus
Cristiano Ronaldo National career
2001                     Portugal U15
2001–2002          Portugal U17
2003                     Portugal U20
2002–2003          Portugal U21
2004                     Portugal U23
2003                     Portugal
Cristiano Ronaldo real name Cristiano Ronaldo dos Santos Aveiro was born on the 5th February 1985. Cristiano Ronaldo is a Portuguese professional footballer who plays as a forward for Serie A club Juventus and is the captain for Portugal.
With a constant debate, Ronaldo is considered one of the best football players in the world and even regarded as one of the best players of all time. Cristiano has one 5 Ballons d'Or and 4 European Golden Shoes, that is the most for any European player ever.
Cristiano Ronaldo Career Highlights
Amazingly Cristiano Ronaldo has won 29 major trophies in his football career, these include:
6 league titles
1 UEFA Nations League
Cristiano Ronaldo is well known for his incredible goals, Ronaldo has scored 128 goals in the UEFA Champions League which is the most goals scored by any player. He also has the joint-most goals scored in the UEFA European Championship, 9.
Cristiano Ronaldo has made over 1000 professional career appearances and has scored over 700 senior goals for his club and his country.
How much is money is Cristiano Ronaldo Worth?
Cristiano Ronaldo is worth roughly $480  million
Where was Cristiano Ronaldo Born?
Cristiano Ronaldo was born in Madeira
Cristiano Ronaldo Career and Clubs
Cristiano Ronaldo began his senior club career playing for Sporting CP, then moved onto Manchester United in 2003 at aged 18. After winning the FA Cup in his first season, he helped United win 3 successive Premier League titles, the UEFA Champions League, and the FIFA Club World Cup; at age 23, he won his first Ballon d'Or.
Cristiano Ronaldo Transfer
2009, Cristiano Ronaldo signed for Real Madrid in 2009 for a transfer worth €94 million (£80 million)
Read more here on the richest athletes in the world